A rising number of COVID-19 cases compounded by teacher shortages, high demand for test kits and an increasing number of student absences has made for a challenging first week at schools across Redwood City as students and staff returned after winter break.
Some districts experienced higher numbers of student and staff absences as the pandemic hits campuses hard. One district saw more than 600 positive COVID-19 cases this week— more than the total number of cases it reported for the entire 2021 year.
The Pulse spoke to several teachers who said they are conflicted about the best way to handle the ongoing surge in cases. A rise in absent students, teachers and staff has led to an increasing concern about health and safety and has caused a drop in morale in some campuses. And the way in which school districts are grappling with the surge of COVID-19 cases and the constant revisions to health guidelines has caused uncertainty and fear among parents and teachers. Some teachers have even called for the return of some sort of virtual or remote learning.
"There's a lot of confusion and a lot of absences," said Caren McDonald, an English teacher and union representative for East Palo Alto Academy. "Now that we're really encouraging kids to test, our attendance rate has declined because we have kids who tested positive or are symptomatic or their parents are concerned."
In the days before the start of the new semester, district-sponsored clinics reopened to allow teachers and students to get tested before returning to school. But testing is not a requirement for returning to schools, even if some teachers think it should be.
According to district websites, the Redwood City (RCSD), Belmont-Redwood Shores (BRSSD) and Sequoia Union High School Districts (SUHSD) provide regular testing for students, teachers and members of the public weekly.
RCSD also offered free testing for students and staff over winter break.
Jorge Quintana, director of communications for RCSD, said that testing is only required after a positive diagnosis. While regular testing is encouraged, parental consent is needed for all other scenarios.
According to Alan Sarver, SUHSD trustee and former board president, his district currently has no "enforceable requirements—only strong recommendations and plentiful opportunities," adding that neither the state nor County has mandated testing or vaccination for students at this time.
The SUHSD offered testing at Sequoia High School on Sunday, Jan. 2, for all SUHSD staff, students and families, and resumed regular testing hours on Monday. District administrators also distributed take-home tests to all students on the first day back.
While teachers like McDonald were gratified to see their principals handing out kits, many wondered why testing wasn't made available sooner. With results taking up to 48 hours to come back, some students and teachers didn't know they were positive until they'd already been in school for a day or two.
Patricia Love, director of strategy and communications at the San Mateo County Office of Education, said that tests were distributed as soon as they became available. According to Love, Governor Gavin Newsom announced on Dec. 22 that he would make thousands of tests available to students in schools statewide; San Mateo County received their allotted tests on Dec. 29 and distributed them on the 30 and 31.
"We were very fortunate in San Mateo County because there are some counties that still haven't received these tests," she said.
District-wide staffing shortages
Case numbers skyrocketed at SUHSD, where district officials reported 641 total positive cases among staff and students in this week alone—a 732% increase from December. Prior to winter break, the district of about 10,500 students reported only about 175 cases in total during the entire fall semester.
The Redwood City School District, which has over 8,700 students, reported 75 positive cases this week, including 58 students and 17 employees. By comparison, there were five total cases in the last week before the winter holiday.
BRSSD, which has roughly 4,400 students, reported a total of 169 positive cases among students and staff since Jan. 1; only three cases were reported in the week before Christmas.
"The uptick has been substantial," said Sarver. "We do not have any indication of substantial spread within the schools. What we have are indications of large numbers of folks coming in sick from the community."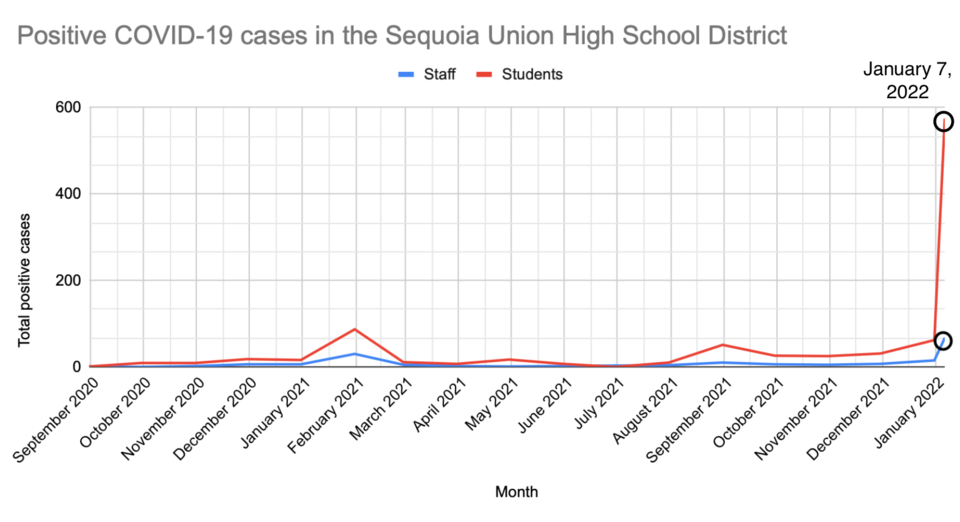 "MANY more teachers and students are testing positive this week and we anticipate (there will be) a rolling surge over the next month or so," Edith Salvatore, president of the Sequoia District Teachers Association, told the Almanac Thursday in an email.
Rebecca Pearlman, a math teacher at Carlmont High School in Sequoia Union High School District, has been isolated at home since Wednesday. On Sunday, Pearlman took a COVID-19 test. Two days later—after a full day of teaching students—she received her positive results.
Two out of three administrators were not at work, and the rate of positive cases among students, teachers and staff is "snowballing," according to Kristy Herrera, a kindergarten teacher at Hoover Community School.
At East Palo Alto Academy, McDonald said attendance was around 75% on Thursday, compared to roughly 96% on a typical day.
"Thirty-eight percent of my students were absent today," she said, though she didn't know whether they were due to positive cases or other health-related concerns. "That's creating a lot of stress for the teachers because, with all these kids absent, those kids are going to have to make up the work. And that puts pressure on the teachers."
Employees across the districts report that there aren't enough teachers or substitutes to go around. McDonald said that two administrators were called to fill in for teachers this week, and Pearlman said there were seven or eight "open jobs" on Thursday.
"That means eight teachers were not there and not covered by a sub," Pearlman said, adding that on an average day, there might be "one or two—or zero."
Sometimes other teachers, or even school administrators, will cover for absent colleagues, McDonald said.
According to Sarver, credentialed workers in the district office are deployed to the schools should there not be enough substitutes to step in.
While staffing shortages predated the pandemic, they've only gotten worse since then, said San Mateo County Superintendent of Schools Nancy Magee.
A National Education Association's survey of 2,690 members conducted in May found that 32% of education workers who responded reported the pandemic has spurred them to want to leave the profession earlier than expected.
"Some people are burned out, some people are making different kinds of priority choices with their lives — moving to be closer to family," she told the Pulse.
While Pearlman did not have any COVID-19 symptoms, she said she was forced to use her sick days due to a statewide program giving California workers supplemental paid sick leave that expired on Sept. 30.
But districts across the County said they are doing all they can in response to the rising number of cases and ease the burden on teachers.
Maria Díaz-Slocum, who was recently appointed President of the Redwood City School District Board of Trustees and was unavailable to talk, referred the Pulse to Quintana, the district communications officer. In an email, Díaz-Slocum said the district continues "to work closely with SMCO and others to provide testing and vaccination clinics for our students."
"The safety of our students and staff is extremely important to us, and we are doing all we can to keep them healthy," she said. "Dr. Baker and other superintendents meet regularly with Nancy, and we continue to follow the recommendations in the pandemic recovery framework."
In an emailed statement, Quintana said that RCSD, and all public schools in San Mateo County, plan to continue with in-person instruction for the rest of the year. He said they continue to emphasize "masking, frequent hand-washing, deep cleaning, testing, asking individuals with any symptom to stay home," per the County's Pandemic Recovery Framework.
McDonald thinks the SUHSD district "is trying everything in their power" to manage the new surge but said there's still a lot of uncertainty and fear.
Adding to the confusion, the San Mateo County Health Department announced on Thursday that all public schools in the County would continue to follow a 10-day isolation for anyone who has tested positive. However, RCSD has since updated its policy to follow the five-day isolation period recommended by the Centers for Disease Control and Prevention for those who are asymptomatic and test negative.
Love, who called the current surge "unprecedented," acknowledged that the rapidly evolving situation and frequent updates to regulations are difficult to keep track of.
"We get many, many, many calls," she said. "It's a very challenging time…People just aren't very sure."
"Something has to be done"
Since returning to school, SUHSD Superintendent Darnise Williams has met with union representatives from the district to discuss the ongoing surge. McDonald said they appreciated the opportunity to share their concerns and look forward to collaborating with her in the coming weeks.
Still, she said, morale is suffering, kids aren't taking school seriously, and teachers are wondering if there's something that can be done to stop the spread—like reinstating remote learning or shutting down for a couple of weeks until the surge ends.
"None of us like hybrid, and none of us like distance learning," she said. "But none of us want to get sick, none of us want to get very sick, none of us want to possibly live with the consequences of long COVID."
​​"So many are testing positive," Herrera said in a text. "Something has to be done to stop it."
However, since the state waiver permitting distance learning expired this summer, remote learning is no longer allowed in California's public schools. Barring a change in state legislation, the only reason schools would close is if "they felt they couldn't operate," said Love.
Sarver said he thinks closures are unlikely, even for a short period.
"It's been explicitly stated at every level, from the White House on down, that it is a priority in the country to keep the schools open for in-person instruction," he said.
According to Perla Rodriguez, SUHSD spokesperson, "The district continues operating under the guidance provided by local health officials who, as of this moment, have not directed the district to make any changes to our reopening plan."
Still, McDonald said she'd like to see the board of trustees put some pressure on the higher-ups to take some action and consider an alternative model.
"We're missing 25% of our students," she added. "We're just kind of scratching our heads, like, how much more of this can we handle?"
The Almanac contributed to this story.
~~
Leah Worthington is the lead reporter at the Redwood City Pulse. She can be reached at lworthington@rwcpulse.com, on Twitter, and by phone at 650-888-3794. To read more stories about Redwood City, subscribe to our daily Express newsletter on rwcpulse.com.