Christian, 22, a lifelong resident of Friendly Acres, is used to wading through rainwater. His home, just south of Highway 101, gets hit by flooding every year during the winter storms.
But this year was something different.
"It was like a river," he said, describing floodwaters on New Year's Eve that reached nearly to his waist. The water was too deep to drive through, and after seeing several cars get stuck he decided not to risk it.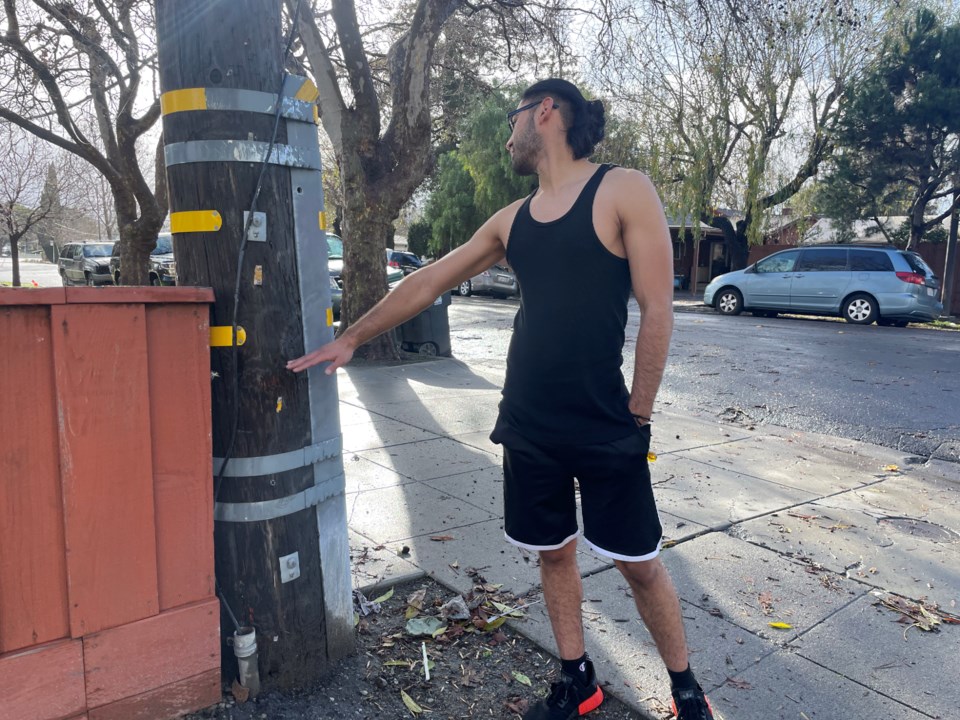 "I parked way over there by 11th," he said, adding, "This year was unusually high."
Christian, who did not give his last name, is hardly alone. On Thursday afternoon, as the sun broke through the clouds for the first time since a second major storm hit the Bay Area, residents could be seen emerging from their homes to assess the damage, clear branches and air out soaked furniture.
The so-called bomb cyclone, which dropped roughly 1.6 inches of rain on an already saturated Redwood City, hit just four days after New Year's Eve's atmospheric river. With roughly 4.5 inches, New Year's Eve marked the third wettest day in the city's recorded history. While some neighborhoods were nearly unscathed, others saw devastating flooding, downed trees and mass power outages.
Friendly Acres, which hugs East Bayshore Road and abuts the Bayfront Canal, is typically one of the worst hit.
"That part of our city is referred to as the 'bottom of the bathtub.' Storm water drains not only from Redwood City but from a lot of the adjacent areas," said Redwood City Mayor Jeff Gee. "It all drains downhill, and it's been notorious for flooding."
Isabella Chu, a decade-long resident of Friendly Acres and co-chair of the neighborhood association, confirmed Gee's assessment. On a walk through the avenues along Bay Road, she pointed to several intersections where water pools during almost all major winter storms.
"People have always complained about it and wanted it to be fixed," she said, adding that for most residents, it was more of an inconvenience than a safety issue. "Having your street flooded and having your house flooded are very different things."
Still, she noted that improvements made to the infrastructure of the Bayfront Canal had made a noticeable difference by reducing flood levels and allowing water to dissipate faster.
"The incremental improvements and efforts of the last decade have paid off," she said.
Since 2009, Gee has championed an effort with Redwood City, Menlo Park, Atherton and San Mateo County to increase the capacity of the watershed and divert stormwater from the Bayfront Canal to the surrounding wildlands during high-tide events. Though the project is not quite finished, Gee said this week's storms were the first test run of the improved infrastructure, which he said prevented what could have been an even worse situation.
The improvements "were never going to prevent flooding from ever happening, but make sure it wasn't going to be as bad as before," he said. "The stormwater is flowing the way it's intended—into the overflow on the salt ponds. It is working, there was just way too much, too fast on (New Year's Eve)."
While the city works on fine-tuning the upgraded canal system, Gee urged residents to do their part by keeping neighborhood drains cleared.
"It's on both the city and the residents, depending on where the drain is sitting," he said. "Everybody can do their part."
A few blocks farther down in Friendly Acres, two women stood on Fifth Avenue, hunched over rakes and shovels, scraping vigorously against the gutter. Angela Easton had recruited a friend to help her clear the drains of debris—a task she's well-acquainted with.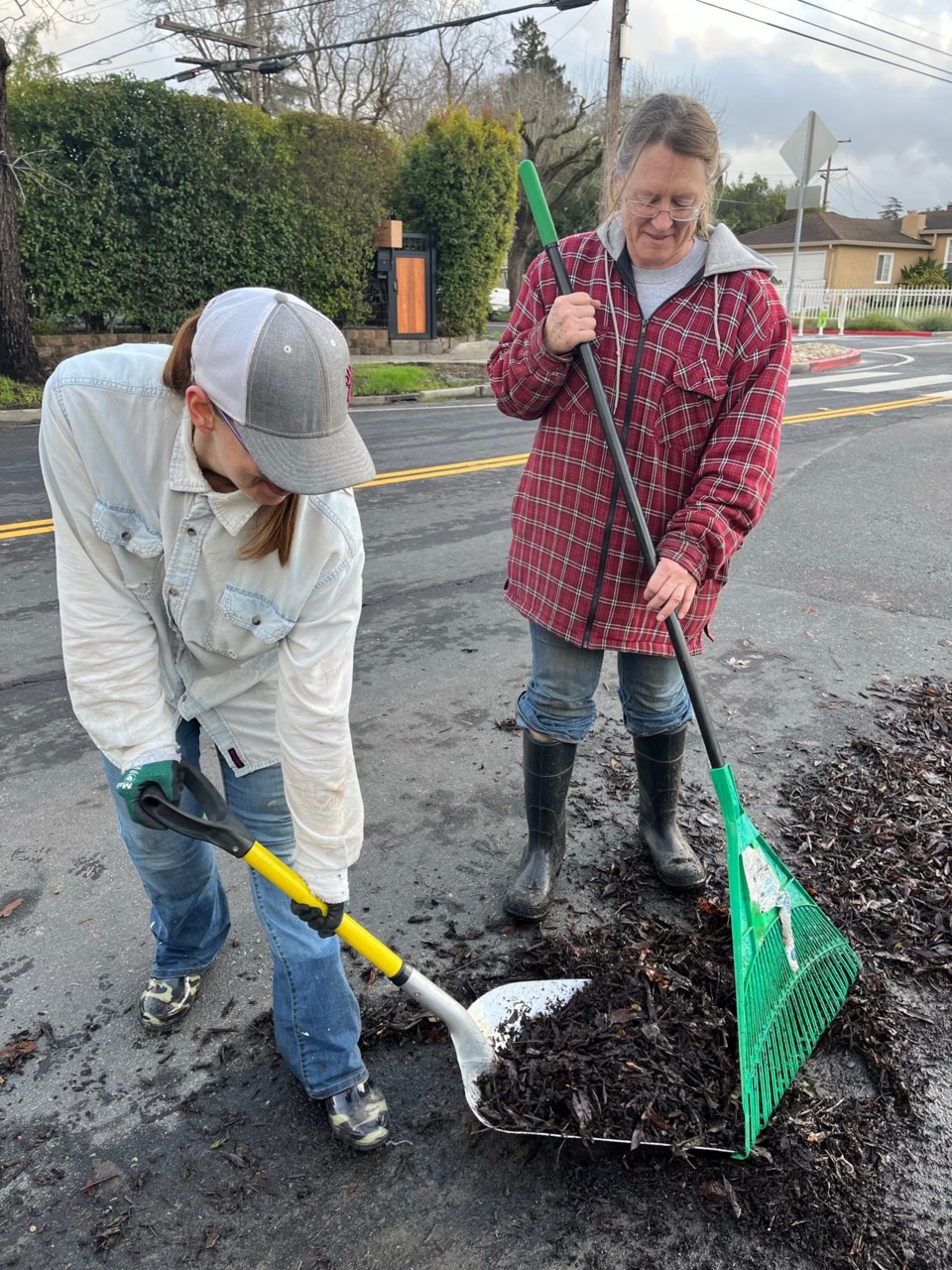 "I always make sure I clean up because that's our drain right there," she said. "I tell my neighbors, if you ever see me out here cleaning the leaves it's because I don't want this to get clogged when it rains."
Eaton, who's lived in Redwood City for more than two decades, said that a significant amount of tan bark, mud and leaves had clogged the drains this week, causing water to pool along her street. But it was the swells from passing cars that sent the water overflowing into her and her neighbors' yards.
"I feel it wouldn't have been bad if it weren't for the traffic," she said. "People don't realize when they're driving back and forth that it's putting that water in people's houses."
Some water managed to sweep into her garage, though she said sandbags and clean drains staved off the worst of it. But her neighbors suffered some major flood damage to their kitchen and half the living room.
"I thought it was going to recede. It goes up, and then it usually goes back down—and then it didn't," she said. Asked whether she'd ever seen a storm of this magnitude, Eaton said no. "In my 21 years…not like this."
On the other side of town, in the so-called alphabet streets, resident James Barron was still recovering from the New Year's Eve storm, which hit his and his neighbors' homes hard. Barron recalled returning from the gym Saturday morning to heavy rain; at the time, he didn't think much of it. When he got out of the shower, however, he heard a strange noise.
"I looked out, and the entire street was a river," he said.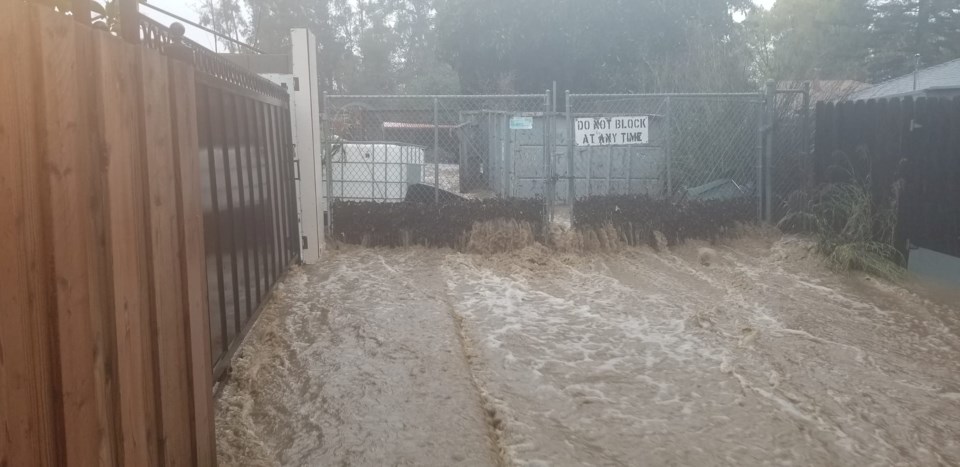 A longtime construction and sheet metal worker, Barron had taken precautions over the years to protect his house from flooding. But seeing the sheer amount of water flowing outside, he worried it wasn't enough. Running to the back bedroom, he found damp flooring alongside the wall. In his backyard, he saw more than 4 inches of standing water.
"There was water coming over my southern walkway like I've never seen before," he said.
Since the storm, Barron has spent hours tearing out the hardwood and carpeting and moving furniture into storage. Though he "got it easy compared to my neighbors," he's estimating the cost of repairs could put him out $50,000—or, if he finds moisture inside the walls, even more.
But his biggest concern, he said, was whether mismanagement of the nearby Cordilleras Creek had contributed to its flooding.
"I do know the city dredges that creek every year, but they hadn't been out there for quite a while," he said. "My big question is, who's responsible for that creek? And are they exercising their due diligence?"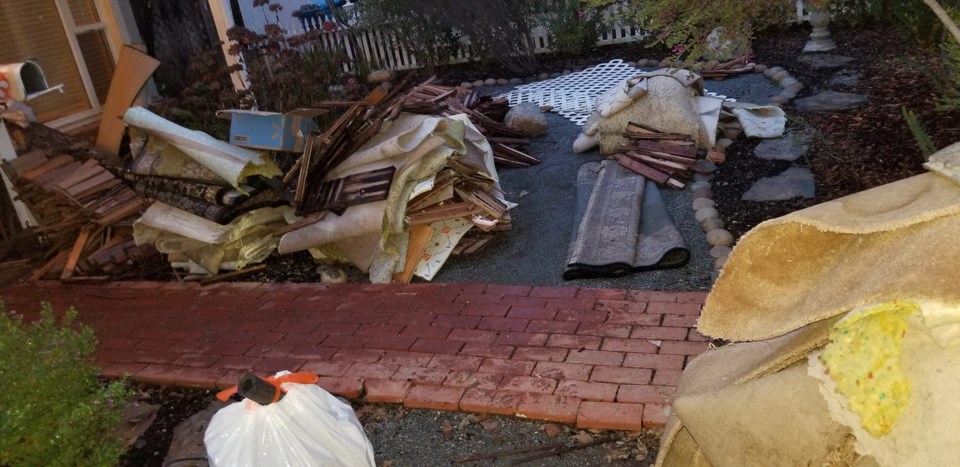 Also hit hard by the storms were some of the higher elevation parts of the city, particularly Emerald Hills, where hundreds of residents lost power for hours, some more than a day.
John and Kyra Carswell sat in Peet's on Broadway late Thursday afternoon sipping coffee, charging their phones and desperately seeking friends to take some of their soon-to-be-expired food.
"We're trying to figure out what to do with our two freezers…[Kyra's] calling friends, so we're open for business," John said, laughing.
Around 1 or 2 a.m. early Thursday morning, two large eucalyptus trees fell, knocking over a couple of power poles and snapping a third. The couple woke up to no electricity, and several PG&E and police vehicles, who were on the scene monitoring the live wires.
John, a self-described "weather nerd," said he'd never seen so much rain at his house on Upland Road.
"We've lived there nearly 50 years, and this is the worst we've ever seen," he said.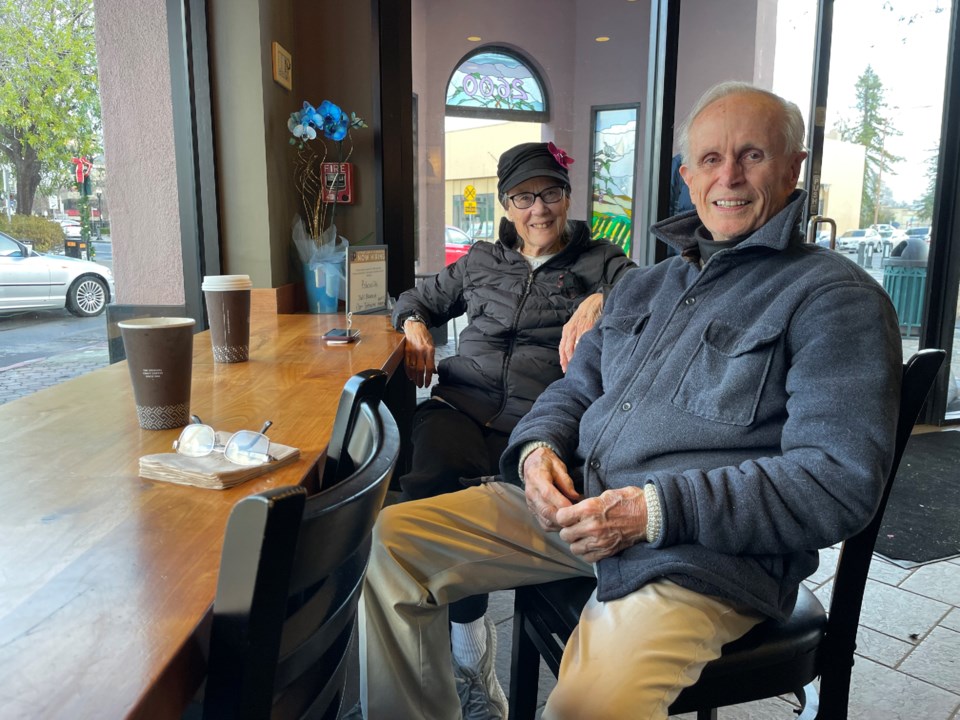 On Thursday afternoon, with PG&E estimating 48 hours before the power would be restored, the Carswells said they anticipated losing all their frozen food, which had already begun to thaw. The couple was also preparing for a rather cold night of sleep, without electricity to power their furnace.
"Tonight it's going down to the 40s," John said.
"We're getting out all the blankets and quilts," Kyra added.
Still, they were cheerful as they sipped their coffees and checked their cell phone batteries.
"We've been thinking of these poor homeless folks," John said. "I assured my wife that worse things could happen than losing a few hundred dollars worth of food."
Power was ultimately restored to many PG&E customers later Thursday night and Friday morning.