Friday, May 27, 2016, was a big day for Jihan Bayyari's family.
While her youngest daughter celebrated her third birthday, Bayyari celebrated the launch of a dream long in the making: a little bike-themed eatery called Cyclismo Cafe.
Though Bayyari's family has lived in Redwood City since 1993, it was her time abroad in Scandinavia that ultimately inspired the new venture.
Moving to Sweden with her husband, she faced the challenges of "being an expat, being in a new environment, feeling that loneliness of language barrier, culture barrier" and became attuned to others going through similar experiences.
"Then when I moved back to California [in 2013], I realized that a lot of people here are also expats," she said. "They're here because they've come here for work or school or a loved one. And some people aren't from California; a lot of them aren't even from the United States.
"So I found that they were in the same boat that I was," she added.
Remembering her own struggle to find community abroad, she envisioned connecting people from all walks of life in Redwood City.
"So I created this kind of meeting place," she said.
That meeting place was Cyclismo Cafe, a beloved downtown eatery tucked into the pedestrian path between Broadway and Middlefield. Offering large, communal tables, Bayyari hoped to nourish and bring together a diverse patronage. The food, too, was a celebration of cultural exchange.
"A lot of it comes from the things that I wanted my family to eat," she said. From the Haifa toast with fresh labneh and a sprinkling of za'atar to the sweet potato and avocado hash, Bayyari's menu featured fresh, local ingredients and recipes inspired by her Mexican and Arab heritage.
Since her cafe's grand opening, Bayyari has strived to keep that original spirit alive. Over the years, she has served a wide range of loyal and new customers, hosted political meet-and-greets and even brought in live music and dancing.
"It was a community space where the old Redwood City and the new Redwood City could meet," she said. "The tech people who came for work, the people who have lived here forever, the families—everybody could feel welcome."
Now, just over six years and a pandemic later, Bayyari is preparing to close her doors for good.
"We really tried to make it work," she said. "I've been self-funding this going on three years now…but the math does not work—it's not sustainable."
Cyclismo, like many other local businesses, suffered enormous losses when the pandemic hit. Increased demand for workers made finding and retaining employees more difficult than ever. At the same time, remote work drove many of her regular patrons out of the office indefinitely, and many others relocated from Redwood City entirely. Without a reliable customer base, Bayyari said she ended up paying "100% of the bills with 20% of the density."
Through San Mateo County Strong's small business fund, she received a one-time grant of $10,000, roughly the equivalent of one month's rent. And with workers' salaries to pay and rising supply costs—some food was up nearly 200%—she called the grant a "bandaid on a sinking ship."
"​​Rent is over $10,000 with taxes," she said. "That's a lot of coffee. That's a lot of people I need to feed to meet that."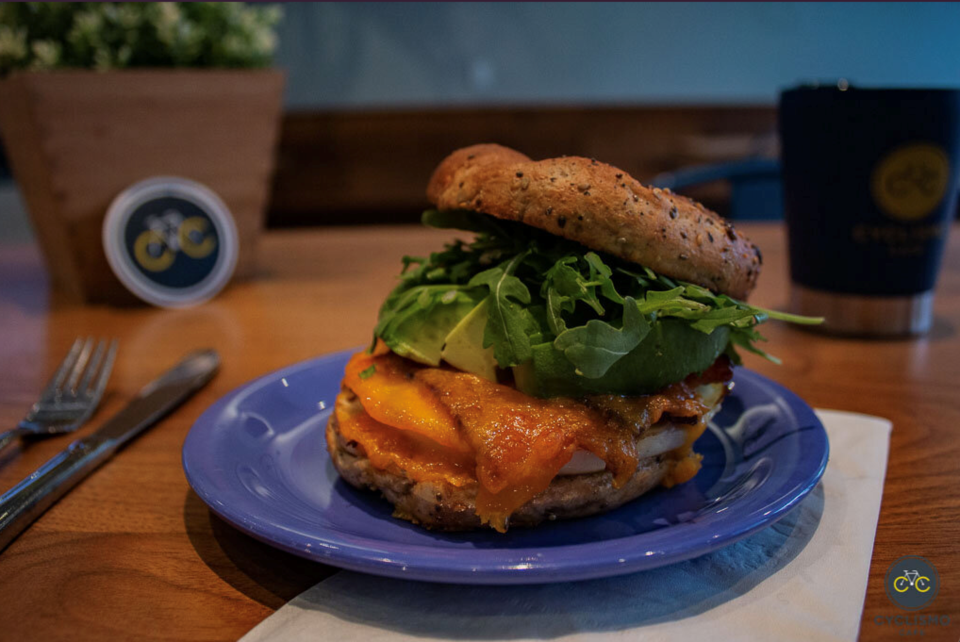 On top of which, Cyclismo was one of a handful of Redwood City businesses—and hundreds throughout the state—that was hit by lawsuits under the Americans with Disabilities Act in May 2021. The plaintiff alleged that outdoor dining tables were inaccessible to someone in a wheelchair because they lacked "sufficient knee or toe clearance under outside dining surfaces."
Nearly a year later, though many of the complaints were ultimately deemed "fraudulent, boilerplate lawsuits against small businesses," Bayyari was still finishing the process of settling. It's unclear whether she'll ever recoup the lost funds.
"Everyone tried to get together and fight it. And as the bill started climbing up, everyone started fragmenting and getting rightfully scared and settling," she said.
Ultimately, she said, the recovery from COVID just never happened.
"I really thought the bounce back would be a bit faster," she said. "But every time that people stay home and not come to work, it affects businesses."
In mid-July she announced that Cyclismo would be closing until September to give employees a much-needed summer holiday. But rather than reinvigorate her to reopen, the break reminded her of how much she'd been missing the last few years.
"Once I was home and closed for that month, my daughters were like, 'Don't open again, we really like having you home,'" she said.
Her time freed from the constant demands of cafe operations, Bayyari could suddenly spend quality time with her family, attending sports and other extracurricular events. But it wasn't just the special activities; she realized that her daughters, ages 9 and 11, had reached a critical point in their lives—one she wanted to be a part of.
"It's almost more important to be there now when they have emotional and psychological needs," she said. "If I just have them come and sit [at the cafe] on their iPads after school, I'm really doing them a disservice.
"How much longer can I ask them to 'give mommy two more years'? When do I say I need to put my kids' needs first?"
In the end, Bayyari said, her decision to close was somewhat inevitable. Navigating a maze of failed recovery attempts and compounding costs, she said she finally hit a point where there was "no way out, no way through."
She's not alone in her struggle. Bayyari faults the pandemic and new live-work habits for changing the demands of the service industry.
"It's just this new life that we have to navigate," she said. Whether temporarily or permanently, many of her regular customers moved out of the city or simply stopped commuting to their downtown offices. "The old days of doing business and the old business models no longer work."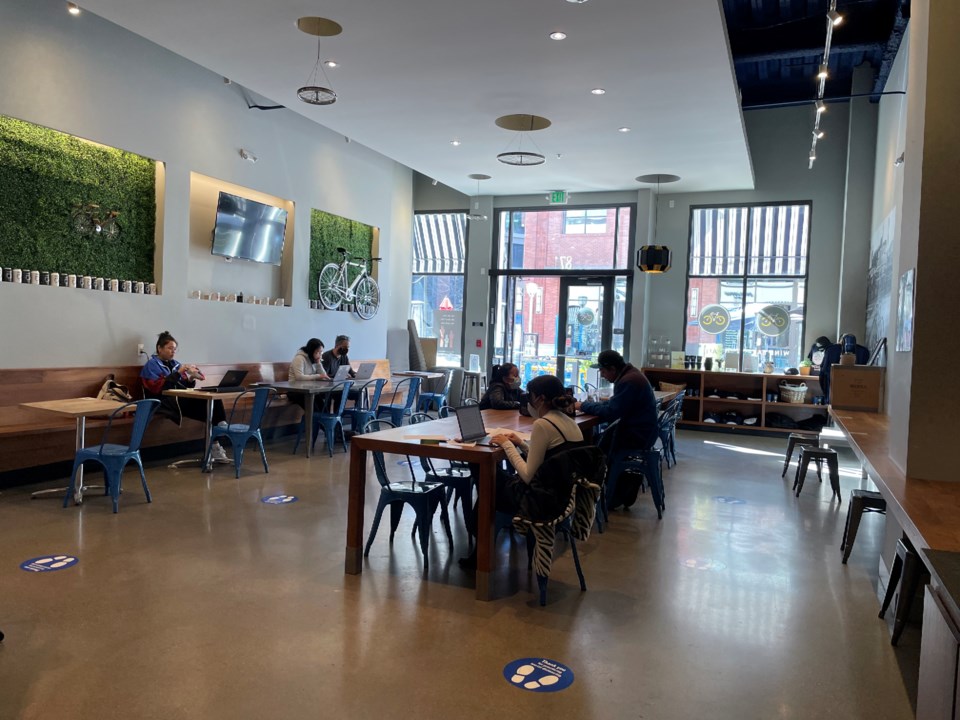 Someday down the line, Bayyari said she'd like to "see this idea of Cyclismo reimagined," perhaps as a multi-purpose, nonprofit space that could support everything from adult evening events to coding academies and other after-school programs.
But for now, with Cyclismo's last day on Friday, she's focused on packing up and clearing out the cafe. Her mother came out to help, and Bayyari announced a garage sale, where her merchandise would be available to purchase at a reduced price. The work has been a distraction from the emotional toll of it all, she said.
"You almost have to detach yourself from what's going on and you can deal with it when it's all closed," she said. "I'm probably going to feel a lot of feelings. Right now it doesn't feel real."
But the inevitable grief has also been tempered by an outpouring of gratitude from the community, reminding Bayyari of the connections she helped create—ones that will outlive the cafe itself.
Asked about some of her favorite memories throughout the years, Bayyari recalled organizing paint 'n sip parties, homeless outreach fundraisers and the Latin Democrats, who brought dancers from Ballet Folklórico to perform in front of the cafe. Another time, she hosted an afterparty for an entrepreneur conference that became so rowdy that "every time the phone rang, we thought it was the fire chief telling us to shut down," she said laughing.
"There's been lots of shared stories. A lot of people come and tell me how they're going to miss this place," she said.
One couple, who stopped by for breakfast, shared their story of meeting at Cyclismo on a blind date. They'd since moved in together and had returned to the cafe to celebrate their anniversary.
"You've had that moment with them and they'll have that forever," she said. "And I'll have that forever."