The Redwood City Library Foundation is hosting a virtual fundraiser next week to celebrate the completed Makerspace in the Downtown Library.
The celebration and fundraiser are part of World Creativity and Innovation Day, a worldwide event that "celebrates all forms of creativity," according to the organization's website. The event begins on Thursday, April 21 at 5 p.m.
"What better way to celebrate World Creativity and Innovation Day, the Maker in all of us, and the completed Makerspace at the Downtown Library, by attending Redwood City Library Foundation's virtual event on April 21, 2022," said Lisa Hicks-Dumanske, Redwood City Library Foundation executive director. "Your support of the event will keep vital community library initiatives such as the Makerspace, Bridging the Digital Divide, Career Online High School, Traveling Storytime, Rooftop Beehives and more, thriving."
Although the event is virtual, there will be live demos, including mixologists from LV Mar, podcasting, sewing, 3D Printing, and coding with robots. A $20 donation is suggested. For tickets, please visit the event website.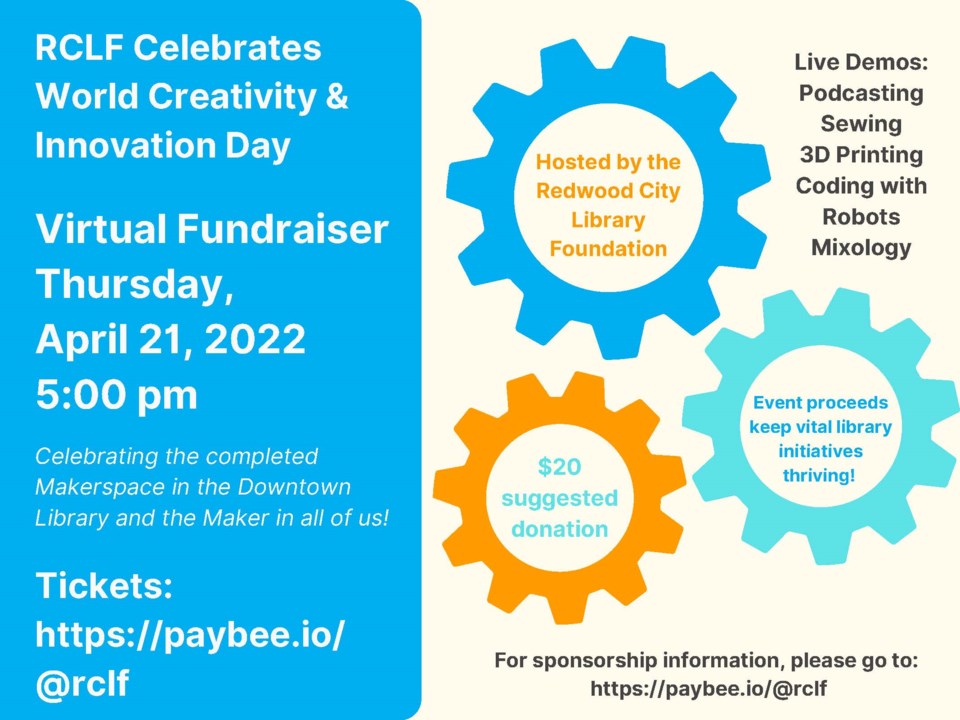 The Library Makerspace celebrated its grand opening last month with free access to sewing equipment and open space for coworking and educational programs. But soon it will be home to an expanded array of tech and tools for the community to use.
"As we move into the second month of makerspace programs, we are gratified by the positive community response, including many families attending programs together," said Library Director Derek Wolfgram. "We are really looking forward to rolling out some of the more technology-oriented activities like 3D printing, laser cutter, and the podcast studio in the weeks ahead."
In December, the Library Foundation hosted a sneak preview of the Makerspace complete with guided tours and a live demonstration of a Tesla coil. More than 160 people attended the event.
The Makerspace coworking space is open Monday through Friday from 10 a.m. through 3 p.m.