Editors' note: With help from Ken Rolandelli, the Pulse attempted to reconstruct the origin of the mural. Historical records show conflicting dates about when it was painted. However, based on archived commencement programs found for the participating students, it seems most probable that the mural was completed in 1937.
Amid a national reckoning with historical monuments memorializing controversial figures or events, an 85-year-old Sequoia High School mural stirred up some recent debate.
With the spate of statues being torn down throughout the state, including one of Junipero Serra in Los Angeles, Sequoia High School Principal Sean Priest worried that the mural could become an object of vandalism and proposed covering it up with a banner. Over the summer of 2020, shortly after the murder of George Floyd, Priest called a meeting with Ken Rolandelli, president of the school's Alumni Association.
"Based on some input that we had from the community, we felt like the mural might potentially be a target," Priest told the Pulse. "Where it's placed… there's public access to it. So we wanted to make sure that there was at least a barrier."
Priest said he heard from students, staff and community members who expressed various concerns, including what he described as "discomfort" with the portrayal of certain people.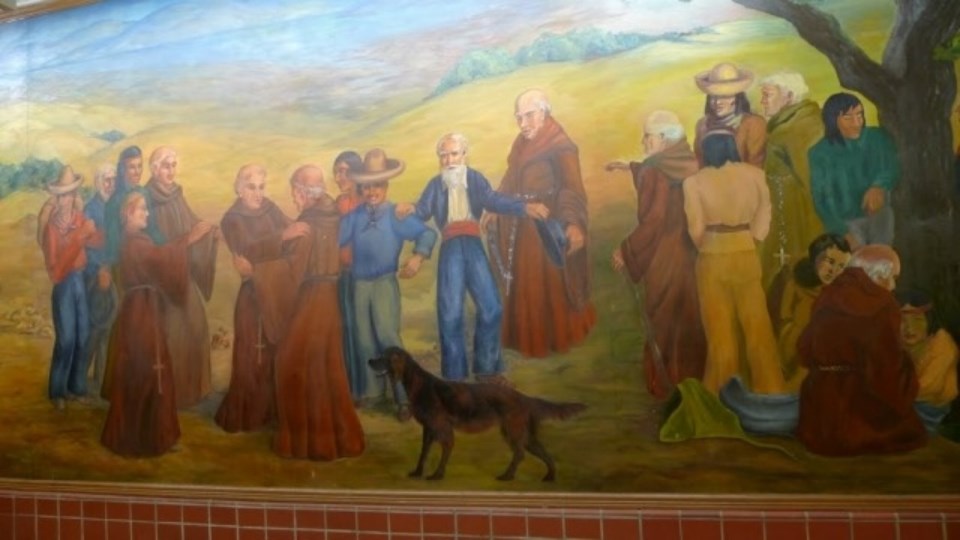 The mural is an enormous, hand-painted depiction of a meeting of two Spanish missionaries that spans the front hall of the school's entrance and, according to some who want it removed, is an insult to California's indigenous people.
But critics have long challenged the narrative that the mural is an important historic artifact.
In a petition circulated in January 2009 and signed by over 120 people, protestors called the mural "historically inaccurate and culturally degrading" and criticized it for depicting Native Americans as wearing inaccurate attire and appearing subservient to glorified colonialists.
"The current mural reflects the dehumanization and colonialization of Native peoples and provides no historical context for the observer to understand the enslavement and annihilation of Native peoples by the Missionaries," the petition reads.
In 2020, to cover the mural, Priest chose a banner featuring "Welcome to Sequoia High School" in large purple print and the school's seal, which includes a giant redwood and "Unaliyi," a Cherokee word meaning "place of friends."
In the second half of the 18th century, two Spanish missionaries traveled to present-day California to explore the land and spread the gospel of Roman Catholicism.
Joan Crespí joined his contemporary, Serra, who went on to found nine of California's 21 missions, bringing—or, by some accounts, violently imposing—Catholicism to the Native Americans living in the region. Sometime in the late 1700s, Serra and Crespí allegedly had a meeting in what is now Redwood City, while en route from their respective missions.
Roughly 170 years later, in May 1937, a Sequoia High School teacher enlisted her 17 art students to capture that moment in a mural adorning the school's front hall—where it stands to this day.
"This mural was painted by advanced freehand drawing classes under the direction of a Mrs. Bertha White," a plaque next to the painting reads. "It represents the meeting of two expeditions, one of Father Junipero Serra, weary and footsore after a long journey from the Santa Barbara mission, and the other of Father Crespí, happy and expectant, just starting out the Mission Dolores at San Francisco."
The meeting took place, according to the description, "in the general vicinity of Redwood City on the trail that now must become El Camino Real."
"There's an interest in preserving the work just for that reason," Priest said, describing the mural as having historical value.
However, the depiction of the non-missionaries has raised concern: In the bottom, right-hand corner, two Native Americans can be seen—one kneeling, another sitting—beside a robed, priestly man.
"The question is whether or not this particular work is the appropriate greeting for folks who enter Sequoia High School in 2022," Priest added. "And so does it belong here? Or does it belong somewhere else?"
Insisting that the painting is "a rather benign one," Rolandelli said that "it reflects the missionary system, but it wasn't intended to necessarily honor it, or honor Junipero Serra or Father Crespí.
"Certainly anyone who knows anything about history recognizes that the missionary system basically sort of wreaks havoc with Indigenous peoples and had an impact on the culture. There's absolutely no question about that," Rolandelli said. But he believes that its historical and artistic significance are undeniable.
"I mean, if this expedition, if it actually happened—these two parties actually met in Redwood City, near El Camino Real—that's a historical event," he said. "It's a work of art."
Challenging that narrative, Mark Anquoe, a member of the Kiowa tribe, wrote in an opinion that the mural "reinforces an outdated historical mythology that does a profound disservice to the current student body."
He added that the "misrepresentation of the historical record ill-prepares Sequoia High School students for modern college academia and an American society that continues to move beyond the Eurocentric propaganda of years past."
Rolandelli said he agrees with Priest's decision to cover the mural only as a protective, not political move.
Nearly two years later, the mural remains hidden, with no immediate plans to uncover it.
Acknowledging that the mural's existence makes some students feel uncomfortable, Priest said he's seen it used as a teaching tool to discuss "changing perspective, and how depictions of historical events can shape the perception of those events and how those perceptions can change over time."
Declining to comment on whether it belongs in the front entryway, Priest said that his decision to hang the welcome banner featuring the "school motto, which is a place with friends, in front [should] speak for itself."
He said he thinks the banner is a temporary fix.
Without offering specifics about what options he's considering, he said that adding more context to the mural would be "essential." And, while not a priority at the moment, he looks forward to an opportunity in the future "to engage with a lot of different stakeholders," including students, staff, families and community members, to decide the future of the mural.
"I'd love to have that conversation," he said. "I'm always interested to hear what students think and try and understand the nature of those feelings."
*****
Editor's Note: An earlier version of this story misquoted Ken Rolandelli on the historical value of the mural. Rolandelli said: "If this expedition, if it actually happened—these two parties actually met in Redwood City, near El Camino Real—that's a historical event." To request a correction, contact editor@rwcpulse.com.