Two years ago, 36-year-old Jude Devilla was eager to begin a new position as a full-time registered dental assistant at the Fair Oaks Health Center.
Devilla, who was previously working in a private dental clinic, thought the county job would give him the opportunity to expand his patient coverage. Had he known what his new role as an "extra help" worker would entail, however, he said he would never have taken it.
"If only I knew I wouldn't have given up my job," he said. "I thought I could help more people (at the county). I think I'm helping, but I have to help myself too."
Devilla is one of nearly 800 "extra help" workers, or flex workers, who are represented by the AFSCME Local 829 and SEIU Local 521 unions and provide San Mateo County with everything from health care and food service to emergency dispatch and library support. While many work full-time hours, they aren't afforded the same benefits as their permanent counterparts, including paid vacation and guaranteed health insurance.
Now, after more than a year since their last contract expired, the more than 2,000 extra help employees (800 of which are union represented), who comprise roughly 26% of the county workforce, are rallying to demand better benefits and an end to months-long labor negotiations. Bargaining began in September 2022, and union representatives have been meeting with the board of supervisors and County Executive Mike Callagy regularly since—but with little movement, according to the union.
"We've worked hard to put reasonable common sense proposals on the table to improve the lives of county employees and the public that our members serve. Unfortunately we've seen our proposals rejected one after the other," Union Representative Gaelan Ash said in a statement. "We're really grateful for the support from the elected board of supervisors, and we're hopeful that we can reach an agreement soon."
Callagy did not respond to multiple requests for comment.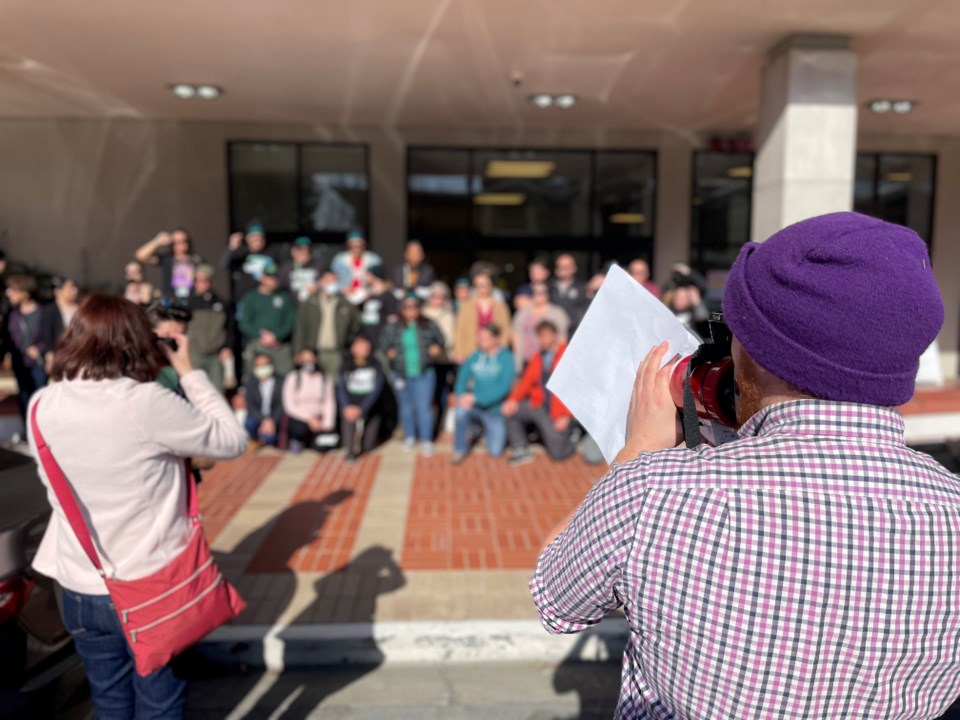 On Tuesday afternoon, rather than scrubs and gloves, Devilla donned plainclothes as he marched and chanted alongside his fellow union workers in front of the San Mateo County building. Roughly forty members, both permanent and flex employees, joined the "Rally for Equality," which took place during the board of supervisor's meeting in downtown Redwood City.
"I believe that we will win! I believe that we will win!" they yelled, pumping fists and clapping hands.
Members of the union also spoke at the meeting of the board of supervisors Tuesday morning, calling on their elected officials to support demands for a new contract with expanded benefits. Board President Dave Pine said the supervisors would discuss the issue during negotiations with the union representatives.
"We value the contributions our extra help workers make to the County's operations and are confident that a fair contract can be negotiated," he told the Pulse in a statement.
Extra help employees have served critical roles in the county for at least 40 years, according to San Mateo County Human Resources Director Rocio Kiryczun, who said their purpose is "to fill temporary workforce needs" during vacancies or for short-term projects.
Counties throughout California, including Santa Clara and Santa Cruz counties, employ extra help workers to fill needs on a temporary, limited-term and typically offer few benefits compared with the permanent staff.
In San Mateo County, these flex employees fall into one of four categories—extra help, extra help/seasonal, extra help/relief and extra help/limited term—which differ based on the duration, frequency and purpose of the employment term. With the exception of relief employees who work on an unlimited, as-needed basis, all other extra help employees are limited to 1,040 hours per year, unless an exemption is approved.
Outside the county building, Sarah Eggen-Thornhill, who has worked in health care for nearly three decades, addressed the crowd in a black t-shirt that read "I am AFSCME" in large print.
"The message to extra help employees is heard pretty loud and clear: 'You are not equal to permanent staff. You don't matter. We don't care,'" Eggen-Thornhill read.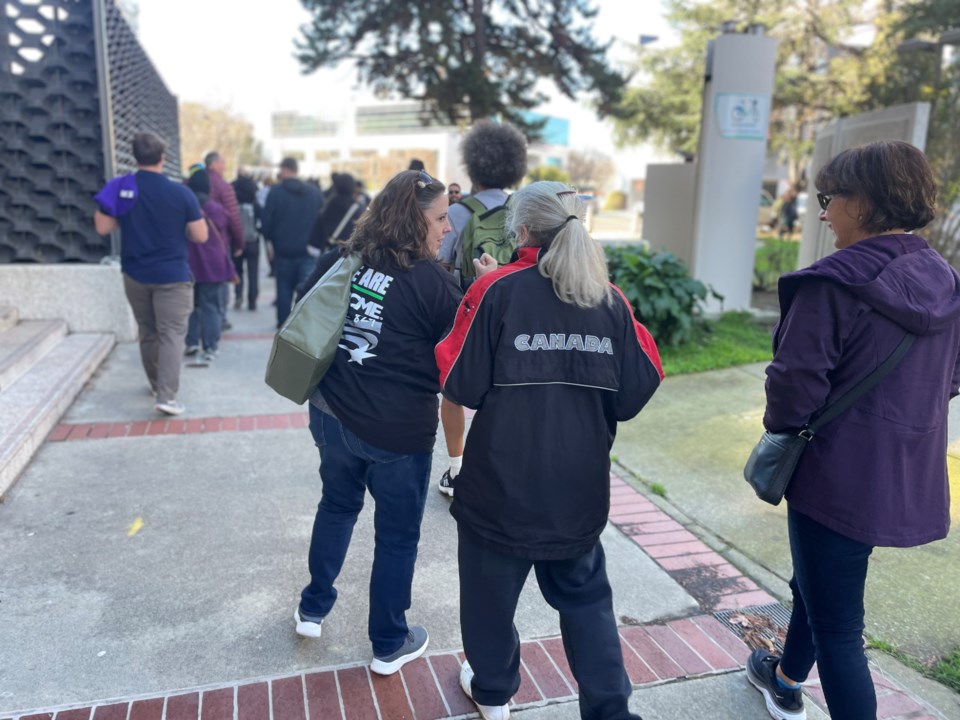 Eggen-Thornhill worked in private practice and the local Veterans Affairs medical center before joining the flex staff at the San Mateo Medical Center nearly four years ago. A licensed occupational therapist, she said that on a daily basis the number of extra help therapists outnumber the permanent employees; yet, she's never received a bonus or taken a paid vacation. Though she worked alongside permanent staffers throughout the pandemic, they all received a $2,000 COVID bonus, while she and her flex colleagues did not.
"I've never felt so disrespected by an employer. I'm clearly not valued as a worker," she told the Pulse.
Under their previous contract, which expired in Jan. 2022, extra help employees don't receive paid time off, are excluded from county pension or retirement plans and are only granted 36 hours of sick leave per year. Union workers have complained that health insurance, for those who are eligible, is expensive, has limited options and only kicks in after a year of working more than 30 hours per week. And if their hours drop below that weekly average, workers are at risk of losing their coverage.
"Since the number of patients in the hospital fluctuates greatly, there are weeks when I leave early every day and other weeks when I work full time," Eggen-Thornhill said. "That's risky to have a family of five on a health plan that could be there one day and gone the next."
As part of what she called a "safety net hospital," Eggen-Thornhill said she treats some of the county's most underserved populations, including undocumented and homeless residents. She described feeling "blindsided by the poverty" at her hospital and concerned for the wellbeing of her patients.
"I'm there four to five days per week—if I didn't show up half those patients wouldn't get care," she said.
She also expressed frustration about the lack of a clear path to becoming a permanent employee, something many other flex workers want. As the population of San Mateo County continues to grow and age, she added, their patient loads are becoming increasingly unmanageable. However, in her tenure at the hospital, she's only seen one colleague become a permanent employee—after 11 years working flex.
"So, where's the hope there?" she said.
County Supervisor Warren Slocum said that, as the former head of the Assessor-County Clerk-Recorder and Elections office, he was "sympathetic to the issues" raised by extra help workers. Though he was "generally supportive" of giving flex employees the same benefits afforded permanent employees, he said there was "a lot of nuance" in how best to address the need, given the wide range in the hours and schedules of extra help employees.
Still, he said that lax rule enforcement was to blame for some of the disparities, particularly regarding scheduling. While extra help employees are only supposed to work a certain number of hours over a short-term period, many have reported working 40 hours a week for years on end.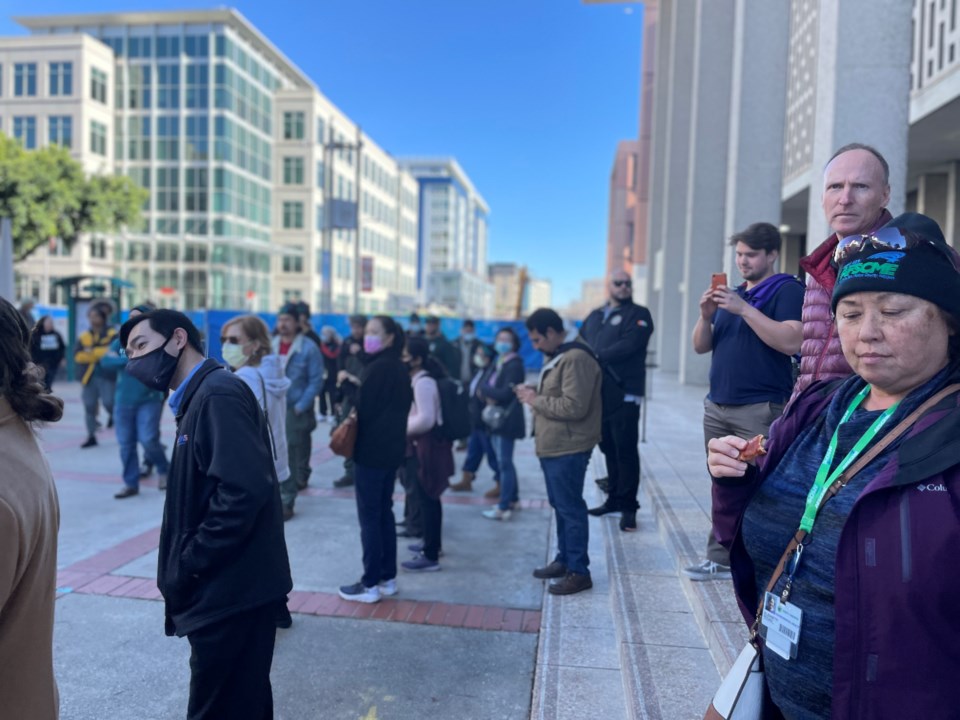 "There are some instances of departments violating the extra help rules internally," Slocum said. "Those departments aren't following the rules, quite frankly. They need to be held accountable and we need to find a way to address these inequities."
Departments are responsible for keeping track of their extra-help hours and must seek approval to extend flex workers' hours beyond the annual limit, according to Kiryczun.
Though he couldn't comment on specific enforcement efforts, Slocum said it would be up to the county executive and the Human Resources department to "tighten up their process" and regulate the rules more rigorously.
As the rally wound down, union members said their goodbyes and grabbed slices of pizza to go. Outside the entrance to the county center, Devilla sat on a bench, hunched over his phone.
Though he planned to continue working for the county, he said he would advise others against it. Gesturing around as his fellow workers, he said, "I'm still going to work here, but if they have more of this I'll be joining."
A father of three, he said the lack of health insurance has been the biggest challenge. Though he often works 40 hours a week in a dental clinic, he said he's unable to provide insurance—including dental—for his family.
"After a couple of months you feel it—the discrimination against the extra help," he said.
Shaking his head in disbelief, he added, "We work as hard as the permanent employees, and we feel like we are second-class, like we don't really matter."