After months of relative peace, residents of North Fair Oaks have again sounded the alarm against the removal of their beloved neighborhood trees.
Concerned neighbors attended a last-minute protest on Sunday, June 12, just two days after real estate developer Thomas James Homes was issued a permit to remove two more trees—a plum and a Brazilian pepper.
"In spite of it being so last minute, we had a total of 40 people over two hours to stop by and hang out," said one of the organizers, Tejaswini Ravindra. "The point was really to show where the neighborhood and the community stands on this."
Protestors gathered in front of the house on 14th Avenue where both trees are located. Resident Niket Sirsi carried a sign that read: "Save the Trees of NFO-Menlo." Another poster included a QR code for their online petition, which has over 100 signatures so far.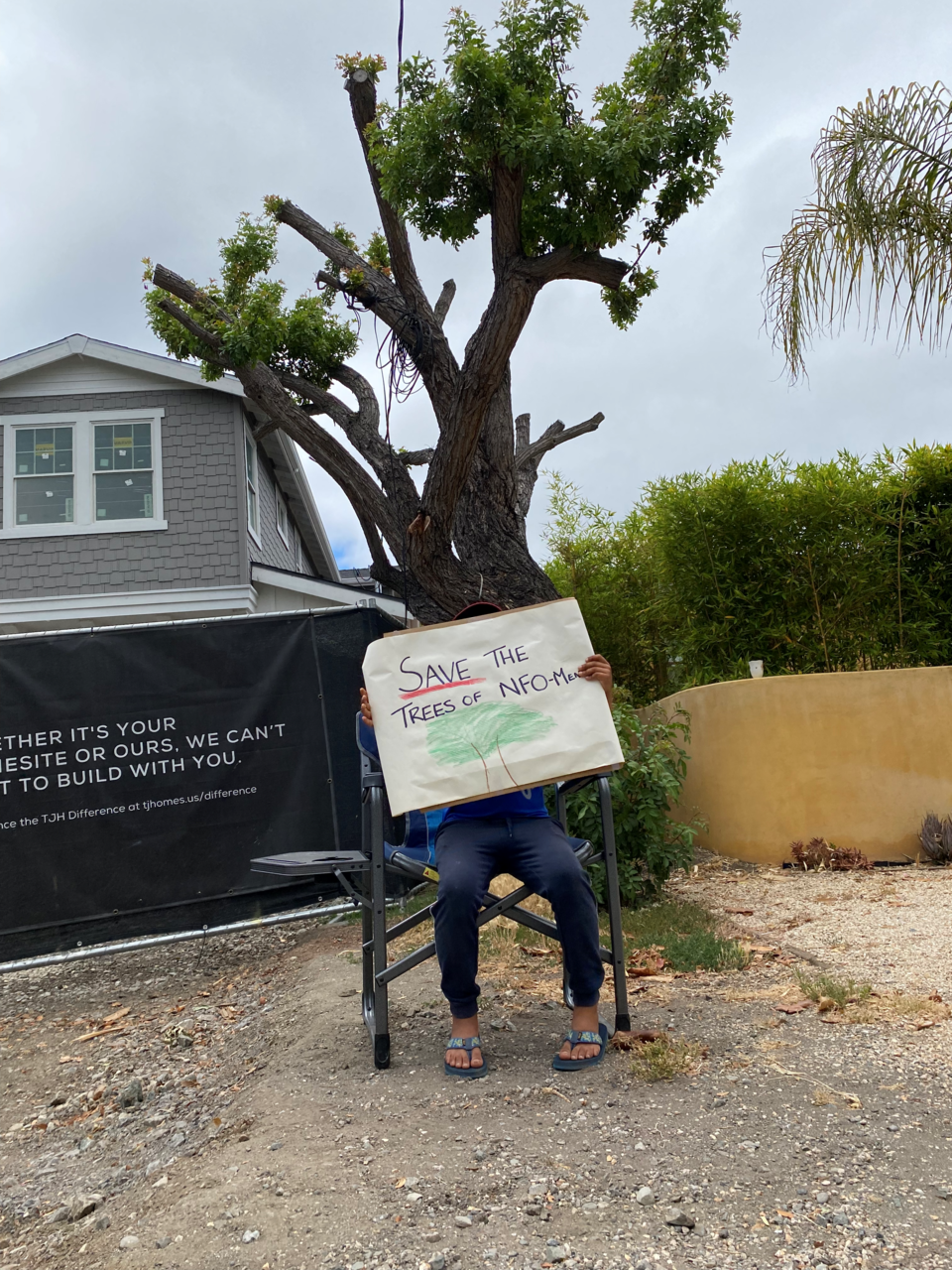 The developers submitted an application for removal that indicated the 22-inch diameter plum and one 30-inch diameter Brazilian pepper "were in poor health and should be removed due to the nature and extent of their defects," according to a memo from the San Mateo County Planning Department. An independent arborist report, which was approved by the county's arborist, said that the Brazilian pepper was "unlikely to survive the [prior] pruning" and that the plum has "extensive" decay.
The neighbors, however, are skeptical.
"In the original email, they said the tree has been pruned so bad it won't survive," Ravindra said. "The tree has proven them wrong; it has survived."
Speaking on behalf of her neighbors, she characterized TJ Homes' sudden decision to remove the tree as a reversal of previous commitments.
"They were saying that they're going to try their best to keep these trees," she said. "Then they sent this email that they were going to cut it down. That doesn't exactly scream community cooperation."
The neighbors of North Fair Oaks, an unincorporated area between Redwood City and Menlo Park, have been keeping a close eye on TJ Homes since its first development sign was posted in December 2020.
Ravindra and other residents worry that as more homes go up, more trees will come down.
"I think people are starting to get really tired of this," Ravindra told the Pulse. "We got the email from TJ Homes on Friday morning that they want to chop down the tree, after months of telling that they are working with us to try to figure out how to save more trees."
Since arriving in North Fair Oaks, TJ Homes has purchased half a dozen properties, tearing down the existing houses and building larger, more expensive ones in their place. The firm has also proposed the removal of more than 12 trees, of which three are protected, and has preserved 17, with the intention of planting 14 new ones.
Over the last year, they have found themselves in an escalating battle with the developer. What began as a small group of disgruntled neighbors has grown into a coalition of residents locking arms against the tide of new developments and tree removals—and the changes it may spell for their neighborhood.
"The sentiment is: Why are you doing this? Why aren't you trying harder to have sustainable development?" Ravindra said.
Last fall, with more trees slated for removal, tensions escalated among the residents who brought their grievances to County District 4 Supervisor Warren Slocum. Speaking to the Pulse in December, Slocum said his staff was "discussing possible options" for steps the county could take to address the conflict, including everything from strengthening their tree ordinance to implementing a design review for future housing projects.
For her part, Ravindra was unimpressed. As much as the neighbors want to protect their canopy, Ravindra said they don't have the time or resources to petition for every tree and are hoping for more support from the county.
"We'll continue fighting, but my fear is the minute we look away [TJ Homes] is going to continue," she said.