During two weeks of winter storms that pummeled the Peninsula, Redwood City departments saw a significant surge in the number of service calls from residents, which put a strain on staff and cost roughly $182,000 in overtime pay.
While residents battled flooding and downed trees, department officials worked overtime to respond to hundreds of service calls, distribute thousands of sandbags and reroute traffic around flooded streets throughout the city.
The Public Works Department received an estimated 300 storm-related calls—roughly six times more than the average for wet weather-related requests—and has incurred $130,000 in associated costs.
The fire department received 232 calls for service, six times the daily average, on New Year's Eve, according to Deputy Fire Chief Greg DaCunha. The following week, the department responded to roughly two times the usual number of calls. Because of the extremely high call volume, the department opened a Redwood City Fire Department Operations Center and a Redwood City-San Carlos joint virtual Emergency Operations Center on Dec. 31.
"It has to be one of the busiest days we've had in years," Redwood City Fire Captain Brian Steach said, describing the first major storm on New Year's Eve.
Fire department overtime costs related to the storm came out to $32,000, according to DaCunha.
The police department also reported a noticeable increase in calls for service, according to Sgt. Nick Perna, who said officers responded to traffic accidents, residential and commercial flooding and closed roadways. Though Perna said the total number of calls throughout the storms is unknown, the department received three times the average number on New Year's Eve alone. Overtime for Dec. 31-Jan. 1 cost the department roughly $4,000.
The city distributed roughly 16,500 sandbags to residents, at a cost of roughly $30,000 (not including staff and volunteer time).
"We're still playing catch up," said City Manager Melissa Stevenson Diaz.
At the Jan. 23 city council meeting, Stevenson Diaz provided an update on damages incurred during the storms. In addition to the cost of resources, she said the emergency had also caused delays on other projects by redirecting staff time to different priorities.
Damage to public and private property
Two weeks of severe winter storms brought historic rainfall to Redwood City, costing the city hundreds of thousands of dollars in emergency relief, damage and overtime pay.
Beginning Dec. 31, a series of atmospheric rivers drenched the Bay Area, breaking precipitation records for Redwood City, disrupting school schedules, forcing temporary evacuations and causing cities along the Peninsula to declare a local state of emergency.
Both private and public property suffered damage from severe wind and rain.
Dozens of public and private trees were downed, including 35 that blocked city streets, according to the Public Works Department. Roughly 27 city trees fell, Stevenson Diaz said.
Minor roof leaks and groundwater infiltration caused flooding in some city buildings and facilities. While the city doesn't calculate the value of losses to private property, Stevenson Diaz said that she had received reports of 21 residences and four businesses that had been impacted.
"It's possible that's an underrepresentation, and that's a concern," she said.
Additionally, in the weeks after the storms ended, potholes began forming on major throughways along the Midpeninsula, particularly within the Redwood City limits. Rains exacerbated existing imperfections in the roadways, causing the ground to "wither away," according to Officer Dave LaRock of the California Highway Patrol, who said that CHP officers have seen significantly more potholes than they're used to. He encouraged residents to use caution while driving and, as much as possible, avoid unnecessary travel to allow crews time to repair the roads.
Thousands of residents in Redwood City and unincorporated North Fair Oaks lost electricity for hours and even days during the storms. In a survey conducted by the Pulse, 37% of the 59 respondents said they experienced a power outage, with the majority reporting two or more. Some residents said they lost heat and had to throw out food, while others described being unable to work or working from public spaces, like Peet's Coffee and the downtown library.
Three residents said that they relied on medical devices that were disrupted by the loss of electricity.
"The power outage concerned us since we have a utility basement with a sump pump that pumps excess rain water out," said Betty Matsumoto-Schuch, who lives in Mt. Carmel. The heavy rains caused water—which normally gets pumped out—to collect under her house, she said.
Dagmar Logie said she and her husband made the best of their power outage—cooking a "romantic" candlelit dinner and cozying up next to the fireplace.
"It comes in handy to still have a gas stove," she said.
Nearly half of survey participants said they were personally impacted by flooding, which ruined interior carpets and paneling, disrupted daily commutes and caused expensive damage. One resident of the Indigo apartment complex near downtown Redwood City said that "inadequate drainage" of the amenity deck resulted in flooding of the shared parking garage.
"Water was pouring out of electrical conduits and was leaking through solid concrete on the 31st," they wrote.
Others reported damage caused by mudslides, downed trees and branches and toppled fences. One respondent reported that drainage backup caused "​​raw sewage" to flood into their yard. Emerald Hills resident Robbie Casarez said that he returned home from a trip in early January to find mud and rocks littering his driveway. In his garage, he found a one-fourth inch thick layer of mud that had seeped in.
"It was a mess," he said.
While neighborhoods from Friendly Acres to Emerald Hills were badly hit by the storms, residents living in mobile homes experienced some of the worst impacts, as debris-filled floodwater from around the city poured into their yards, damaging personal property and trapping several in their homes.
"The water smelled horrible," R.C. Mobile Park resident Dionicia Barrera said during a recent council meeting, describing dirty diapers and other debris floating outside her house.
Stevenson Diaz said the city planned to follow up with the residents most severely impacted by the storms, including those living adjacent to Cordilleras Creek and the mobile home park tenants. In the meantime, she said that an emergency response fund to support flood victims had been established and seeded with $50,000.
Businesses and homeowners may also be eligible for emergency tax relief or low interest disaster loans, Stevenson Diaz said. The county announced Monday that homeowners and renters with storm-related damage or losses can apply for federal disaster assistance.
To better quantify the extent of storm impacts, the county also invited residents to complete a survey, the results of which have yet to be released.
Record rainfall
With the last of January's predicted winter storms over, Redwood City's rain totals have reached historic levels.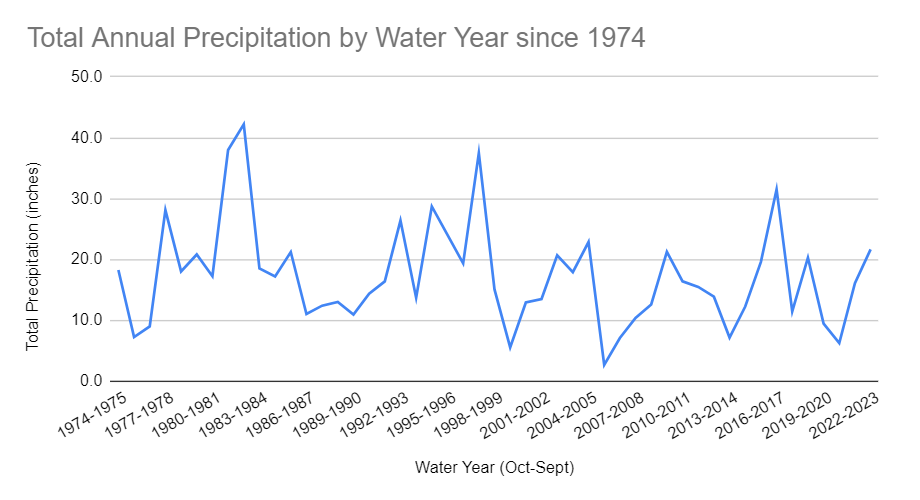 As of 9 a.m. Jan. 19, the city had received 21.7 inches of rain for the current water year, which started on Oct. 1, according to meteorologist Dalton Behringer of the National Weather Service. This year's rainfall is the most ever recorded in Redwood City during the period from October to January.
"I had to make sure I was seeing that right because it's so high," Behringer said. "If the water year were to end today, that is the highest on record."
With one exception (31.5 inches in 2016-2017), this year's rainfall has already surpassed the total annual precipitation recorded every year for the last two decades. Additionally, the three week period ending on Jan. 16 was "the wettest three week period on record" for Redwood City's station, at 15.8 inches.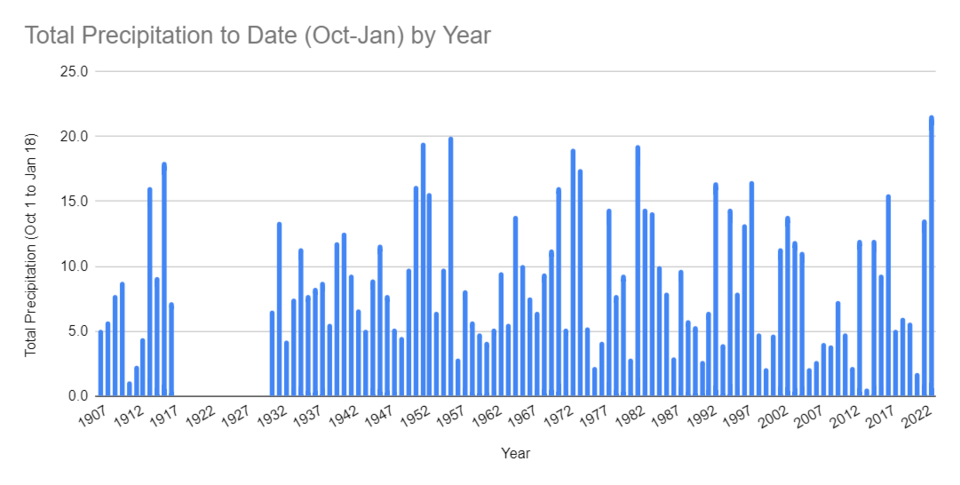 Though most of the region's rainfall hits during the winter season, which lasts through February, precipitation can continue into early spring.
In the wake of the storms, the city has faced frustrations from residents who complained of slow response times, insufficient outreach, inadequate multilingual services and infrastructure that couldn't hold up to increasingly severe weather.
To address growing concerns, the city intends to release an updated emergency operations plan this spring, according to Stevenson Diaz.