The call came in just before midnight on a Saturday. There was no time to run home and say goodbye to family. The firefighters had mere hours to grab their bags and get ready to go.
By 3 a.m. on July 24, Redwood City Fire Captain Brian Steach and his team were geared up and en route to Mariposa County, heading straight for the flames.
For a week, Redwood City's four-person crew—Steach, Dan Petrocchi, Dan Lind and Cameron Kaiser—joined the effort to combat California's biggest wildfire at the time, the Oak Fire, which tore through the mountains near Yosemite National Park.
"There's some nerves because you're driving throughout the night so you don't know exactly what the fire is like or where it's at," Steach said. "We arrived around 7 a.m. and went directly to work for the next 24 hours…It makes for a long first day but that's what we're there for."
Roughly 2,100 personnel were deployed to the fire, including local Bay Area crews from the Menlo Park Fire Protection District, San Mateo County Fire, Woodside Fire Protection District and Daly City's North County Fire Authority.
Now 94% contained, the Oak Fire erupted July 22 and has burned nearly 20,000 acres, destroying roughly 200 houses and other buildings. It quickly became California's biggest fire of 2022, which has seen a total of 5,184 blazes and an estimated 181,252 acres burned to date. The McKinney fire in Siskiyou County has since claimed the title, having consumed 56,000 acres and caused four fatalities so far.
The Oak Fire "followed a similar trajectory as many other fires in recent years," according to Steach. "Fast moving, very hot, erratic fire behavior, and burning thousands of acres very quickly."
Echoing a now-familiar narrative, he described this fire as the "new norm" in California.
Climate change has contributed to longer, more intense wildfire seasons, according to CAL FIRE. In an online statement about the 2022 fire season outlook, the department said that increasingly dry winters followed by warm springs "leave fuel moisture levels lower than normal, increasing the potential for wildland fire activity."
"There does not appear to be a true fire season anymore," Steach said. "Though we still expect an increase in the summer/fall."
His four-person crew, which makes up Engine 12 of the Redwood City Fire Department, is one of two designated to go out-of-county on mutual aid efforts. The length of their deployment depends on containment, weather, location and other conditions, but the firefighters stay a maximum of two weeks before being sent home or replaced.
Back home, he said, there's no impact on service to Redwood City during his crew's absence. The city currently employs roughly 70 full-time firefighters.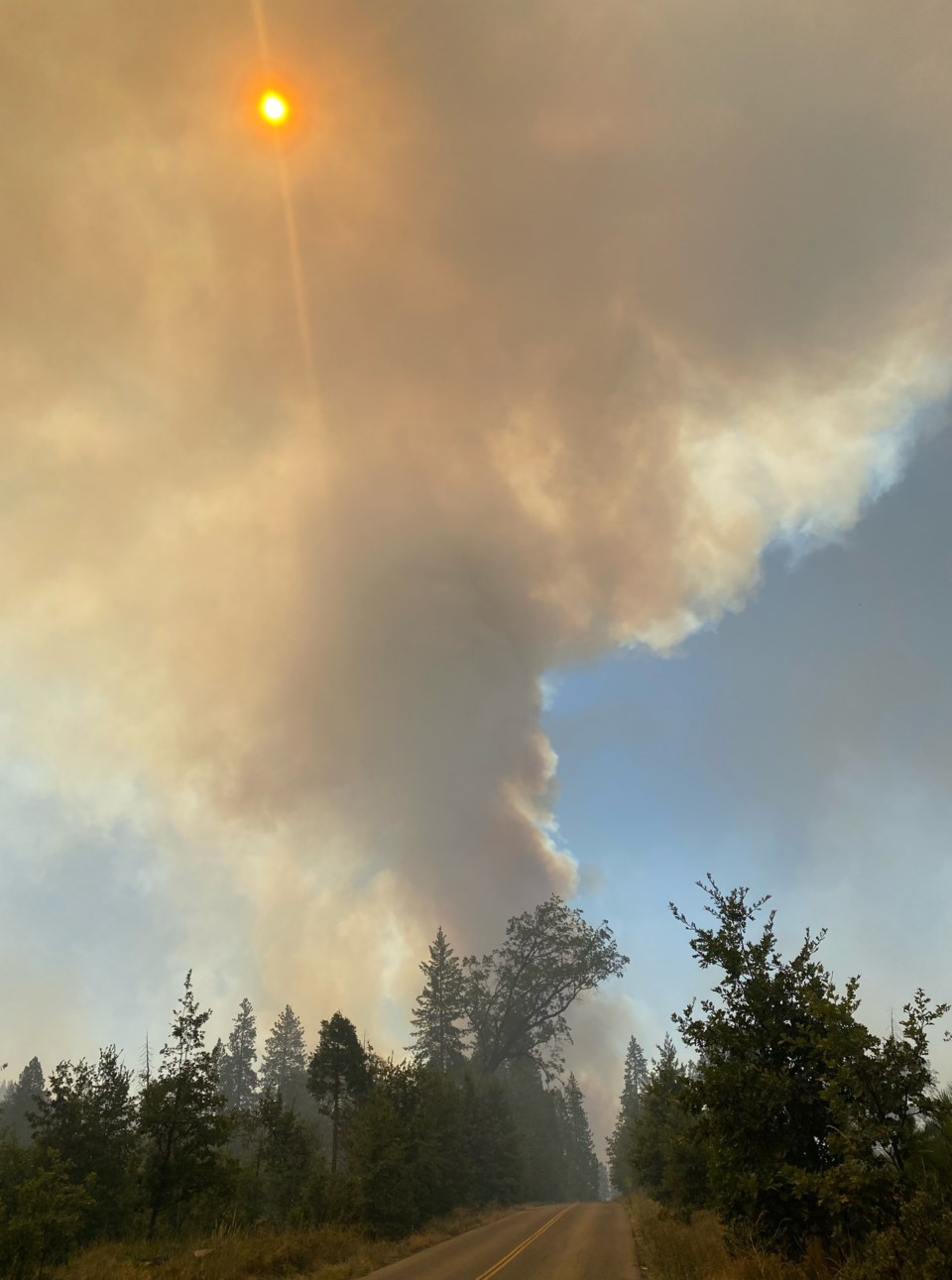 ​"Firefighters are moved between stations or brought in from home so when someone calls 911 in their time of need, we will be there," he said.
Hardly the normal nine-to-five, the firefighters' working schedule at the Oak Fire was 24 hours on and 24 hours off, "more of a marathon than a sprint," as Steach said. While daily responsibilities vary, he said his crew were tasked primarily with structure protection, extinguishing spot fires and helping residents return to their homes.
Sleep can be difficult to come by during 24-hour work shifts, he said. From 7 a.m. to 7 a.m., the firefighters have to be ready to jump into action at any moment.
"Sleep, if we do get it, [is] either on the ground or in/on the fire engine," Steach said. The firefighters nap when possible, but especially early in an incident when things are hot, they don't get more than 3-4 hours of sleep during a shift.
"Later on, we are able to sleep longer, but we often have someone awake to keep a lookout in case things change or we have to move to a different area," he said. "We won't ever sleep close to active fire or when there's a chance the fire will rapidly shift and move our direction."
Food is provided in the form of five-pound packed lunches, as well as ice, water and Gatorade.
Fighting the hot, fast-moving Oak Fire was made more difficult by environmental conditions. He and his crew battled high air temperatures, heat rash, poison oak and steep terrain. But the most challenging part, he said, is seeing people's homes and lives destroyed.
"We feel for the people that live in this area and it motivates us to work hard," he said.
But working in the neighborhoods is also gratifying. Steach said the firefighters often pass residents out in the street waving and cheering them on.
"It's always really satisfying when we're driving around and there are signs that say 'thank you firefighters' and 'thank you for saving our homes.'
"It's not necessary but still nice to hear it," he said. "It gives us a little more motivation and energy."
After seven days, the fire had mostly run its course and moved away from the residential areas. With people's homes no longer under threat, Steach and his crew were cleared to return home.
Steach always loves coming back to his wife and kids—and being able to shower and do laundry for the first time in days.
"You smell for a little bit, you really need that shower," he said laughing.
Ultimately, the work itself is its own reward.
"We enjoy this work, we are honored to be asked to assist and we know that when we have a big fire, like we did on June 21 in the Redwood City Hills, many other agencies came to assist—no questions asked," he said.
"We do the same for them. They need us, we do what we can to help."