An ordinance proposed by Redwood City officials on Thursday would set a buffer zone of 300 feet between gun storefronts and "sensitive facilities," like schools, parks, childcare facilities, youth and community centers, libraries and places of worship.
The city also proposed setting a buffer zone between Courthouse Square and gun shops at 600 feet.
Teachers, fed-up parents and worried residents shared concerns about potential gun storefronts popping up in Redwood City at Thursday night's community forum, which took place at City Hall, where the city presented its proposed ordinance on the regulations of firearms retailers.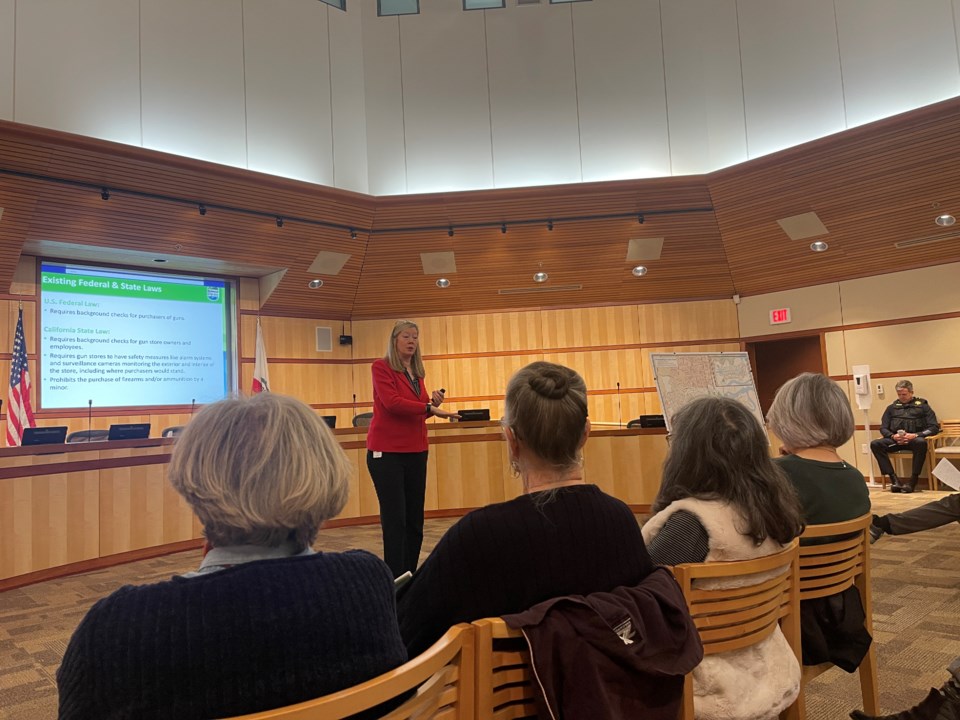 As a parent to two Redwood City public school students, Katie Goetz recounted her children's anxieties about school shootings, especially in the wake of a lockdown at Clifford Elementary last week, prompting other district schools to conduct lockdown drills.
"My fourth grader's classmates were discussing who in the classroom would get shot first based on their hiding spot," Goetz said. "These are kids who have not yet had their 10th birthday."
After prospective gun retailers applied for business licenses last year, residents like Goetz expressed concerns, leading the city to establish a moratorium last October on new stores selling firearms or ammunition.
Following months of analysis, the city proposed a police permit and additional land use regulations as more stringent safeguards yesterday. The ordinance would prohibit firearms retailers from operating in residential-only zoning districts, 600 feet away from Courthouse Square and 300 feet away from "sensitive facilities," like schools, parks, childcare facilities, youth and community centers, libraries and places of worship.
Much of the impassioned debate at the forum hinged around the distances of these buffer zones.
"What's the discrepancy between 300 and 600 feet?" Redwood City native Merrily Robinson asked city representatives. "You're saying that the musicians and the people who hang out downtown are more important than the kids at the library or school."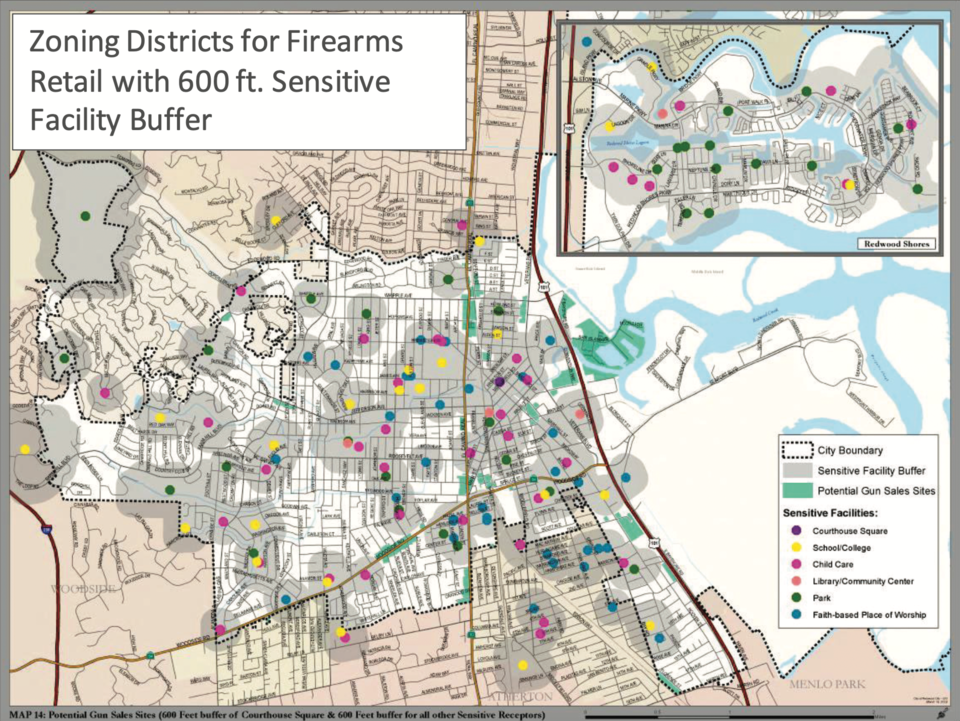 Nancy Olson, a retired teacher at Kennedy Middle School, added, "So just the people who have a choice to go down to the Courthouse are going to be protected, but the kids who don't have a choice to go to school won't be."
While the city initially explored a 1,000 feet barrier around sensitive facilities, it eventually docked the distance down to 300 feet as the possible locations for gun shops would be "extremely restrictive," Assistant City Manager Michelle Flaherty said.
The extra level of caution follows the threat of a lawsuit last November by the firearms advocacy group Second Amendment Foundation. To the gun rights nonprofit, the right to bear arms is unattainable without the right to acquire arms.
The Second Amendment Foundation, a Washington-based firearm advocacy nonprofit, wrote in a letter dated Oct. 28, advising the city to remove the temporary ban or face litigation.
"Should Redwood City continue to deprive its residents of the ability to acquire arms and ammunition through an indeterminate moratorium on firearms and ammunition retailers from opening a business, SAF will examine all legal remedies available to it, its members, and those who may be affected by the City's flagrant disregard of its citizens' constitutional rights," Executive Director Adam Kraut wrote in the October letter.
"I know that this is an emotionally charged subject, but we do have laws we need to comply with and the U.S. Constitution does provide individuals with the right to keep and bear arms and the court has extended that to the right to purchase guns and ammunition within the jurisdiction," City Attorney Veronica Ramirez said. "Any ban, whether that's a complete ban or a virtual ban, is going to be problematic from a constitutional perspective."
Under the Gun-Free School Zones Act of 1990, which was amended in 1995, unauthorized individuals are prohibited from possessing or discharging a firearm in a school zone, meaning on campus or within 1,000 feet of the school grounds. However, the law makes exceptions for authorized firearms vendors or manufacturers, allowing the city to help establish retailers 300 feet away from schools—proximity that was too close for comfort for forum participants. To Goetz, even the mere presence of gun storefronts will still affect children.
"The more you see a gun, the more it's normalized and the more you have access to it," Goetz said. "Proximity makes them familiar. It's harmful. That's why we've been so careful about these new marijuana shops."
Resident Kristen Gerencher also expressed concerns about the potential increase in domestic violence as well as violence within the gun stores themselves, citing the suicide of a man who stole a handgun from San Carlos-based retailer Imbert & Smithers in 2006.
"The presence of gun stores attracts crime. Just having a gun store means opening the door to people doing impulsive things," she said. "It raises the suicide rate. Imbert & Smithers have had smash and grabs. This is what can come along with these stores and near proximity to public places."
To combat the potential danger within gun shops, the police department plans to validate the retailer's Federal Firearms License and ensure that they comply with federal and state laws on the storage, display and security of firearms and ammunition. According to Redwood City Police Lt. Ed Conover, officers will also confirm that shops have adequate video surveillance and proper and accurate inventory control.
Gun shops would also be subject to conditional use permits, which would require a public zoning administrator hearing and a notice to residents within 300 feet of a proposed location.
But to resident Max Discher, gun violence extends far beyond storefronts.
"I'd like to see more effort from the city to address the more connected causes of tragic gun violence," he said. "Mental health issues come to mind, substance abuse issues, things that make people unstable enough to go and do [crime]."
Discher suggested a supplementary fee on gun retailers, mentioning the city's cannabis excise tax which helps fund city services like police patrols and libraries, as well as a requirement for stores to have tinted windows.
Throughout the at least four month process of discussing the ordinance, the city invites further recommendations and comments from community members. Residents have until April 10 to share their input via online survey and can attend the ordinance's first reading at the city council meeting on May 22.