After 10 years of waiting, the residents of Bair Island will finally have easy—and safe—walkable access to Downtown Redwood City.
Dozens of residents and city officials came out to celebrate the grand opening of a new pedestrian undercrossing, connecting the Bair Island Road bike path with Main Street, beneath Highway 101. Several speeches were followed by an official ribbon-cutting led by Mayor Diane Howard.
"I'm so happy for the neighbors over here. They have a safe way to come downtown," Howard told the Pulse. "I haven't ridden a bike across 101 ever since I almost got killed on Woodside Road. Now I'm so looking forward to coming out here and riding my bike underneath safely."
The 14-foot wide undercrossing, which provides 700 feet of new pathway for bikes and pedestrians and cost nearly $4 million, is a much-anticipated replacement for the unpaved trail that preceded it. Cyclists and pedestrians began using the path within minutes of the ribbon-cutting.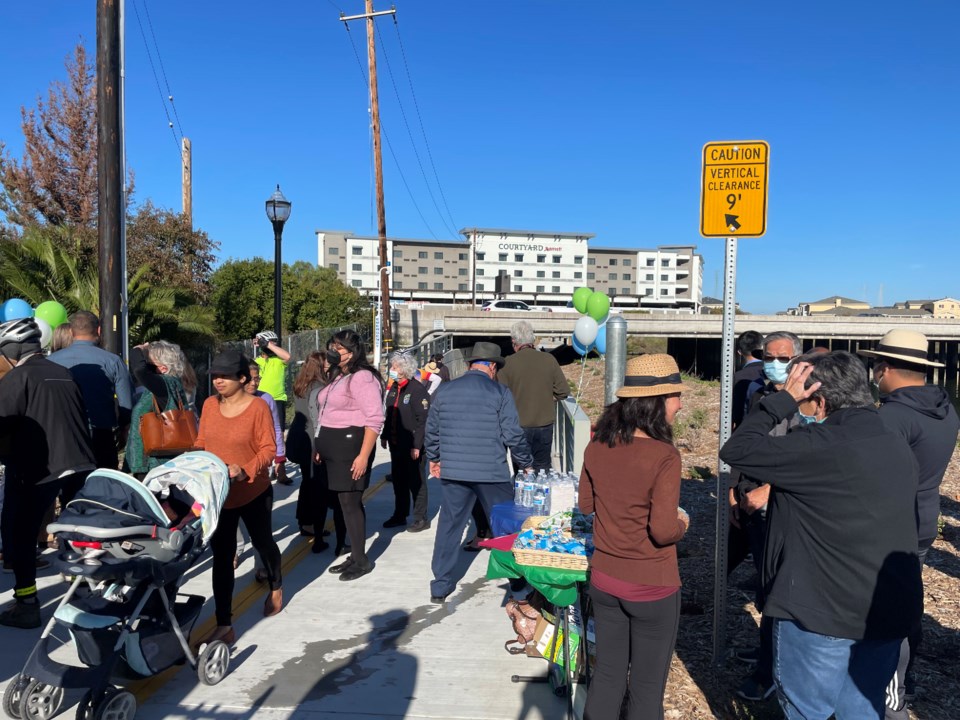 "We're so happy!" said Melody, a resident of Bair Island who stopped by with her two sons.
"When we bought our house, this was one of the selling points," she said. She remembers trying to take a walk to Main Street with her family shortly after moving in and being terrified to cross the highway. Now, after seven years, she's looking forward to taking casual strolls downtown for dinner or shopping.
"I'm just so glad it's done," she said. "We've been paying taxes on it!"
Matt, another resident who moved to Bair Island with his son in July, said he didn't know about the new undercrossing until he was already in the process of buying his new house. But he couldn't be happier that it opened when it did.
"I'm sure that we'll be riding our bikes back and forth through here. And if I need to get downtown or to get over to some of the newer businesses here, walking, it'll just be fine," he said. "So we will certainly use it. This is totally awesome."
According to the California Office of Traffic Safety, California's pedestrian fatality rate is almost 25% higher than the national average. Preliminary data published by the Governors Highway Safety Association showed that, from January to June 2020, California had 485 pedestrian fatalities, more than any other state in the country.
"I think it's obviously far safer than the other options for crossing over," Matt said of the new highway underpass.
Howard, like many others, expressed frustration that the project took so long to complete. She said that, because of its proximity to the water, the crossing required permits from a slew of different environmental and transit agencies. The city first applied for permits to build the pedestrian underpass in 2013 and wasn't fully approved until 2018.

"Thank god, we got this done," she said at the opening. "And there's so much more we could do if we could move a little faster."
~~
Leah Worthington is the lead reporter at the Redwood City Pulse, a local news site dedicated to providing accurate and timely news to the Redwood City community. Leah can be reached at lworthington@rwcpulse.com, on Twitter, and by phone at 650-888-3794. To read more stories about Redwood City, subscribe to our daily Express newsletter on rwcpulse.com.