At 25, Peggy Cordero decided the 9-to-5 routine was just a little too dull for her. She couldn't afford school, so she enlisted in the United States Navy instead.
"It was an adventure," she said of her 3 and ½ years serving as a seaman at San Francisco's Treasure Island during the Vietnam War. "It was office work, but it was really interesting. My first job was working in the discipline legal office. They bring prisoners in there. Sometimes a few murderers came through."
Cordero said Treasure Island at the time was "like a regular city," complete with a barbershop, beauty shops, bowling alleys, a baseball field and a gas station. She called life there "a good time" that included learning about ships, giving tours to visitors and even dating a few soldiers.
When her enlistment was up, she retired from the Navy but continued working with the civil service for another 30 years.
Now 84, Cordero is one of more than 200 veterans, family members, youth groups and city officials who gathered Wednesday at Redwood City's Courthouse Square for the 10th annual Veterans Day Celebration. Attendees were greeted by a display of motorcycles and vintage cars, as well as complimentary coffee, donuts and hot dogs. An enormous flag hung over the square, suspended from the top of the fire truck ladder.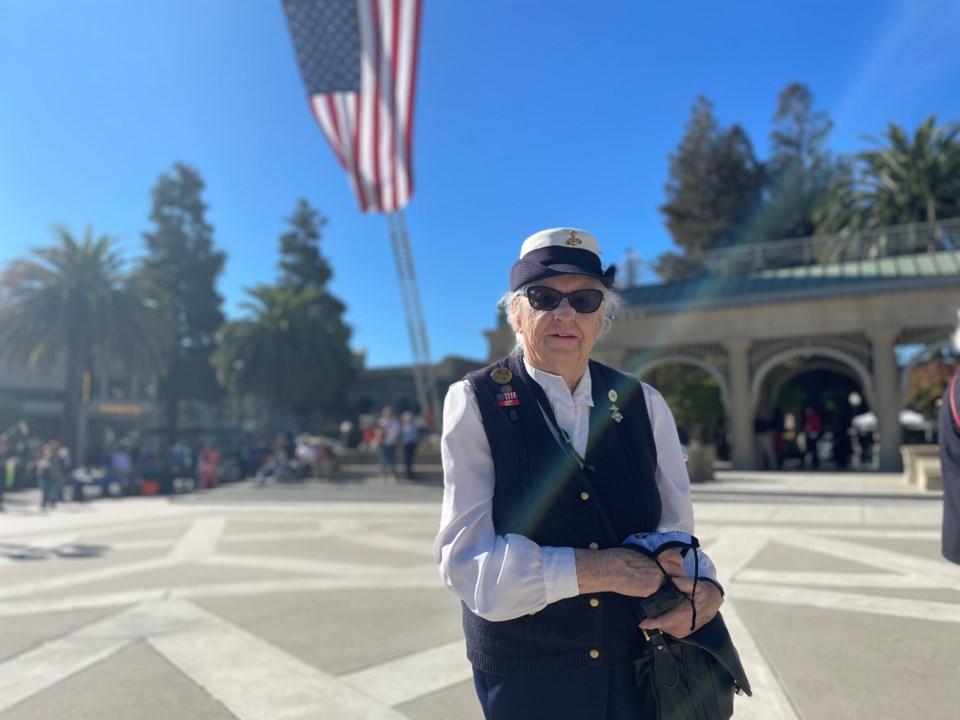 The ceremony, which the Redwood City Downtown Lions Club organized in conjunction with the Post 105 American Legion, included speeches from veterans and local officials, a flag ceremony and individual recognition of each military branch.
District 4 Supervisor, and Vietnam War veteran, Warren Slocum served as the master of ceremonies, recognizing the 30,000 veterans living in San Mateo County.
"As a proud Vietnam vet, it was my deep honor to MC this 2021 Veterans Day celebration," Slocum said, sporting his black military hat.
Redwood City Mayor Diane Howard also gave a speech in which she spoke about the history of Veterans Day and the importance of honoring the veteran community.
"At the close of World War I, President Woodrow Wilson proclaimed the first Armistice Day," Howard said. "It actually went into effect on the 11th hour of the 11th day of the 11th month of 1918."
Howard said the holiday was renamed Veterans Day in 1954 "to celebrate and commemorate the brave, selfless soldiers who gave so much to preserve our way of life."
"Today is the only date of the year which we dedicate to honor our veterans, but we Americans will never forget the sacrifice that these men and women have made to defend our country and protect our freedoms," she said.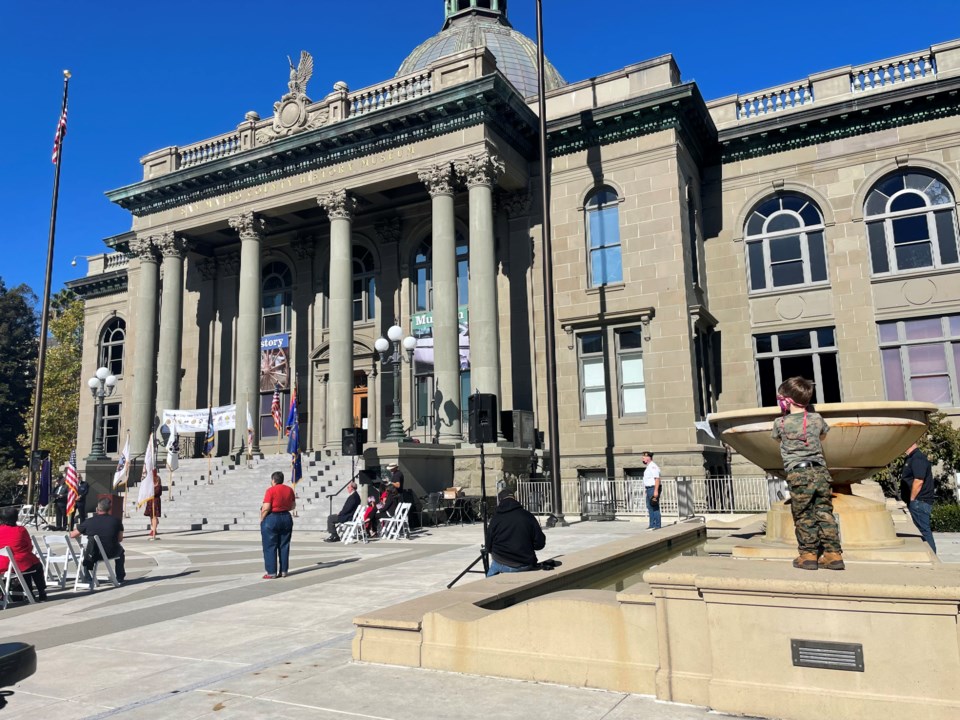 Describing veterans as not "extraordinary people," but as "ordinary people who did extraordinary things," Howard thanked them for their service and then asked the community to care for and honor those who "recognized that freedom isn't free, long before it became a bumper sticker."
Howard, whose son is a marine and father was in the service, told the Pulse that the ceremony has a special significance for her. She said she was honored to be asked to speak and particularly happy to see so many young people in attendance.
Still, she hopes to see larger crowds in the years to come.
"People were telling me that they found out word of mouth," she said, adding that she'd like to see teachers using the event as an opportunity to teach their students about U.S. history.
"Next year, I'm going to strongly suggest that they ask the county to step up and utilize their public relations people because they could have gotten it out to every part of the county," she said.
Many veterans said the mayor's speech moved them. One of those people was 57-year-old Scott, who did not want to give his last name. He was a rescue swimmer who did two tours with the Coast Guard and said he completed 1,000 successful rescues.
"The mayor's speech really touched my heart. And she made me tear up a little bit," he said. "Just her appreciation for the vets … it really kind of hit home."
Also in attendance was 58-year-old Tom Day, a veteran and Secretary of the American Legion Riders Chapter 105. Day, who has been actively supporting veterans for the last few years, said he didn't originally want to enlist.
"I was the anti-military person," he said, laughing. "I was in student government at the University of Wisconsin. I said, 'more money for education, less money for the military.'"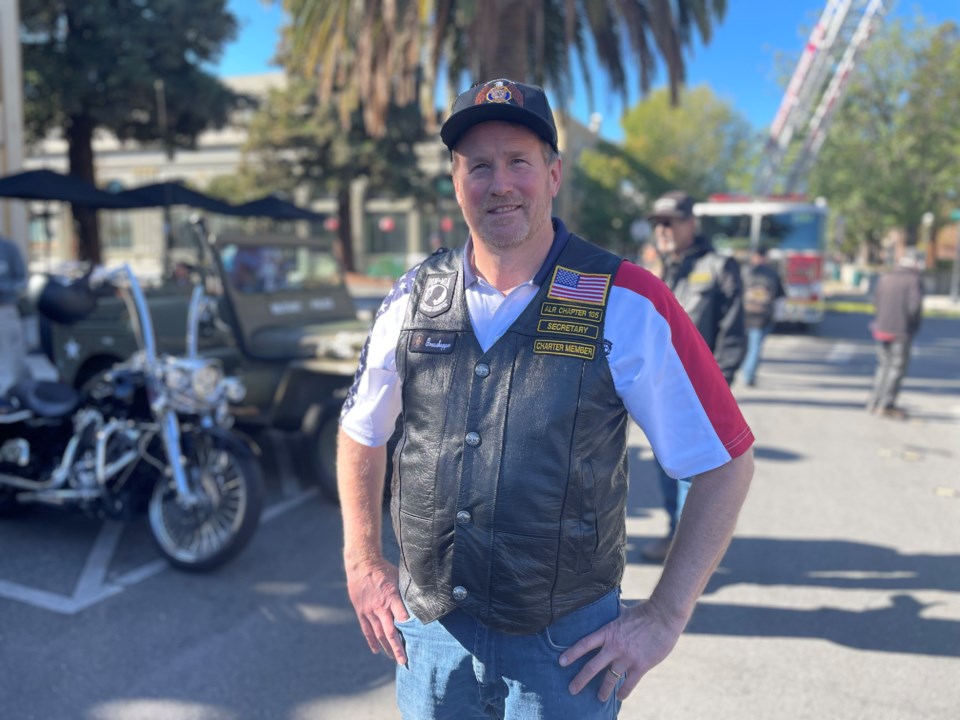 But in a twist of fate, Day's college fund ran out, and he decided to try out a basic training summer program that would help sponsor his education.
"Two weeks after I applied, I was in Fort Leonard Wood, Mo. having somebody yell at me saying, 'You're in the army now!'" he said.
From there, he went on to join his university's ROTC program and ended up serving for 4 and ½ years, including a year in Korea. And, despite his initial hesitation, he came to enjoy the Army lifestyle. He liked the camaraderie and said the experience gave him a new perspective on his own country—one he thinks would be valuable to anyone.
"If you talk to any veteran, they'll be the last one that ever wants to start a war because they've seen the bad parts of it.
"I think it's good for everyone to at least serve," he said, adding that his son is the 27th in their family line to enlist. "I think it makes people in general, in my opinion, better people. I mean, my son makes his bed!"
One of the older veterans at the celebration, Cordero was decked out in her original Navy uniform—vest, hat and all. She's lived in Redwood City, just a few blocks from the square, for more than 60 years and said she comes to the celebration every year.
"I'm so glad they had it this year," she said. "I put my Navy flag up on my front fence this morning before I came over.
"When they blow taps, oh boy, it really gets me," she added, laughing. "I just think it's wonderful."
~~
Leah Worthington is the lead reporter at the Redwood City Pulse, a local news site dedicated to providing accurate and timely news to the Redwood City community. Leah can be reached at lworthington@rwcpulse.com, on Twitter, and by phone at 650-888-3794. To read more stories about Redwood City, subscribe to our daily Express newsletter on rwcpulse.com.