More than 40,000 Peninsula PG&E customers are still without power Wednesday, impacting thousands of homes and businesses in Redwood City after high winds knocked down trees and electrical lines Tuesday.
PG&E crews are continuing to assess the damage. According to the outage map, power is off for thousands of Redwood City residents in Centennial, Farm Hill, Woodside Plaza, Emerald Hills and Palm Park. For most areas, restoration time is still to be announced.
Class is canceled for Sequoia High School and Carlmont High School Wednesday. Redwood City School District has canceled classes at Kennedy, MIT, North Star, Roosevelt, and Roy Cloud. This includes all after school programs, events, and activities.
All San Mateo County parks are closed until Thursday due to extreme wind conditions and falling trees. The Redwood City Public Library Schaberg Branch was closed Wednesday morning due to lost power with no estimated time of restoration. The Downtown and Redwood Shores library branches remain open.
Redwood City resident Trisha Morrell, who lives near Brewster Avenue and Jeter Street, said she and her husband were at work when a tree fell into her yard and blocked the sidewalk in front of her residence around 2 p.m. Tuesday.
"We found out when a neighbor called my husband," said Morrell. "We feel like it must have been a peaceful exit for the tree because no one heard it, even despite all this obvious destruction."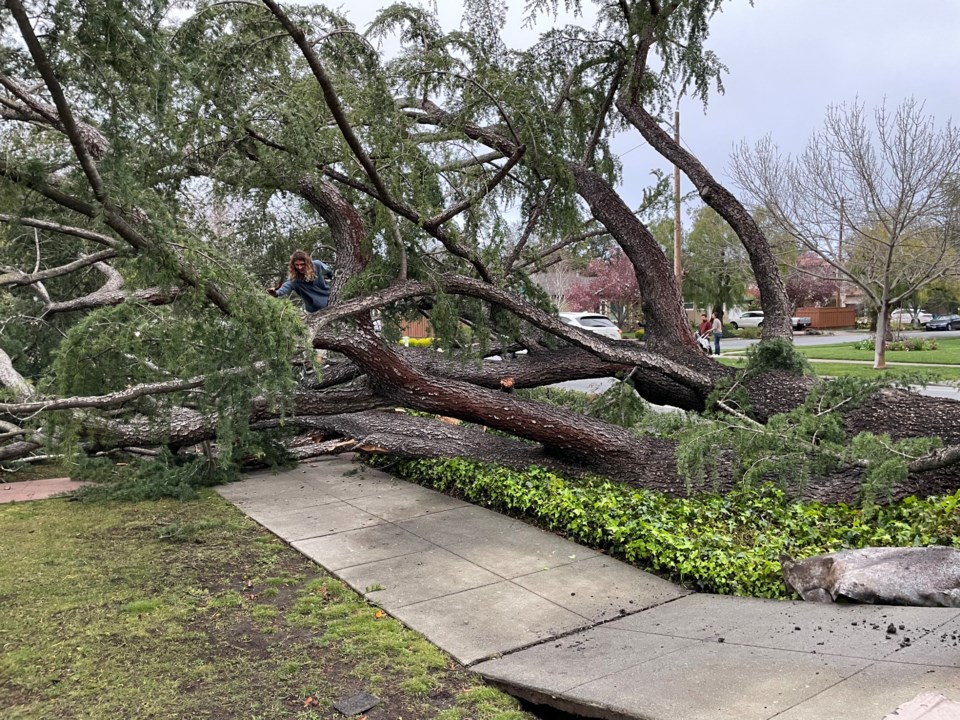 There were 42,807 without power on the Peninsula, 31,412 in the East Bay, 1,497 in the North Bay and 945 in San Francisco, said PG&E spokesperson Karly Hernandez on Wednesday.
"The storm is hitting PG&E's service area hard," PG&E spokesperson Megan McFarland said Tuesday.
More than 3,500 PG&E customers all the way up into Emerald Lake Hills were impacted by outages Tuesday.
Nearly 1,800 customers in West Menlo Park lost power just before 12:30 p.m. Tuesday along with more than 1,200 customers just north of Whipple Avenue in RWC on both sides of El Camino.
Thousands of residents still have no power as of Wednesday morning.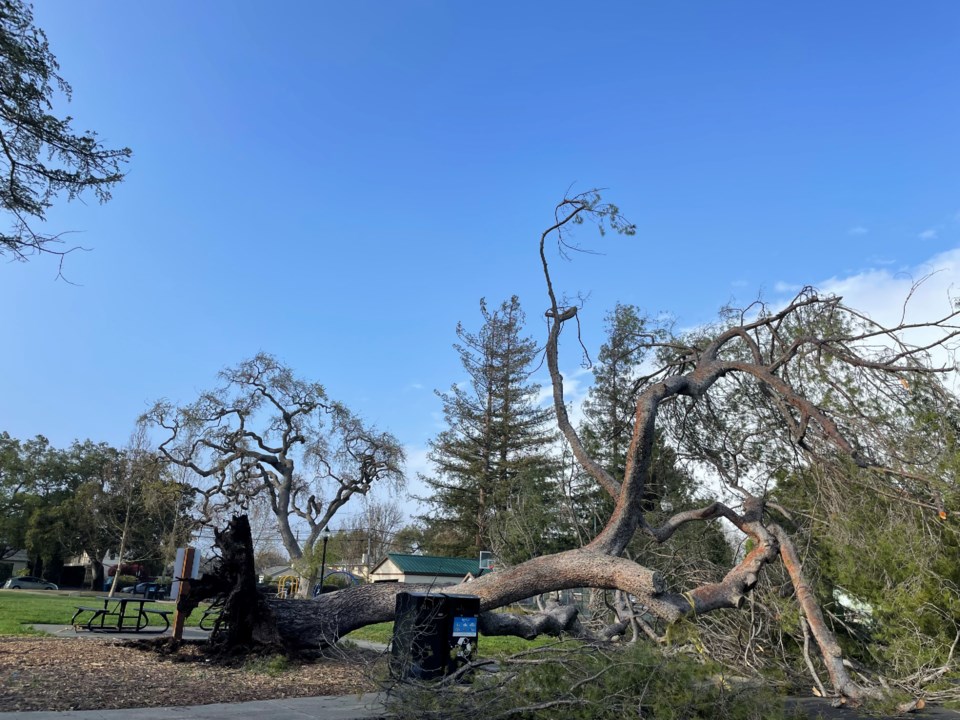 Caltrain halted service between Millbrae and Hillsdale Tuesday afternoon after two eucalyptus trees fell onto the tracks. Regular service resumed Wednesday.
Highway 92 near Skyline Boulevard was closed Tuesday after a downed tree blocked all lanes of the road, according to Cal Fire. Officials with San Mateo County advised residents to avoid unnecessary travel.
Redwood City Police Department Lt. Nick Perna said the department is prepared to do evacuations in extreme situations, provide traffic control, and work closely with partners in the fire department, local law enforcement agencies, and state, county, and other local governments to respond to any emergency situation.
He advised residents to keep enough food and water on hand to sustain themselves for a few days, especially non-perishable items, as well as batteries for flashlights and candles, and to charge up electronic devices and have extra chargers on hand. The department also recommended keeping cars gassed up in case of emergency but advised residents to avoid being on the streets, especially during power outages when signal controls are out.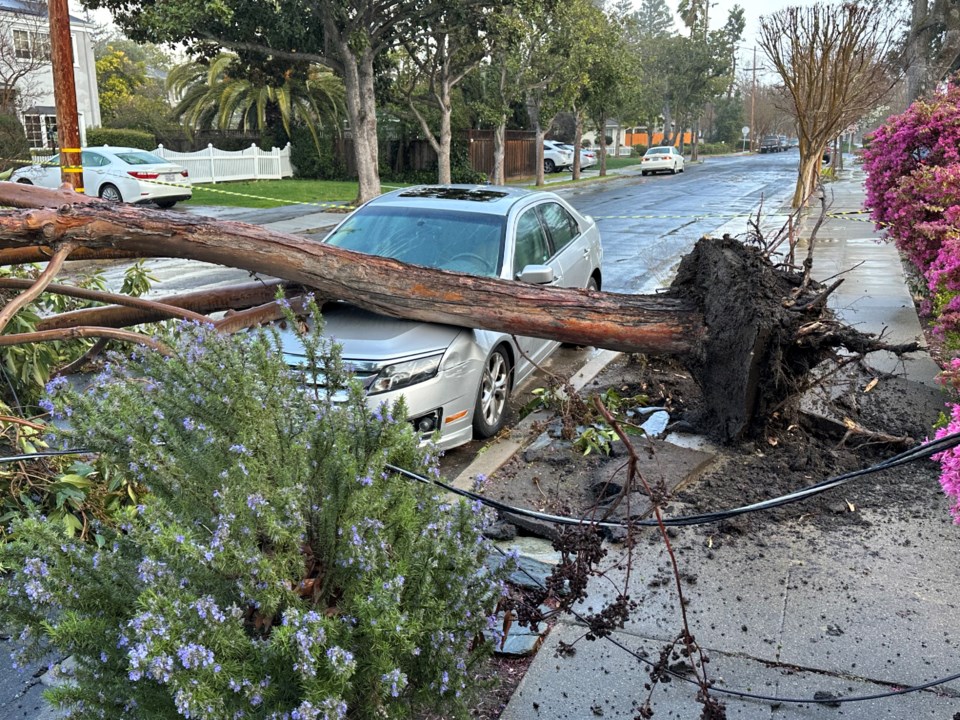 San Mateo County officials said that "9-1-1 was currently overloaded with non-urgent storm related calls," and urged residents to call 2-1-1 for assistance.
PG&E officials reiterated a warning to never touch downed wires. Residents should report downed power lines immediately by calling 9-1-1 and by calling PG&E at 1-800-743-5002.
This story will be updated as more information becomes available.
Bay City News contributed to this report. Mountain View Voice reporter Malea Martin contributed to this report.
****
If you are without power and want to message us, please email us at editor@rwcpulse.com. Send your pictures to Avery Luke at aluke@rwcpulse.com or editor@rwcpulse.com.