[Léa este artículo en español aquí]
From cataclysmic destruction, new life emerges. It's a tale as old as time itself, or so the saying goes.
That's the idea behind Mexican Artist Fernando Escartiz's new art installation "We Are Stardust" arriving later this month at the Redwood City Courthouse Square. The 42-year-old will bring his concept of rebirth to the Art Kiosk in front of the San Mateo County History Museum to challenge audiences to rethink what it means for something to die.
"There has to be death for there to be life," he said in Spanish on a phone call with the Pulse. "That's where the connection between my latest piece and Día de los Muertos is, I believe."
Día de los Muertos is an annual multi-day Mexican holiday that begins on Nov.1 and celebrates loved ones who have died. Families set up ofrendas — altars — with sugar skulls known as calaveras, flowers, candles and photos of those who have passed as a way to commemorate and celebrate their lives. Foods and beverages, such as bread and tequila, are often placed on the ofrenda so that when the souls of the dead return, they can enjoy a meal.
Just days before the Día de los Muertos holiday begins, Escartiz on Oct.30 will reveal his "Stardust" installation to Redwood City residents and other art enthusiasts.
It's the second time Escartiz will feature his artwork on the Square. Two years ago, the artist brought large, brightly colored alebrijes – folk art of mythical creatures first conceptualized by Mexican artisan Pedro Linares – to Redwood City. The display included a vivid and imaginative depiction of Escartiz's interpretation of Linares' alebrije; the creature resting atop the history museum roof, mouth open, eyes wide.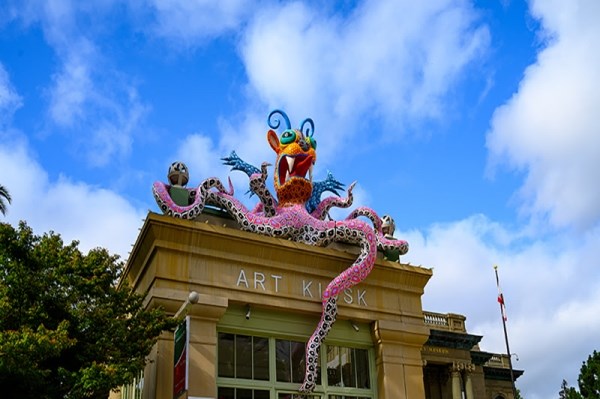 The series was an homage to Linares, Escartiz said, and the folk legend Linares concocted during a dream involving the alebrijes the artisan said spoke to him. Alebrijes, which were most notably depicted in Pixar's Coco, are not typically associated with Día de los Muertos, but possibly because of their significance to Mexican culture, the creators of the film chose to add them, Escartiz said.
Although Escartiz did not want to give too much away, he did tell the Pulse that this year's installation will be bigger than his last installation in 2019 and will include large-scale celestial constructions that will envelop portions of the San Mateo County History Museum.
The piece will straddle the line between some of the various themes that surfaced during the COVID-19 pandemic, including mortality, loss and rebirth.
"COVID-19 has been tremendous," Escartiz said." A lot of people have died. It's been tremendous, but it's also been good for the universe and planet…"
It's a sensitive topic he wants to convey but one that he hopes will evoke meaningful reflections on life and death from his audience, he said. Yet, he also appreciates when audiences interpret art in their own ways.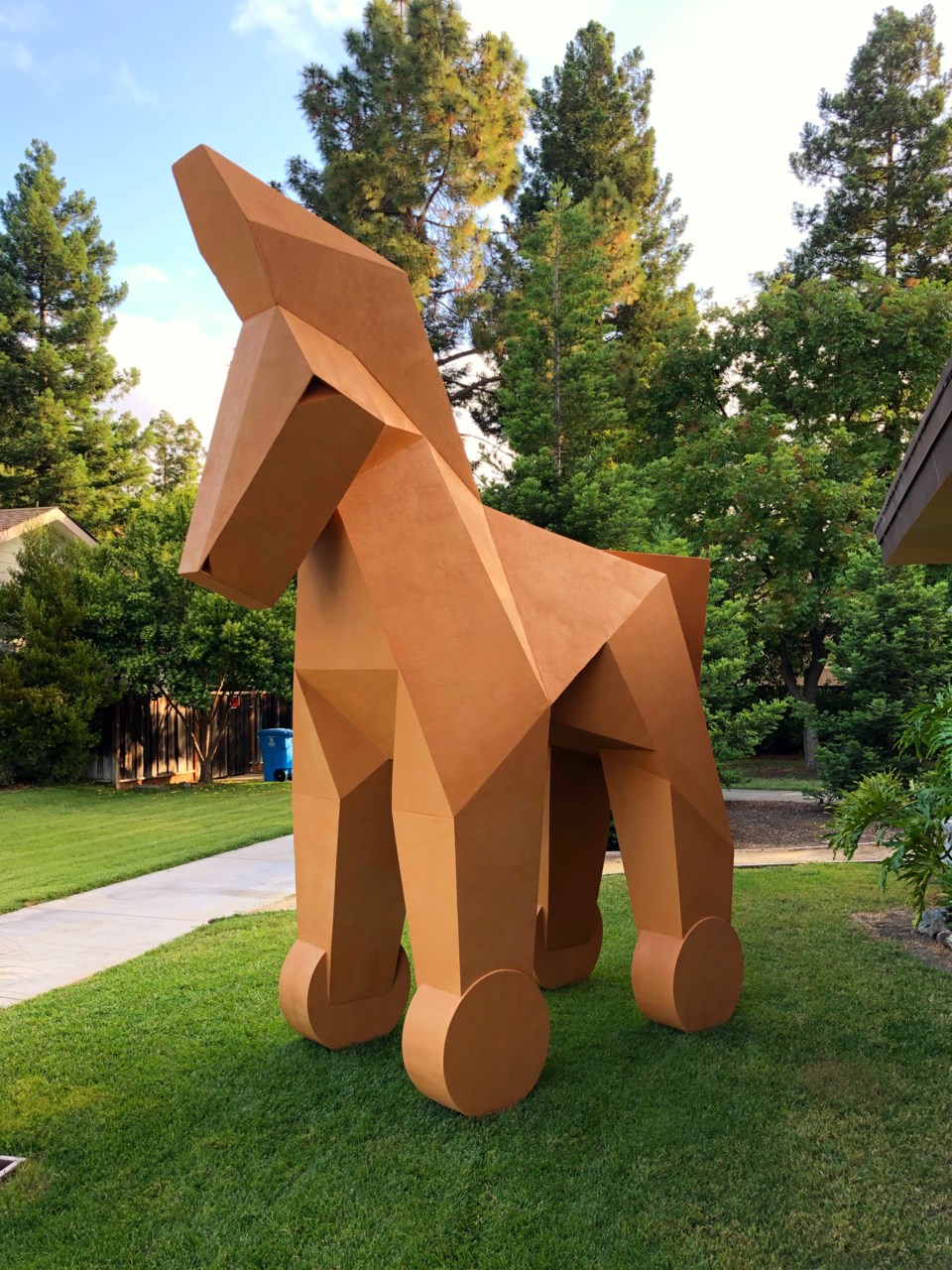 "These are things that are extremely normal in the universe," Escartiz said, referring to the idea of creation from extinction. "There has always been some sort of destruction so that there could be a new form or another form of life.
"This concept has always been the story of the universe, mankind, Earth and everything."
"So Many Have Died…"
For more than 10 years, the city of Redwood City has hosted and taken part in a Día de los Muertos celebration with the help of local nonprofits. This year, the Día de los Muertos celebration will take place on Sunday, Nov. 7 from 4 p.m. to 7 p.m., partially because of uncertainty about whether it would take place due to COVID-19 concerns, said Veronica Escamez of Casa Círculo Cultural.
As of Thursday, Oct. 7 more than 4 million people have tested positive and nearly 70,000 people have died from COVID-19 in California, according to the state public health department. In San Mateo County, more than 600 people have died from COVID-19, according to the SMC County Dashboard.
"Day of the Dead celebrates life…," Escamez said. "Especially this year is going to be of the most importance because so many people have died from Covid-19."
The Redwood City Día de los Muertos celebration draws crowds of diverse people from all over the Bay Area, Escamez said, adding that she believes it may be one of the most well-attended events in Redwood City.
"We kind of transform the town in Redwood City into a little town in Mexico,'' Escamez said. "We start at 6 a.m. and by 1 a.m. we finish cleaning up... We invite several groups that dance and present arts and finish up with an hour of our own presentations.
"We are very proud of it because we work for months with the parents and families," she added.
And Escartiz's massive "Stardust" installation will be right in the middle of town during the Día de los Muertos celebration at the Art Kiosk.
The initiative that funds the Art Kiosk — and Escartiz's new installation — is a collaboration between the Redwood City Improvement Association and Fung Collaboratives, which curates the pieces that go on display in Redwood City. The project also receives funding from the Chan Zuckerberg Initiative.
"The Art Kiosk is an ongoing rotation of exhibits showcasing top local and international artists in the heart of our community", said Amy Buckmaster, executive director for the Redwood City Improvement Association.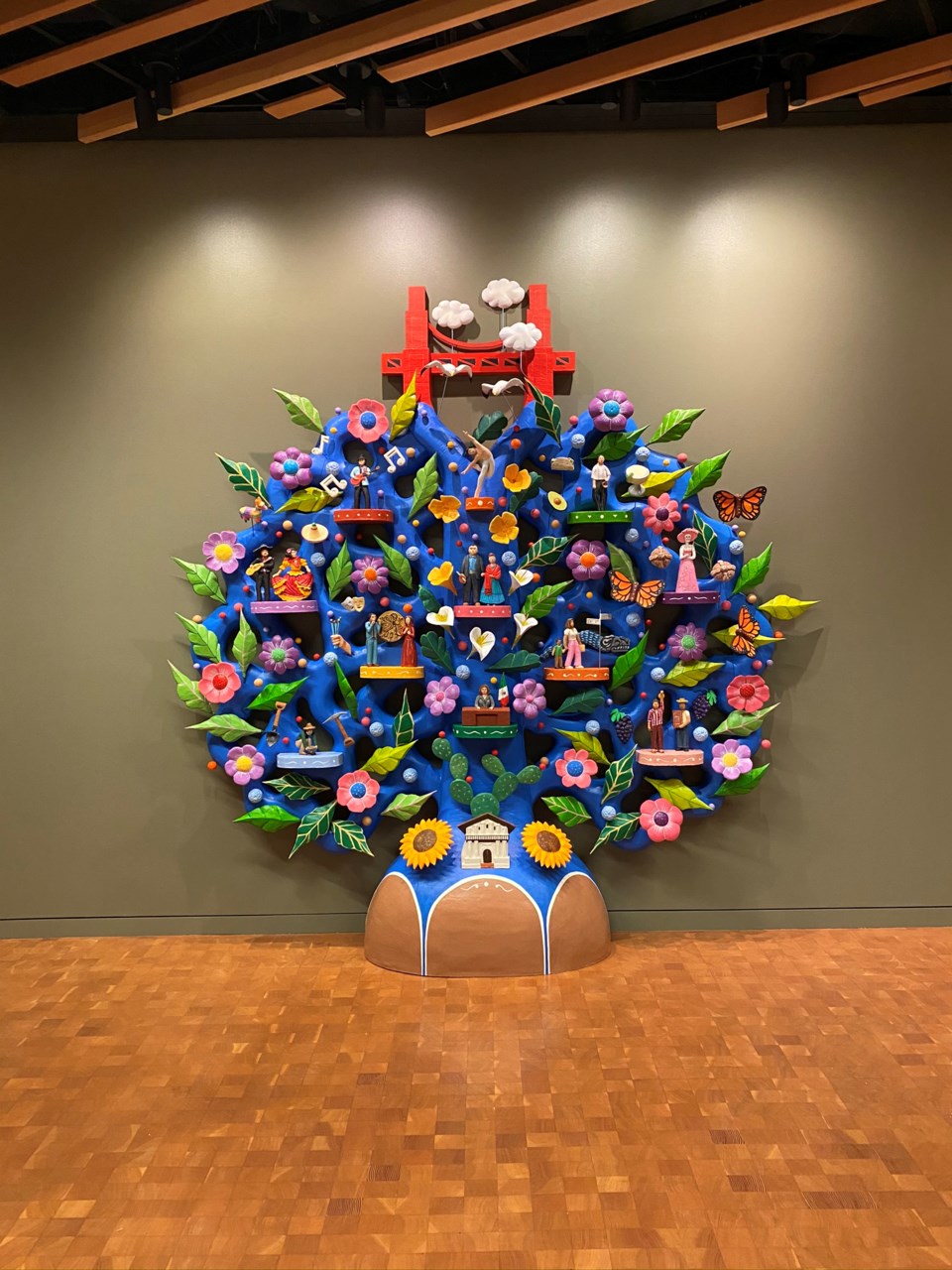 The installations are something the community looks forward to, Buckmaster said, adding that the RCIA is thrilled to continue supporting the local arts and culture scene by making the installations visible from the streets allowing locals and visitors to view the installations 24/7.
"Doors and Opportunities…"
Escartiz draws parallels from the end and beginning of life to his own experience as a small child growing up in Mexico City. When his parents divorced, he moved away from his childhood home and came to the United States with his mother to live in Redwood City.
"But it opened up a lot of doors and opportunities for us," Escartiz said. "And now I have been able to work as an artist in Mexico, in the U.S. and I have been learning so much about different cultures."
Even though his parents' marriage collapsed, his exposure to new experiences in a foreign country had a lasting impact and it changed the course of his future.
"It's enriched my life," Escartiz said, reflecting on his ability as an artist to display his art all over the world.
Escartiz's "Stardust" installation will go up on Nov. 20 and be on display until Dec. 12.
This story has been updated to reflect the correct display date for the installation.
~
Michelle Iracheta is the editor at the Redwood City Pulse, a local news site dedicated to providing accurate and timely news to the Redwood City community. Michelle can be reached at miracheta@rwcpulse.com, on Twitter, on Facebook, and by phone at 832-729-2105. To read more stories about Redwood City, subscribe to our daily Express newsletter on rwcpulse.com.