A young beaver was spotted in the Palo Alto Baylands this week, marking perhaps the beginning of the return of the aquatic herbivores after more than 160 years. Researchers, who have long sought its comeback, are thrilled.
The chubby critter scampered across a remote, open area near Matadero Creek and was photographed on the trail camera of baylands fox researcher Bill Leikam on Aug. 23. Leikam, aka The Fox Guy, is president and co-founder of the Urban Wildlife Research Project, a Palo Alto-based nonprofit organization dedicated to the study and habitat expansion of the baylands gray fox.
Having been hunted and trapped to extinction in the Bay Area, the beaver is an even rarer sight in the baylands than the little gray foxes.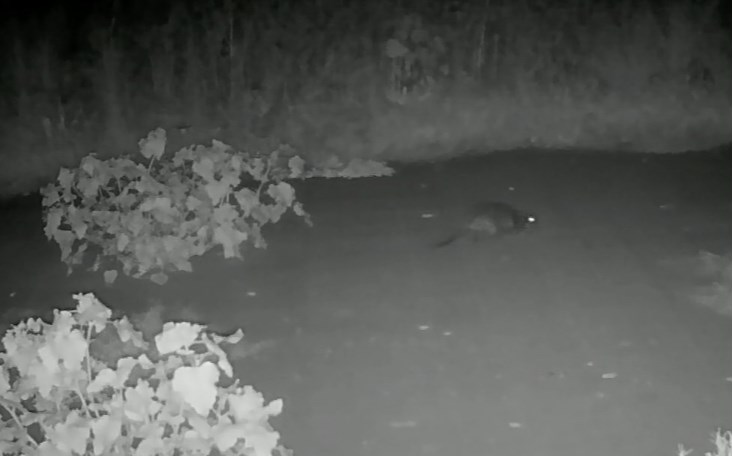 In September 2022, a pair of beavers was photographed on the trail cameras; Leikam and other researchers are hopeful that they have since mated and produced offspring. While there's no evidence at this point that the young beaver is the offspring of the adult pair spotted a year ago, its very presence is a good sign. Hopefully, they are comfortable colonizing in Palo Alto and possibly other creeks in northern Santa Clara and southern San Mateo counties.
"When I first saw it I suspected that it might be a young juvenile beaver, and since I'd never seen one before, I needed an expert like Dr. Heidi Perryman to confirm it. I am very excited about this turn of events," Leikam said, referring to the founder of Worth a Dam, an advocacy group studying and protecting the beaver populations in Martinez, California.
Leikam's first record of the pair of semi-aquatic rodents gliding through the creek's waters last year was an exciting development. Beavers were once thought to never have existed here at all, according to scientists.
In 2013, Dr. Rick Lanman, a historical ecologist and president of the Los Altos-based Institute for Historical Ecology, made a stunning find - a preserved beaver skull at the Smithsonian Institution, which was collected on Saratoga Creek around 1855.
Lanman said that beavers got a new chance at returning to Santa Clara County waterways in the 1980s after being reintroduced to Los Gatos Creek near Lexington Reservoir. They began making their way northward, including San Jose.
Beavers have been photographed at Moffett Gate; their tracks, including a tail drag in the mudflats, were photographed in Charleston Slough, just east of the Adobe Creek levee, he said at the time of the 2022 discovery in Matadero Creek. They use the salt water in San Francisco Bay to move from one freshwater tributary to another.
A colony of little beavers with the potential to inhabit San Francisquito Creek and move into the adjacent San Mateo County could be a game changer, Lanman said in 2022. At a certain point, in a favorable habitat and with an open corridor, the population could jump.
Beavers are beneficial to the environment, Stanford University researchers found. They may lessen damage from drought by creating a habitat that pushes water into secondary channels. Plants in these environments help filter out contaminants and purify water, improving wildlife habitats. Consequent dams could help create protective refuges for endangered fish species.
On Thursday, Aug. 24, Lanman expressed his excitement over Leikam's video.
"When Bill discovered (last year) there were two beavers in the lowest reaches of Matadero Creek, it was exciting because now we had the possibility of a mated pair in Palo Alto!" he said in an email.
"It's nearly impossible to tell a beaver's gender because they have no external genitalia, so we had to wait for kits to arrive (or not), which usually occurs in April. We waited through April, May, June, July and now in August we see a baby beaver scampering across the ground!"
For Lanman, this was particularly significant. "We had published in 2013 that beavers were native to SF Bay watersheds based on a specimen in the Smithsonian," he said.
Lanman said that Joseph Grinnell, the first director of the Berkeley Museum of Vertebrate Zoology, had published in 1937 that beavers were never there in coastal watersheds south of the Klamath River in our state, because the habitat was not suitable for them. "Well, this baby kit proves that the habitat here absolutely is suitable, in support of our publication ten years ago," he said.
Lanman expects the beaver population to expand in the Palo Alto Flood Basin, where both Adobe Creek and Matadero Creek come together.
"The Basin was created for flood control in 1957, after the large Christmas floods of 1955, and is kept lower than the Bay waters via a tidal gate. That way, if we get a big winter storm, instead of the two creeks overflowing in lower Palo Alto, the water can collect in the low basin," he said.
Inadvertently, they also created a wetland and creek system, of fresh -to slightly brackish- water, that is ideal for all kinds of wildlife. "And now, 63 years later, it is being naturally rewilded by beavers."
Because the water is deep, the beavers don't have to build dams to raise the water level. Instead, they live in bank burrows with underwater entrances. The levee is too wide for beavers to undermine it, so Lanman said he sees zero risk from the furry mammals. They might dig canals, which will gradually add many side channels to the two creeks (Adobe and Matadero), creating more wetland habitat that many animal and bird species need to thrive.
Lanman doesn't expect the beaver to head upstream because both creeks are now concreted channels. Beavers would avoid it to prevent exposure to hawks, eagles, red foxes, or coyotes.
"However, if the Basin Beaver family succeeds, then in two years there may be dispersals north to San Francisquito Creek," Lanman said, adding that this is one of the last remaining creeks that is not a concrete flood channel. "So, we have a natural channel that beavers as well as other animals can use as a wildlife corridor to get from the Baylands to the uplands. This is likely how muskrats reached Searsville Reservoir about a decade ago, when muskrats had never been recorded there previously," he said.
When they reach shallow headwater streams of San Francisquito Creek, the beavers would build dams, as they do on Los Gatos Creek. These don't seem to cause flooding in local coastal watersheds because flash-flood storms blow them out in winter.
Turns out, salmon and steelhead go through and over beaver dams with impunity. "Steve Holmes, President of the South Bay Clean Creeks Coalition, has documented a Chinook salmon redd (nest) on the upside of a beaver dam in Los Gatos Creek a couple of years ago. Once they build headwater dams in summer, their ponds will recharge the water table and this will make some of our seasonal streams perennial," he said.
The higher water table will replenish the creeks in the dry season, which will be really good in fire season. "The beaver ponds in the uplands will also create habitat for all manner of birds, amphibians, bats, and will serve as an insect cafeteria for trout and salmon. That's why we refer to the beaver as a keystone species," Lanman said.