According to current plans, Redwood City works on two projects tucked into the narrow stretch between El Camino Real and railroad tracks. Because of these Caltrain tracks, the city calls both projects Transit Oriented Developments (TOD), even though the train station isn't going to be close by. Both are also advertised as bike/ped-friendly neighborhoods. The plans claim to add several "bicycle/pedestrian walkways" and multiple "class III bike boulevards." The first term means "sidewalk," the second term means "street," - none means "bicycle lane." There are other words in the plans, like "crosswalk" or "ADA-compliant curb ramps," that tell us the neighborhoods don't put much focus on walkability either.
Let's compare those plans to one of the most famous Transit Oriented Developments (TOD) in Europe. There are two subway lines going right under this square; there are transit stations close by; it has interesting and diverse architecture around; there is green open space; there are indoor and outdoor restaurants, offices, shops, a bakery, and a coffee shop. There are bike lanes of varying quality leading into this square from different directions, and there are usually hundreds of pedestrians.
Now the Europeans would not call this a TOD. They call this a Plaza, Piazza, Platz, Marketplace, or Public Square because the most important idea behind this area is rooted in place-making. European city planners want you to be in this space. They create many different reasons for you to come; they want to draw you in. Pedestrians and cyclists are very welcome here and can move around any way they want, which means crosswalks or curb ramps are not needed. One of the features that helps draw all these people in is the most prominent one in the photo. It's the modal filter or diverter in the middle. Yes, it's also a symbol of European unity and peace, but today, its main job is to keep cars out. And this modal filter is very good at doing so. So good, in fact, they put it on bills, coins, postcards, and merchandise. This modal filter is grandiose, majestic, and beautiful; it adds history and soul to this square.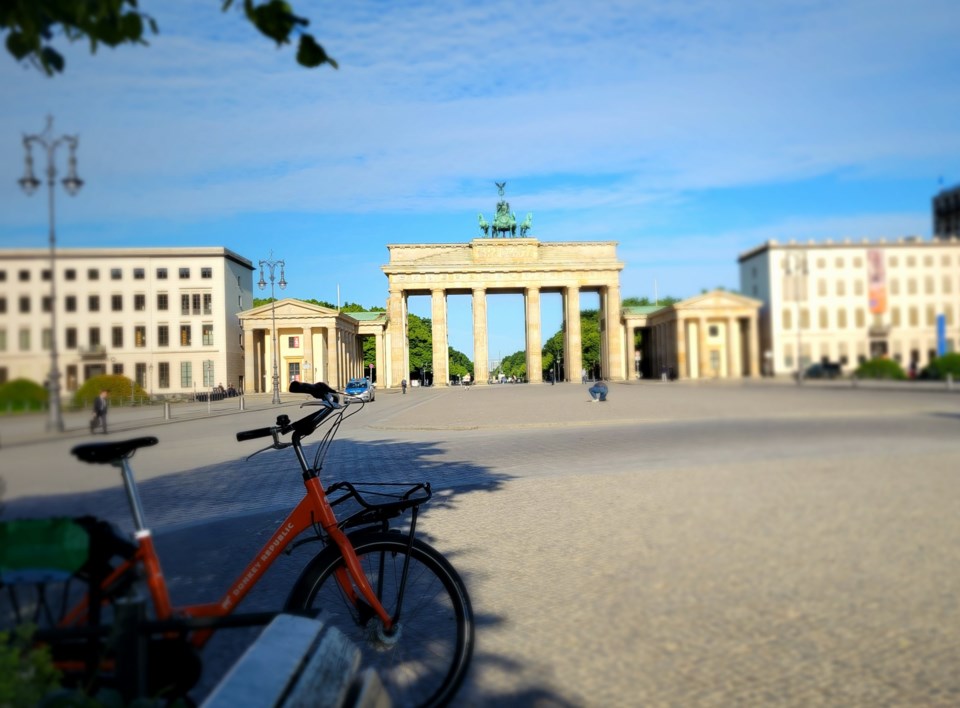 This brings us to the biggest hindrance to good place-making. Good place-making just doesn't work with cars being in the mix. Sitting in a restaurant beside a street or parking lot is neither healthy nor good for business. The noise, the air pollution, the space, the danger; people, in general, don't find other people's cars very enticing. They like their own cars very much, just not those of others. People in cars get in and out quickly, and people on bikes or on foot stay around longer. They also spend more time in different stores and tend to spend more money. Are Redwood City's TODs good examples of place-making? The plans don't look like these planners want people here. Somehow, "transit oriented" already sounds like local planners want you gone. They make it sound like they only value commuters. You are welcome if you work here but live somewhere else. And you are even more welcome if you live here but use Caltrain to get out of town. Both projects aren't great at place-making.
Both Redwood City projects come with circulation studies that grant no space to transit but lots of space to cars. They draw more cars in than were there before. Slightly wider sidewalks replace place-making; bike lanes and bus lanes are missing from both projects. Instead, four lanes are dedicated to cars. Within these projects, pedestrians will require crosswalks and traffic lights to cross streets safely. The speed limit in Redwood City's TOD will be 25 mph and higher, and pedestrians will have to jump out of the way or will be called out for "jaywalking." This isn't what people would call modern, urbanist, or pedestrian-friendly. Everything still looks like typical American neighborhoods based on plans from the 1960s.
Now there is always the discussion that Americans would hate car-free squares like those in Europe and that it is 'un-American' to walk or ride a bicycle. But this square proves these stories wrong as well. Americans are living right on the corner of this square. They are so proud of being here; they even put up a flagpole. These Americans had choices. They could have chosen a rundown shopping center, a space next to a drive-in fast-food restaurant, or some drive-thru coffee shop. They could have moved into some large car garage with offices attached - if they wanted to. But these Americans didn't do that; instead, they put their US Embassy right on this Plaza. An Embassy full of people representing all Americans, and all of America apparently likes good place-making over car exhaust. They have been drawn in by the car-free area; they enjoy walking and biking to nearby shops and restaurants - just like those Europeans do. That is what good place-making can achieve.