The first picture: a very simple bus shelter in a rural area in Central America. It has:
a roof

a bench

a sign or a posted schedule

extra lighting to make it a safe space

decent sidewalks
The second picture: a very simple bus shelter in an urban area in Central Europe. It has:
a roof

a bench

a posted schedule

extra lighting at night

nice sidewalks and bike lanes surrounding it
The third picture: two bus shelters in San Mateo County. Except there is:
no roof

no bench

no schedule

no lighting

no sidewalk

No space at all, really
This isn't some side street, this is a major connector and school route. Where should people wait if it rains? When is the next bus coming? How is someone with a wheelchair supposed to navigate that grassy area? Is the bus supposed to block the bike lane? Where can Sydney Youngblood just sit and wait?
Is that regarded as good customer service in all of America? Apparently, it's not. Researchers from the University of Utah and the University of Arizona wanted to know how important bus shelters really are: "For many U.S. transit agencies across the country, improving facilities at bus stops is a priority. But how much do these improvements actually affect ridership?"
The bus stop improvements they were looking for were:
Adding shelters and seating

A stronger compliance with ADA laws
Needless to say, people with disabilities switched from expensive para-transit to regular public transit, and overall ridership increased quickly by 4-6%. All with just a little increase in hospitality and customer service.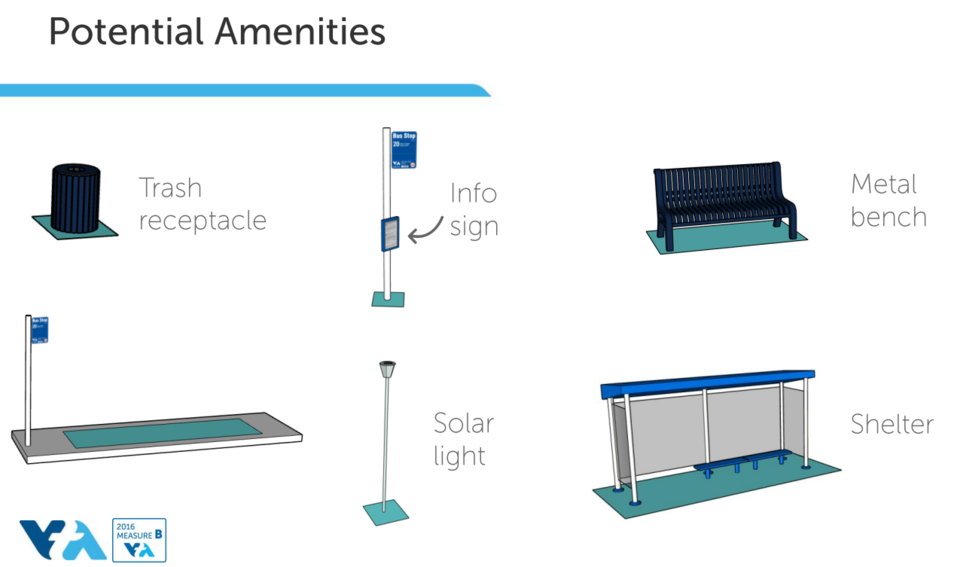 Turns out the researchers are correct, many U.S. transit agencies have much better facilities than SamTrans. One would be the Valley Transportation Authority (VTA) in Santa Clara County. They came to the same conclusions: Central Europe or Central America did. Bus stops need a roof, a bench, an info sign, a solar light, a trash receptacle, expanded sidewalks, bike parking, and ADA improvements. The VTA even wants to install over 1,600 Braille placards to achieve 100% coverage. They also want to add nicer bus shelters in Communities of Concern (COCs). Nice bus shelters would count towards Transportation Equity.
San Francisco's SFMTA finished a big bus shelter upgrade project in 2013 and is updating them again this year.
So, what is SamTrans doing?
The San Mateo Transit District (SamTrans) is always pretending to be close to some fiscal cliff, apparently because of low ridership. City and county leaders will tell you how important Public Transportation is and that we must bail them out. In their story, the low ridership comes from the pandemic and people not returning to their offices. Both excuses seem very convenient, but SamTrans had low ridership before, and the reason was always about customer service. Nothing says lack of customer service more than standing in the rain next to a SamTrans sign on a pole when everybody else gets a roof and a bench.
In 1974, voters called SamTrans' bus service into existence. It's almost 50 years later, and SamTrans finally started the Bus Stop Improvement Plan (BSIP) project. The study came back with the insight that "Bus stops are the gateway to SamTrans." The project goal was, therefore, to "Provide a comfortable, convenient, and dignified experience for passengers at bus stops." This would lead to the conclusion that SamTrans is fully aware that a sign on a pole is not regarded as a dignified experience.
There isn't much data about this BSIP project available. How much money SamTrans wants to spend on this project is also unclear. VTA gets quite a bit done with ca. $6M to start; SamTrans could upgrade all 1,800 bus stops for less than $10 million. But knowing SamTrans' Dumbarton Pattern of endless studies, people shouldn't be too surprised if there won't be any upgrades, but a few more surveys and studies instead. According to their own schedule, the project should be in the midst of its implementation phase right now. Has the project really started?
So, while SamTrans is still mulling over those customer service upgrades and our politicians are very concerned about bailing out SamTrans, SamTrans seems mostly concerned about acquiring a new headquarters building. They are willing to spend at least $136 million for acquisition and a few more million in relocation costs.
You learn a lot about your leaders during times of competing goals like these. If there really is budget trouble, what will be pushed back? A $10 million project that provides dignified customer service upgrades or the $150M project about having bigger offices and nicer meeting rooms? We should mention the first project will increase revenue and income, the second project will only increase cost. Whereas bus shelters have great ROI, a new HQ is mostly a cost and debt burden. Especially if SamTrans threatens the public with revenue-reducing service downgrades or even bankruptcy in the near future, the priorities should be clearer.
I'm pretty sure we will revisit this topic in a few months. By then, we'll know if the SamTrans Board members and their Citizens Advisory Committee really value Public Transit, ADA laws, Transportation Equity, Climate Plans, and good old customer service as much as they should.
In 2024, we will be counting bus shelters.