Editor's Note: The views and opinions expressed in all blog posts are those of the authors and do not necessarily reflect those of the Redwood City Pulse or its staff.
---
"What if the streets in our communities were better designed to provide safety and protection for pedestrians and cyclists, help increase resilience against the effects of climate change, and beautify our neighborhoods?" [C/CAG Sustainable Street Masterplan]
Unfortunately, our City Council didn't think so, so the Hopkins Avenue plan went in a different direction.
The Hopkins Avenue project promised something called traffic calming with expectations that fewer cars would drive more slowly. When that failed - during the pilot phase - the project switched to promising traffic safety, which would require improved pedestrian and bicycle facilities. Safer and better bike/ped facilities would also help with the third goal, encouraging more residents to walk and bike. Any project of this size should automatically be ADA-compliant and create that resiliency.
Somehow, the pilot and the final implementation went further and further away from these initial promises while still getting more expensive than expected.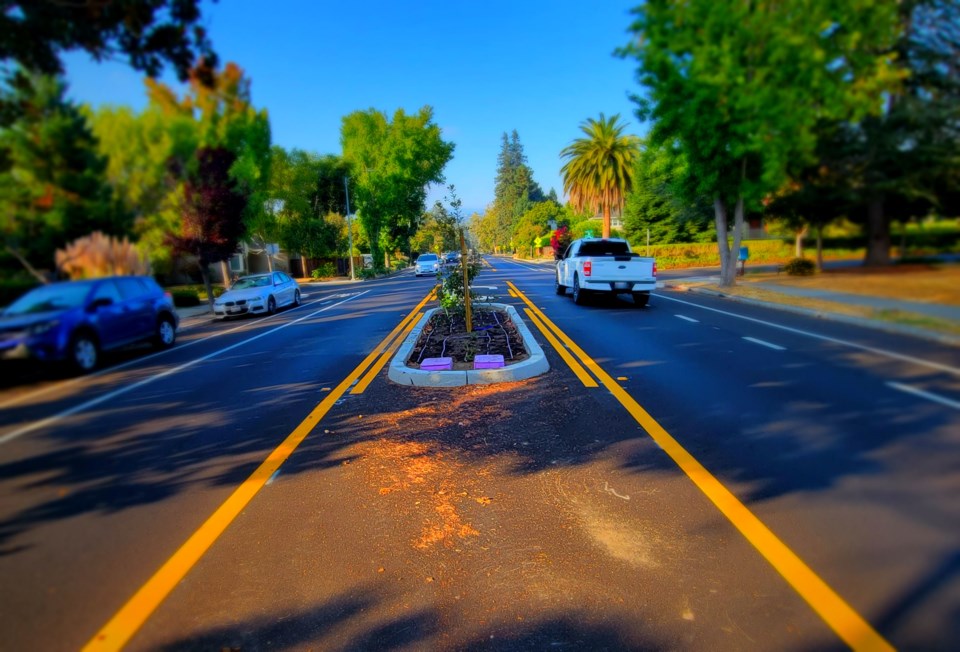 One thing pedestrians and safety experts like to see these days are crossing islands, also called Pedestrian Safety Islands. No pedestrian should be required to cross more than one or two lanes; after that, it gets dicey, especially for people with various disabilities. This project creates about 12 new islands, but not one is crossable. Not one makes things safer for pedestrians. These islands don't seem to help with flooding resiliency either. The question of who could have benefited, who should have benefited or who did benefit from this project is still up in the air.
Did cars and drivers win or lose here?
medians communicate safety, and drivers feeling safe will go faster
lane widths of 11-14ft shout 45 mph
a new "invitation lane" on Alameda de Las Pulgas increases the volume
left turn pockets to many side streets encourage higher volumes
no parking spots removed for bike buffers or day-lighting
two pedestrian beacons around Stafford Park render other crosswalks 'unimportant'
Car-centric is winning again:
Cars hardly give up anything in this project, not speed, capacity, space, and time; there is no additional cost to driving. Research shows that right before a speed hump, average speed goes down. However, right after the speed hump, drivers accelerate more. So, right around Stafford Park might be where cars go the fastest. In the end, neither traffic calming nor traffic safety were achieved.
Missing are features that would be people-centric and would encourage more walking:
no safe pedestrian lights
no pedestrian islands
no raised crosswalks
no fixed sidewalks
removal of three 'unimportant' crosswalks for 'added safety'
People wanting to walk are disappointed:
The city spent over $6 million on this project to "encourage walking and biking," and they didn't repair sidewalks around Stafford Park? During the pilot phase, the speed humps were right at Stafford Park, they looked almost like raised crosswalks, but then staff moved the speed humps away. Speed humps benefit no one unless they are installed as raised crosswalks. They would slow down traffic right at the crosswalk. They would be ADA-preferred and keep pedestrians out of flooded streets. More droughts and flooding are expected in this county and this area.
If this project wanted to improve pedestrian safety, the way to go was pedestrian islands, raised crosswalks, fixed sidewalks and two traffic lights at the park. Not one of these things happened.
On top of all these missing safety improvements, the city council and the traffic advisory committee (TAC) even approved the removal of three crosswalks for 'added safety.' However, they did not remove the legal right-of-way pedestrians still have at these crossings; they only rendered pedestrians using these crossings less critical. Again, this signals drivers to go faster at these intersections.
Trees, Flooding and Sustainability?
Trees must feel very safe now; they have their own islands
They also have more buffers than the bike lanes
No rainwater run-off improvements were done
Trees will have to get recycled water ... delivered by large fossil fuel trucks
The project violates San Mateo's Countywide Sustainable Streets Masterplan
Trees are winning or losing or both ...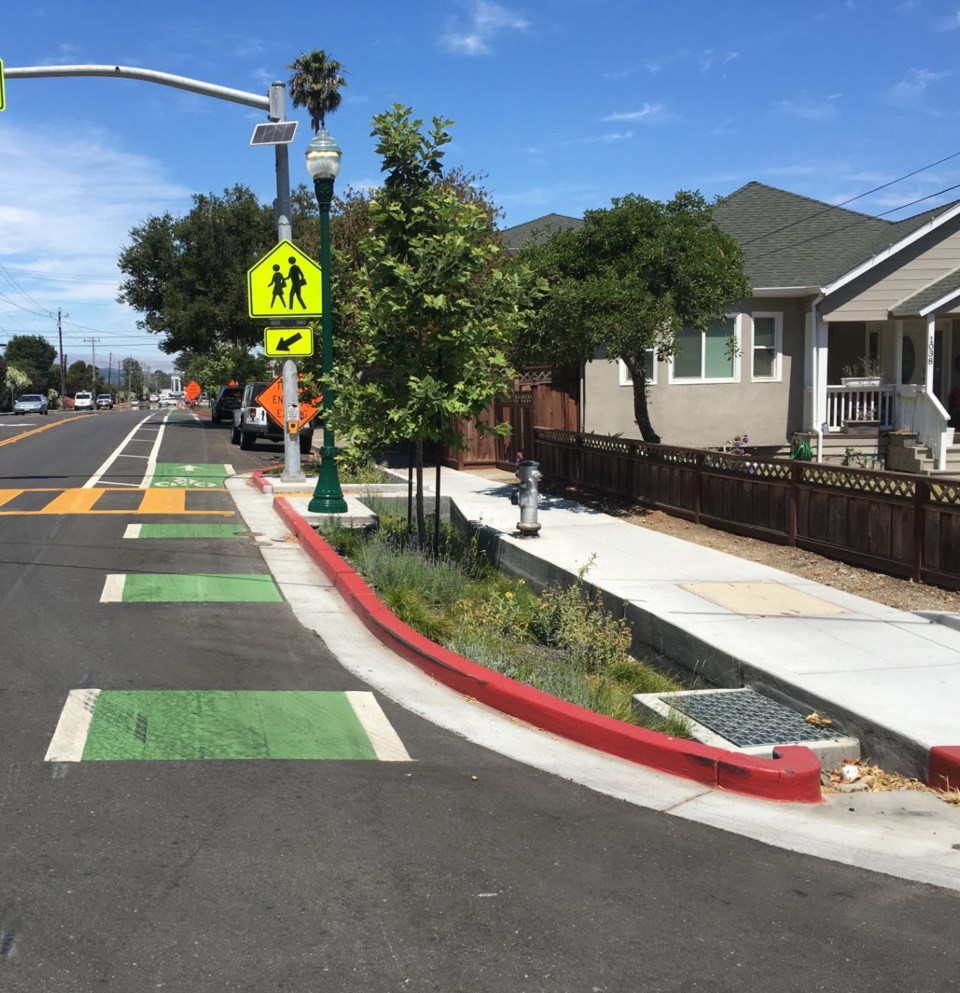 Trees are supposed to improve drought conditions, flooding situations, and sustainability overall. These trees, however, are watered with fossil-fuel trucks and require lots of leaf blowing; both are currently achieved using costly manpower, and both activities are increasing carbon emissions. Flooding is still a likely occurrence during the rainy season here as these changes don't add features to capture rainwater.
The concrete and curb extensions should have been used to create safer crossings and better water management for the trees along the curb. Just like the Burlingame photo shows and the county recommends, the plan should have included stormwater curb extensions, rainwater capture and bioretention areas to turn Hopkins Avenue into a Green Street. Instead, the city put trees in the middle of the street where watering and leaf blowing created a less sustainable street now.
The job to implement C/CAG's recommendation would fall to Council member Alicia Aguirre (D7). As a longtime member of the C/CAG board, she knows and signed off on the county's Sustainable Streets Master Plan and yet she still voted for this Hopkins Avenue streetscape without any sustainability features. Even worse, as the county seat, you would have to expect that Redwood City's council would lead by example. But so far, city hall has hardly done any Sustainable Green Street projects.
Pedestrians are losing against trees and cars
People on foot did not benefit much from this project. In a future blog post, we will still have to talk about how this project makes it worse for people on bicycles and how gerrymandering played into this. There were also several ethics violations about taking SMC TA bicycle funding for this project mostly benefiting cars and calling this affluent neighborhood an "Equity Focus Area".
All in all, the Hopkins Avenue project did not lead to lower speeds except right at the speed humps. And yet they moved the speed humps away from the park. Now, drivers are instinctively going faster at Stafford Park, where they should be at their slowest. Vehicle trips (VT) didn't decrease; they just moved to other streets. Anybody who doesn't like speeding on Hopkins Avenue anymore just moved over to Brewster or Whipple Avenue.