Centuries before, Portola arrived and explored the Peninsula area, a vast forest of giant redwood trees covered the region. These majestic giants, named after the great Cherokee Sequoyah, stretched down from Kings Mountain to the valley below.
One of the first white men to come to the area was Bill "The Sawyer" Smith. He taught the local Native Americans how to cut lumber. He also built one of the first sawmills in the area.
By 1849, the lumber industry was booming, and plenty was being shipped from Redwood City to San Francisco.
Over time much of the once thick forest around the Woodside area had been cut and gradually disappeared. However, one large giant, was left untouched as a living monument to those who began to settle in the local area.
Named Methuselah, this massive living legend defies imagination. It is said to have sprouted around 200 AD, which makes it over 1,800 years old. Once standing almost 300 feet in height, part of it was lost, however it remains very tall. Its circumference is 55 feet, with a diameter of 14 feet across. It towers over the rest of the trees in the area.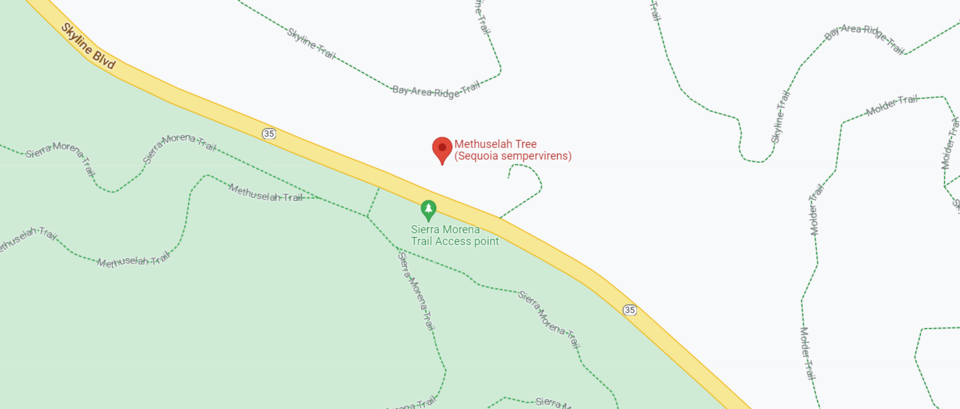 For nature lovers, it is truly a sight worth seeing.
LOCATION
A short walk off Highway 35. 3.3 miles north of Skylonda. A half mile south of Caltrans Skeggs Vista Point. The closest parking is across Highway 35. Methuselah is visible from the road.
Everything else is just history
Some of the photos used in this blog are courtesy of the Local History Room, Redwood City's best-kept secret. The Local History Collection covers all aspects of Redwood City's development, from the 1850s to the present day, with particular emphases on businesses, public schools, civic organizations, city agencies, and early family histories. The Local History Room is not affiliated with the Redwood City Public Library, but it is inside it.