In the mid-1850s, two men, D. J. Oliver and D. C. McGlynn, who were married to sisters, arrived on the Peninsula from Menlough on Lough Corrib, County Galway, Ireland. They were seeking a pleasant location to establish a homesite and raise their families.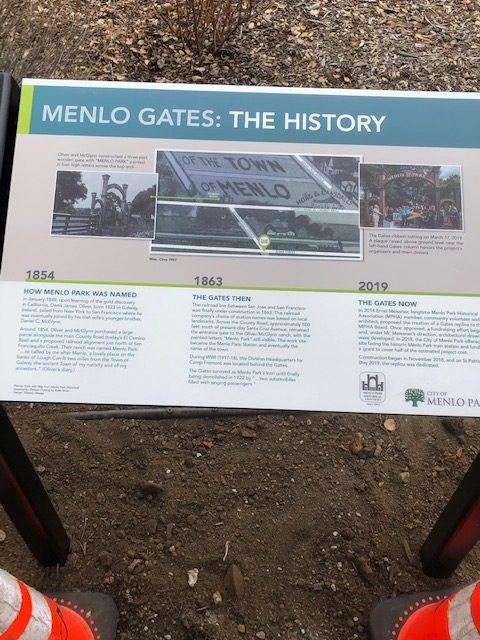 They chose a lovely site in what is today's Menlo Park. Hence, they became forever known as Menlo Park's founders.
They erected a tall, wide arched wooden gate at the entrance to their enjoined estates. At the top of the arch, the name "Menlo Park" was inscribed, along with the date August 1854. On either side of the large gate, two smaller arches were added, along with their names: D. J. Oliver and D. C. McGlynn.
After its construction, the name of Menlo Park was assigned to the new railroad station in 1863.
Historical accounts indicate that winter storms weakened the gate over the years until it finally toppled in 1905.
It was uprighted and remained a unique fixture until July 7, 1922, when it was completely destroyed by a speeding automobile which (according to reports) was full of singing passengers. The beautiful gate was gone.
Wait a minute! Fast forward almost a century to March 17, 2019, when the Menlo Park Historical Association held a ribbon-cutting ceremony to unveil a beautiful replica made of the same redwood as the original Menlo Park Gate.

Since the original location had long since become a busy storefront area along the sidewalk near Santa Cruz Avenue on El Camino, the city donated a site at the corner of Alma & Ravenswood, next to the library, for the rebirth of the historic arched gate.
Then, on St. Patrick's Day 2021, the Historical Association unveiled a storyboard telling the gate's history.
The Menlo Park Gate, with its roots in Ireland's County Galway, once again proudly stands.
Everything else is just history