People playing in the park among familiar animals, and the word "Together" sits centered on banner wrappers around the earth over two pinkies linked. For local artists Elizabeth Gomez and Jose Castro, the mural's meaning at Mezes Park is a pinky promise to the community.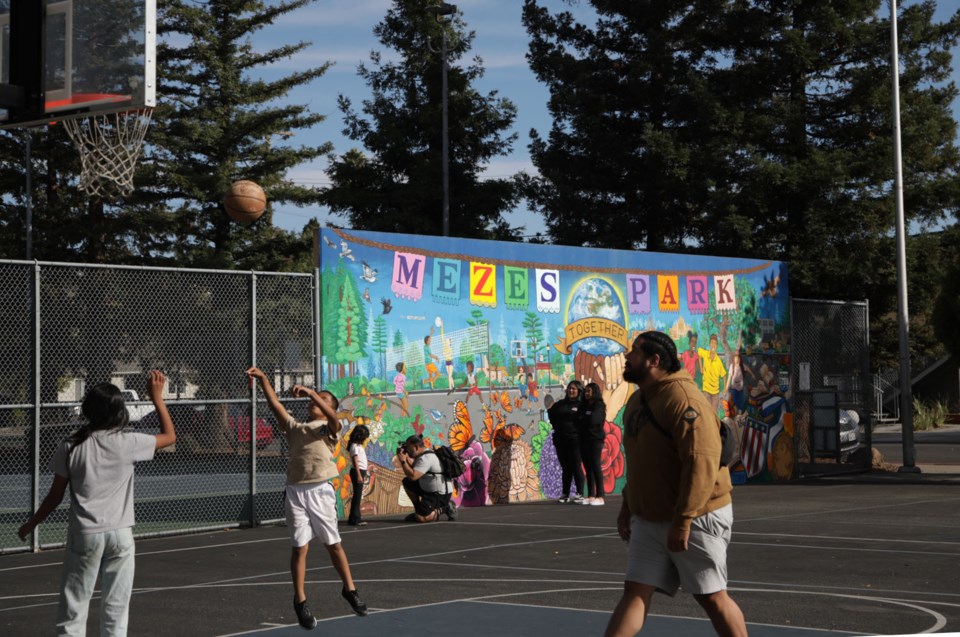 During a ribbon-cutting ceremony on Sunday, Nov. 12, Castro said art can be used to speak about community issues, to which he hopes to inspire the community.
"We both work together to not only create something that's profound but speak to that integrity of honesty, bravery, courage, and good humanitarian views," Castro said.
He said he uses art to inspire and speak to current social justice issues and to inspire the community and kids that art is a form of expression that anybody can enjoy.
Gomez, the original muralist, said the mural represents all aspects of the community.
"This is really for everyone and from everywhere, and I enjoy that," Gomez said.
The project is part of the city's Parks and Recreation Department project to update the park. It collaborated with Marcelene Luna, Centennial Neighborhood Association chair, who received community feedback for what the park needed.
Luna said the community asked to upgrade the mural, improve lighting, and build a playground with a gated area for toddlers. Luna said she loves the vibrant colors, historical references and hidden meanings depicted in the mural.
"It speaks to the community and the city's history, what activities go on in the park," Luna said.
Simon Monserrate Mezes donated Mezes Park in 1905. Initially, Mezes intended the park to be a town square for the Town of Mezesville. A town he attempted to establish with his name after acquiring the property from the Arguello family as payment for helping them prove their legal ownership of Rancho de las Pulgas, after the Mexican-American War. The Arguellos gave Mezes somewhere around 5,000 acres, including present-day Redwood City.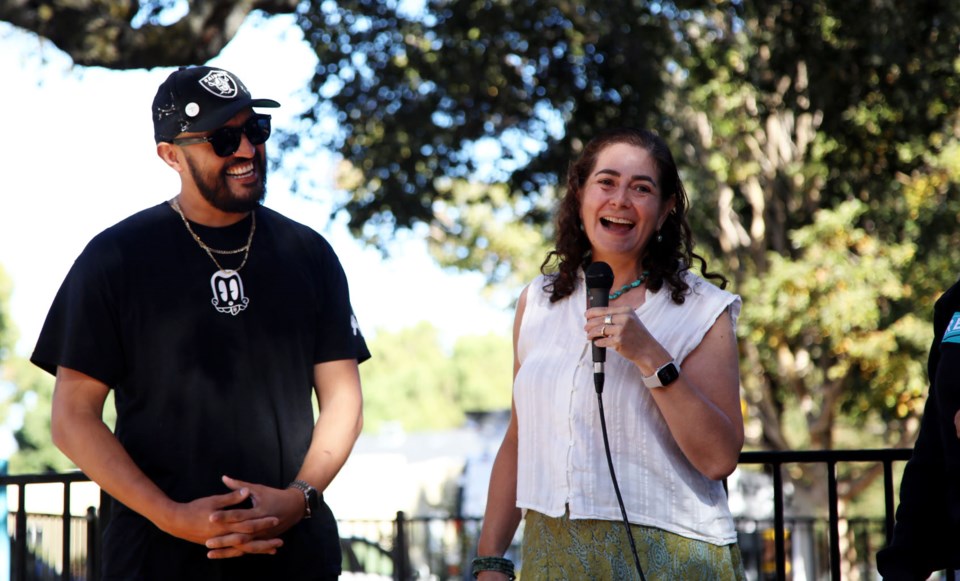 Castro, who is from the North Fair Oaks neighborhood, noted the historical date as he spoke about the mural during the event. It's an opportunity to educate the community about, he said.
Gomez, who has a knack for painting nature, said she found a squirrel that frequents the park and decided to paint the critter.
"People talk about that squirrel, they know that squirrel," Gomez said.
In one of the mural's corners is a basket filled with quail eggs, blackberries, shells, acorns, and walnuts.
"If you walk around the hills, you will find these foods," Gomez said.
It's also the food she ate at the table with the Ohlone people, who told her that they are still eating these foods.
"To let you know that they are here," Gomez said