In a much-anticipated decision, the Redwood City Council voted Monday night to temporarily ban gun retail in the city.
The council voted unanimously to establish a moratorium on stores selling firearms or ammunition for an initial 45 days. The urgency ordinance comes after two separate gun retailers inquired about business permits in the city, which currently has no special regulations on firearms sales.
The ban went into effect immediately and could be extended for a total of two years.
"The city regulates where you can buy retail cannabis, where you can get gas for your car, where you can get a massage and even where you can build a home," Mayor Giselle Hale said. "Why not explore where you can purchase a firearm?"
On Aug. 2, San Jose-based firearms retailer Dumpling Defense submitted an application for a business license to operate at 2135 Roosevelt Ave., in Roosevelt Plaza. The parcel is owned by the Peninsula Company, which is operated by lawyer and real estate agent Maria Rutenburg.
During a staff presentation, City Attorney Veronica Ramirez made a case for the ordinance, which she said would allow the city to consider and tailor future gun retail regulations "to protect public health and safety." To pass the ordinance, the city council had to find "that there is a current and immediate threat to public health, safety or welfare" posed by the gun retailer, according to the staff report.
The council vote followed nearly an hour of public comment, during which 25 residents shared strong opinions on both sides of the debate. Roughly half of the speakers were in support of the ordinance, citing concerns about gun safety and insufficient regulations.
Katie Goetz, a pastor at Woodside Road United Methodist Church and recent appointee to the city's Housing and Human Concerns Committee, said she felt "heartache at the prospect of firearms dealers located in Redwood City and especially in close proximity to our local schools."
Referencing the Oct. 24 shooting at a St. Louis high school that killed two, Goetz said that preventing gun shops from opening in the city was a necessary step against violence in schools.
Roosevelt Principal Tina Mercer also voiced strong opposition to the proposed location. Roosevelt Plaza, where Dumpling Defense applied to open its storefront, is within walking distance of Roosevelt Elementary and Kennedy Middle schools.
"With the attention on school shootings in the last decade, we practice lockdown drills a number of times each year," she said. "What message would it send for us to do lockdown drills when guns are being sold almost right across the street?"
Betsy Snow, an educator at Sequoia High School, urged the council to bring the youth into the conversation around gun regulation.
"This bickering is completely forgetting who this city will belong to in the future," she said.
According to City Manager Melissa Stevenson Diaz, the city has already received dozens of messages in support of the ordinance. More than 1,500 parents and other community members also signed a letter opposing gun retail in Redwood City, she added.
Others, like Ari Goldberg, urged the council to vote no on the ordinance, citing the Constitution's Second Amendment, which gives people the right to bear arms.
"This resolution would be an infringement on that right," Goldberg said.
Redwood City resident Cheryl Wick said that having a firearm shop in the city was "absolutely necessary."
Citing "a lot of anti-Asian crime happening in the Bay Area," she said that she felt her only defense as an older Asian resident was a gun. "We have no intent of doing any harm to anybody but to protect ourselves."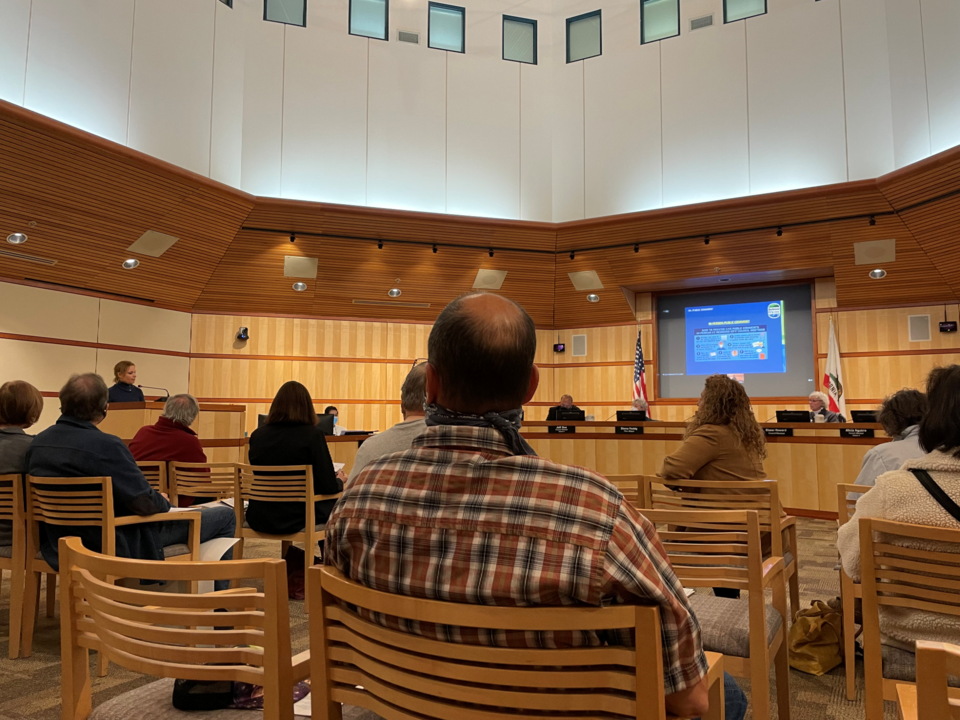 Perhaps one of the most anticipated speakers was Rutenburg, manager for Roosevelt Plaza and an outspoken conservative in the community. She criticized the staff report, asking: "What is the immediate public threat here?"
Warning the council that the Second Amendment was "sacred to a lot of people," Rutenburg said the ordinance would invite litigation. "This is going to be a national case. This is a big deal, and we're not going to let it go."
Hale, however, said the decision was ultimately about "land use," rather than Constitutional rights.
"We're not here to debate the Second Amendment," she said. "We're here to talk about where we want this use to take place in our city to make sure that all of our residents have the opportunity to weigh in as they would on any other land use decision."
During a brief council discussion, every member spoke in support of the ordinance.
Vice Mayor Diana Reddy wondered about the impact that gun retail might have on the neighboring businesses, like those at Roosevelt Plaza.
"Families have many choices for where they might go for ice cream and pizza," she said. "It would be unfortunate if they chose to take their business elsewhere
Council member Alicia Aguirre clarified that she was "not voting to accept or deny the Second Amendment. We're not looking to ban something that has been a right to our people." Instead, she said, the proposed ordinance would allow the city to make a data-informed decision about how to regulate new firearms retail.
She warned the council, however, against policies that would simply move gun retail into other people's backyards.
"It's also an equity issue because there are folks living in some industrial zones," she said. "We can't just push things out because we don't want them in my neighborhood."
Hale cited 2022 research analyzing data from the U.S. Centers for Disease Control and Prevention, which found that firearms are the leading cause of death among people in the U.S. ages 1 through 19. Voicing her support for the ordinance, she said that proper regulation of firearm retail in Redwood City is "something that we would want to take some pause and take a moment to understand."
Though Rutenburg wasn't surprised by the council's decision, she called the ordinance a waste of time and taxpayer money. She particularly took issue with the mayor's comparison between policies regulating cannabis or car sales and those regulating firearms; the latter she emphasized were not protected by the Constitution.
"This is a very special issue," she said, adding that it was one she intended to build a case against the city. "It's going to be a long fight."
Dumpling Defense, registered as Enclave Outfitters LLC, was launched in 2021. The company "aims to provide accessible and inclusive products, services, and education," according to its website. The company "aims to provide accessible and inclusive products, services, and education," according to its website.
"We believe the firearms shopping, purchasing, and post-purchase experience has much room for improvement. We want to offer everyone the opportunity to purchase a firearm in the most streamlined and user-friendly way," the website reads.
Dumpling Defense did not respond to multiple requests for comment.