The Redwood City Council on Monday, in a 6-0-1 with Mayor Jeff Gee absent, endorsed a major grade separations project at six railroad crossings that could cost up to $1 billion.
The proposed project would raise tracks at six intersections, about 0.2 miles south of Howard Avenue in San Carlos to just north of Woodside Road. The project would include constructing bridges or tunnels for vehicles and pedestrians at Whipple Avenue, Brewster Avenue, Broadway, and Main and Chestnut streets. The sixth intersection at Maple Street would close to vehicular traffic and be converted into a promenade to allow only pedestrians and cyclists, according to a staff report. The council approved further study of the project.
According to a joint study by the Peninsula Corridor Joint Powers Board, which includes the San Mateo County Transportation Authority, Redwood City and Caltrain, there have been a total of 31 reported rail traffic incidents at all six intersections between 1977 and June 30, 2022. Chestnut Street had the highest number of reported incidents, with a total of nine, including three fatalities, with the most recent incident occurring on Feb. 19, 2021.
While the city, Caltrain and San Mateo County Transportation Authority partnered to study more than a dozen options, the challenges from nearby creeks, bus routes, and the need to move the train station north between Brewster Avenue and Broadway limited the project to three options. Ultimately, the council chose to move forward with an alternative to an original of design.
Jessica Manzi, San Mateo County Transportation Authority project delivery director, said the need to move the train station became Caltrain identified Sequoia Station as a prime location to make it a regional four-track hub that would be seamless for passengers to transfer from local to express trains without having to cross tracks. It also meant that the bus station, which is also a regional and local station, would need to be reconfigured, which will most likely circle both sides of the new train station.
The studies considered public safety, input and financial feasibility, according to the presentation.
It's estimated more than 36,000 vehicles cross the tracks at Whipple Avenue every day, according to the Redwood City Grade Separation study.
Manzi said the Broadway and Brewster Avenue grade separations are vital to the four-track train station the buses will use, and closing those streets wouldn't make sense due to regional transit needs.
In total, the city has eight intersections that cross the railroad tracks. The other separation grade is at Woodside Road, where vehicle traffic goes over the railroad tracks, and Jefferson Avenue, where the railroad tracks go over vehicle traffic, Manzi said.
Council member Chris Sturken said the grade separations are necessary for east and west connectivity and to access the downtown. Yet, he believes the project is valuable for safety reasons more than anything.
"At the end of the day, we are saving lives," Sturken said.
Council member Elmer Martínez Saballos supported keeping Chestnut Street open to traffic, stating it was essential to separate it from the train for safety reasons.
Around 6,400 vehicles flow through the Chestnut Street train track crossing, according to the study.
"(Chestnut Street) may not seem like it's the busiest, but the data clearly shows it is where the most accidents are happening," said Martínez Saballos, whose district is where the grade separation at Chestnut Street would be located. "Finding a way not to close but to make it safer is the ideal version there.
Council member Diane Howard expressed her support for the option that would close Maple Street exclusively for pedestrians and cyclists.
"I think it's perfect. There are so many ways we can get around from downtown, we don't need Maple [street]," Howard said.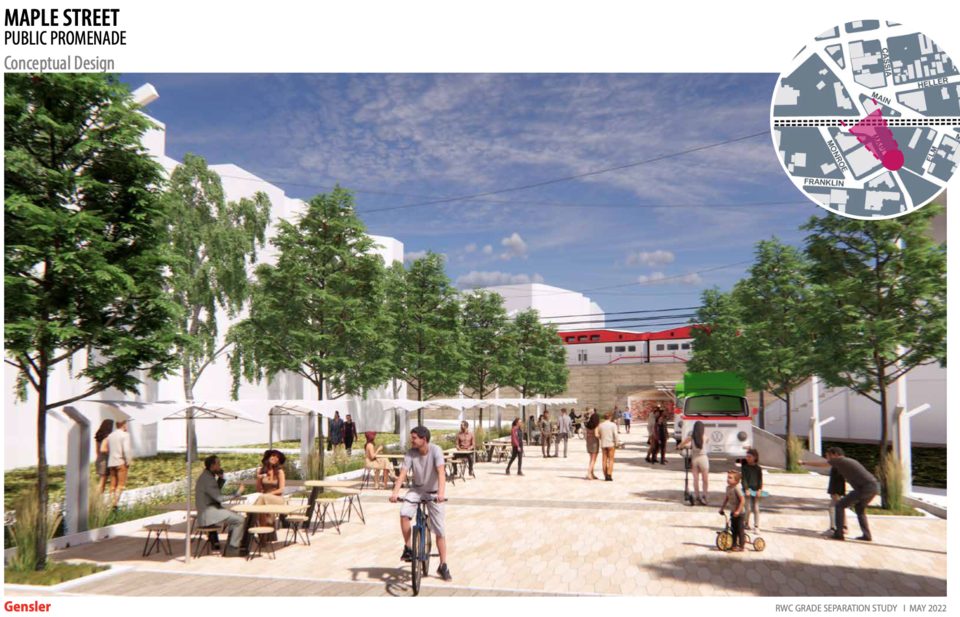 The grade separation at Jefferson Avenue was constructed in 1999 for $15 million, Howard noted.
"I wish we did more back then, but we struggled to get the money back then," Howard said.
The $1 billion price tag is attributed to many factors, according to the study. These include the costs of construction materials and labor for building the infrastructures, additional expenses for minor items, mobilization, unforeseen requirements, and contractor overhead, the study showed.
The project will be funded locally between city and county funds until the next phase, the environmental impact review, is completed. Manzi believes securing county funds through Measure W, which allocates funds for grade separation projects, will make it possible to complete the environmental phase.
"Once we get past that, the dollar amounts will be so high we will need to get state or federal funding," Manzi said.
---
Editor's Note: A previous version of this story stated the railroad project could cost Redwood City up to $1 billion. In fact, the project funding will come from multiple sources.