More than two weeks after two minors were arrested in an incident involving 200 youths that crowded Courthouse Square in downtown Redwood City, officials said they would be taking action against further disturbances.
In a statement released on Wednesday, city officials said they had, over the past weeks, received reports of large crowds of "juvenile bicyclists" visiting Courthouse Square, which had, in some cases, caused traffic violations, property damage and the use of illegal fireworks. The youths, police said, had ignited fireworks, blocked sidewalks and posed a threat to nearby businesses.
Last week, an individual set off a firework near the movie theater in downtown Redwood City. The firework shattered a window, but no injuries were reported, police told the Pulse in an email.
On Wednesday, Redwood City Mayor Giselle Hale addressed the incidents and said that safety in the city was "job No.1."
"We're working with our police and fire departments to ensure the safety and well-being of all who visit our downtown and the businesses who make it thrive," Hale said.
She said the city was looking at ways to combat youth behavioral issues manifesting in this behavior with community partners like the local police activities league.
It's the first time the mayor has publicly spoken out about the incidents. On May 20, Hale was in attendance at a speaker series with Pakistani activist Malala Yousafzai at the Fox Theatre when fireworks erupted outside.
About 700 theatre patrons were asked by Manager Ernie Schmidt to shelter-in-place until police could get the situation under control.
Redwood City police began receiving calls shortly before 8 p.m. that night, with one person calling the incident "a riot" and telling police that "the kids were not backing down." Officers and San Mateo County Sheriff's deputies responded to the scene at Courthouse Square and were met with unruly and disruptive youths, police later said in a statement.
The two kids who were arrested had allegedly resisted arrest and had assaulted officers, police said. One police officer was bitten on the arm and kicked in the chest during the arrest; the other was assaulted, but it's unclear what type of assault occurred. Neither sustained lasting injuries.
Chief of Police Dan Mulholland also made a statement Wednesday.
"The safety of our community is of our utmost priority, and, as always, we urge all community members to abide by the law," he said. "Rather than rely solely on traditional methods of apprehension and detainment, the Redwood City Police Department trusts that relationship-building to foster a collaborative approach is more effective for addressing this immediate concern."
The city said it is increasingly seeing commercial-grade fireworks being carried and used illegally and seeking the public's help to respect community spaces and avoid the risks associated with illegal fireworks, including fire, injury, and property damage.
"This time of year can be particularly challenging with illegal fireworks. The best way to prevent an injury is to leave the fireworks to the professionals and not attempt to set them off in the first place. Even sparklers burn at temperatures that can melt metal," said Fire Chief Ray Iverson. "Especially with the dire wildfire season and drought upon us, it's not worth the risk."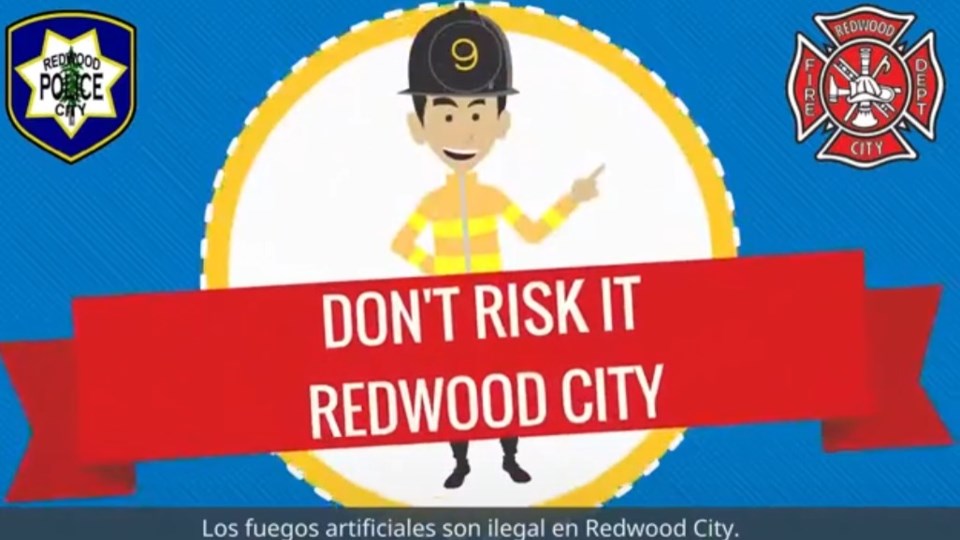 More information on illegal fireworks below:
If you are reporting illegal fireworks, call the Redwood City Police Department's non-emergency line at (650) 780-7118. Please call at the time of the incident and provide specific addresses or identifying information. This helps officers enforce the City's Social Host Ordinance by tying a particular property to illegal activity. In addition to the City's Administrative Citation Fines (up to $1,000), someone who violates the State Fireworks Law can be fined and imprisoned. Per California Health & Safety Code Section 18700, penalties for violating the State Fireworks Law can range from fines of $500 to $50,000, and violators also can be imprisoned in the county jail.
For more information on the City's Social Host Ordinance related to fireworks, visit www.RedwoodCity.org/NoFireworks.