Redwood City was unprepared for a recent spate of winter storms that caused major flooding, mobile home evacuations and widespread power outages throughout the region.
"I don't know why we weren't prepared, but we weren't," said Council member Alicia Aguirre during the Redwood City Council's first meeting of the year. "Where have we been in planning for the worst case scenario?"
Slow response times, insufficient outreach, inadequate multilingual services and infrastructure that couldn't meet the demands of increasingly disastrous winter storms were just some of the concerns brought to city council's attention Monday night.
On New Year's Eve, the fire and public works departments received six times the average number of daily calls, and the police department received three times the average number. Redwood City Manager Melissa Stevenson Diaz said the city distributed roughly 5,000 sandbags that Saturday—and 16,000 so far this winter season.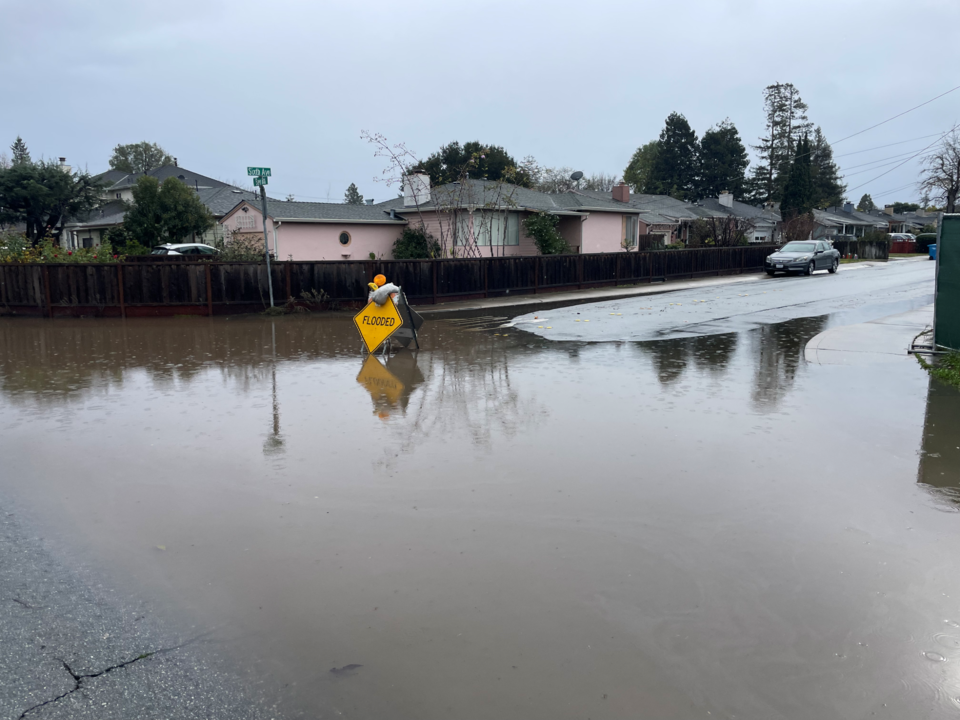 City workers were inundated with calls for service about localized flooding, downed trees, power outages and muddied streets, particularly during the New Year's Eve storm, she said. The city also activated an emergency operations center and an emergency evacuation site at the Veterans Memorial Senior Center on Dec. 31 and Jan. 4, which have since been disbanded.
The so-called bomb cyclone of Jan. 4, which dropped roughly 1.6 inches of rain on an already saturated Redwood City, hit just four days after New Year's Eve's atmospheric river. With roughly 4.5 inches, New Year's Eve marked the third wettest day in the city's recorded history.
The extent and cost of the storm impacts are currently being assessed, but as of Wednesday, the city was unaware of any major damage to city facilities or infrastructure. With more storms on the way, the city on Jan. 5 issued an emergency proclamation just two days after San Mateo County issued its own and a day after Gov. Gavin Newsom proclaimed a California-wide state of emergency. The proclamation enables Redwood City to act quickly during emergency situations by bypassing normal procedures for purchasing supplies and later applying for financial assistance to subsidize some of the costs of storm relief, according to Stevenson Diaz.
According to Communications Manager Jennifer Yamaguma, the city anticipates "higher-than-usual overtime costs," which she said are not covered by state or federal funding despite being related to storm response and recovery.
With recovery ongoing, Yamaguma said it would take some time to get an accurate assessment of all storm impacts and costs. However, some losses will be harder to quantify, including staff fatigue and work delays caused by the storm response effort, she added.
The city does not calculate the value of private losses, but officials said they were aware of damage to private residences, businesses, and non-profit organizations. So far, the city has heard from six different properties that suffered damage from fallen trees and other weather-related incidents, a city official said during Monday's meeting.
With regard to outside aid, Stevenson Diaz said she was "cautiously optimistic" that some resources would be available through the federal government. The city could likely receive some assistance through the Small Business Administration, and that aid could possibly be funneled indirectly to those who needed it in the form of low-interest loans for homes, property owners, businesses and possibly renters with uninsured losses.
"Currently we think we have adequate resources on hand to handle storm events over the next week," she said, adding: "It appears at this time that the worst may have passed."
Conflicting accounts of storm assistance
While city staff described fielding hundreds of calls for service and ramping up outreach and assistance efforts as the storms raged on, residents complained that the response was too little too late.
One woman told the council she waited for hours on Dec. 31 at a mobile home park before anyone came to check on the stranded residents. Another said that days after the storm, she still had to drive through flooded waters to get to her home at Docktown.
Sarahi Espinoza Salamanca, community organizer and founder of the nonprofit Dreamers Roadmap, said she spent five hours waiting with residents of the Redwood City Mobile Home Park, some of whose homes were inundated by floodwaters during the New Year's Eve event.
"Nobody from the city or from the county was Spanish-speaking in the five hours that I was there," she said. "Nobody came hourly to check on the site, whether there was flooding continuing or if anybody needed evacuation."
Espinoza Salamanca said that eventually a representative from the county arrived and went door-to-door asking whether residents were okay. But, she added, the residents at the back of the park where the flooding reached the floors of their homes, were "not okay."
Dionicia Barrera, one of the residents of the mobile home park, described fast-moving water that spread quickly, soon reaching above the second step to her house. Worried about her elderly neighbors, she said she called 911, but it took more than 25 minutes for police to arrive.
"The water smelled horrible," she said, describing dirty diapers and other debris floating outside her house. According to Barrera, the police refused to exit their cars because the water was "contaminated."
"We, alone, had to evacuate the older people. We felt abandoned because we didn't have shelter," she said.
However, Stevenson Diaz said the city did extensive outreach to property managers, people experiencing homelessness and residents of mobile home parks. Though they "did not reach everybody," she said the city made a "special" effort to reach the mobile home areas, which were particularly prone to flooding.
The director of public works, Terence Kyaw, was onsite at the R.C. Mobile Park at 6 a.m. on Dec. 31 to assess the flood situation, according to Stevenson Diaz, who said Kyaw found 2-3 inches of water and spoke with tenants and the property manager to offer assistance. She said public works crews visited the site "about every hour," adding that police and fire department personnel also drove in and made contact with residents.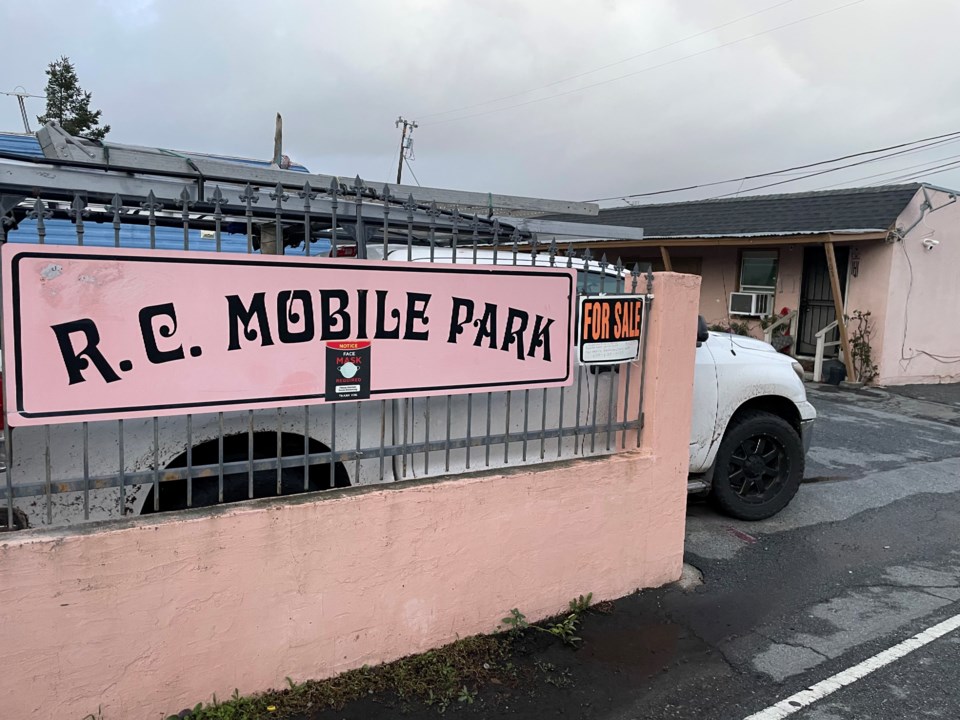 Human Services Manager Teri Chin was also in contact with the park's property manager, providing information about temporary shelter at the Veterans Center and assisting in the evacuation of two older adults, according to Stevenson Diaz.
Espinoza Salamanca called the city's efforts "inadequate" and pushed back against the city manager's account of events.
Speaking with the Pulse, she corroborated Barrera's account that police came by the park but didn't get out of their cars because "the water (was) contaminated." While park evacuees were eventually instructed by county officials to go to the Veterans Memorial Senior Center, Espinoza Salamanca said the site wasn't properly resourced: "When our residents eventually arrived, there was nobody there and there was no food."
Farther west along the bayshore, longtime Docktown resident Tania Solé said she was also impacted by what she characterized as poor management of storm drains. Referring to ongoing issues at the 1500 block of Maple Street, which had been closed due to flooding during the Jan. 4 storm, she called it a problem of "deferred maintenance."
"An hour ago, I drove through to my home in Docktown, and the storm drains are still not cleared," she told the council Monday night. "We are at low tide; there is absolutely no excuse for any kind of flooding, and yet it is still flooded and it is still dangerous to drive in and out."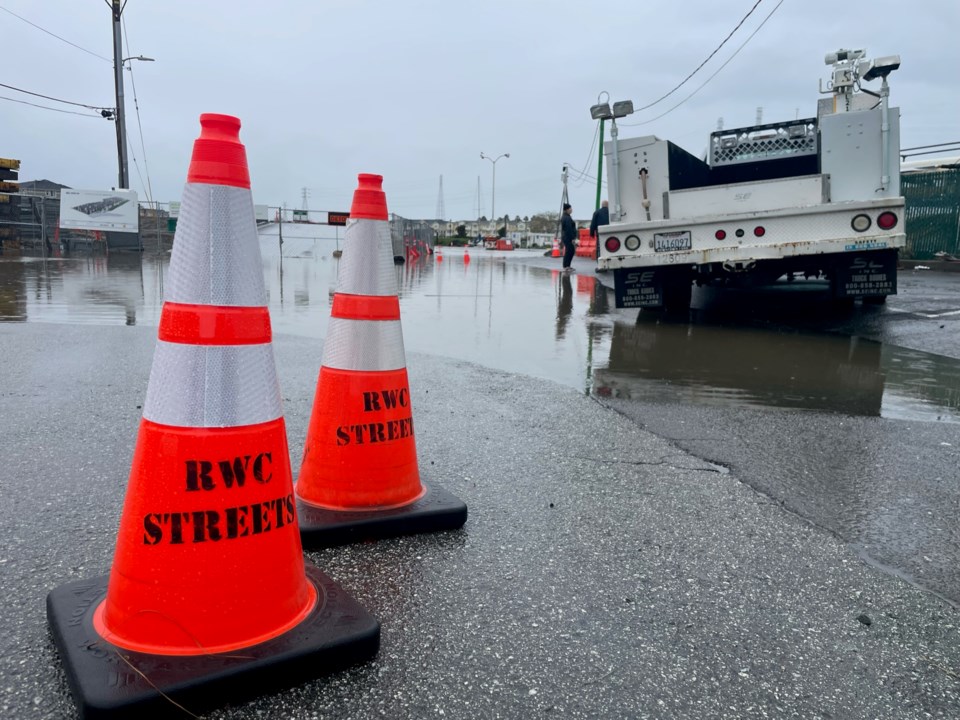 Vice Mayor Lissette Espinoza-Garnica called for a "greater standard," including more multilingual outreach, more direct contact with residents and a plan to support undocumented residents who may be fearful of law enforcement.
Rather than "pointing fingers," Aguirre said she wanted to see the city work towards a preventative plan to assist the residents of the mobile home parks and other low-lying, bayfront areas during future emergencies.
"All of the things that we did were reactive," she said.
Preparing for future storms
Despite major improvements to the Bayfront Canal over the last decade, many council members said the effort simply wasn't enough in the face of increasingly severe natural disasters.
"We need to really focus on improving our Bayfront Canal," Espinoza-Garnica said. "After speaking with State Sen. Josh Becker's office, I learned that our canal is only supporting 25-year floods, whereas this atmospheric river was a 100-year flood that we can predict to happen more often because of climate change."
Since 2009, Gee has championed an effort with Redwood City, Menlo Park, Atherton and San Mateo County to increase the capacity of the watershed and divert stormwater from the Bayfront Canal to the surrounding wildlands during high-tide events. Though the project is not quite finished, Gee said the past week's storms were the first test run of the improved infrastructure, which he said prevented what could have been an even worse situation.
The improvements "were never going to prevent flooding from ever happening, but make sure it wasn't going to be as bad as before," he told the Pulse before the meeting. "The stormwater is flowing the way it's intended—into the overflow on the salt ponds. It is working, there was just way too much, too fast on (New Year's Eve)."
Council member Diane Howard said that while upgrades to the canal were "a tremendous assist," they weren't the silver bullet solution she'd hoped for.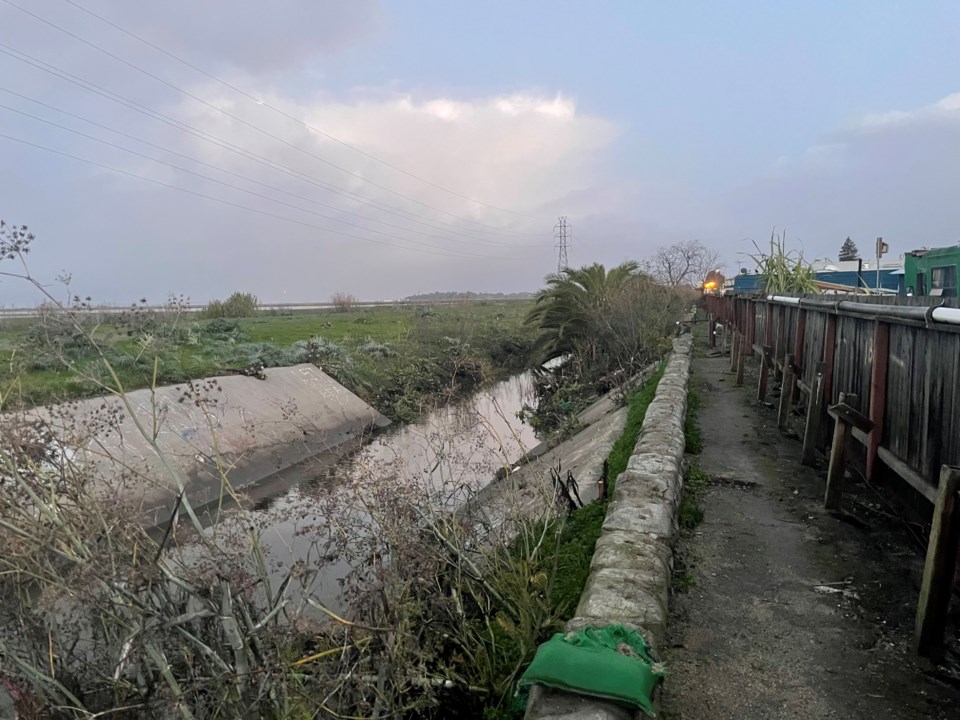 "My biggest frustration was the mobile home parks," she said. Beyond working on additional improvements to the Bayfront Canal system, she suggested that the council create a subcommittee and coordinate a "proactive" effort to protect the mobile home residents.
While the city works on fine-tuning the upgraded canal system, Gee urged residents to do their part by keeping neighborhood drains cleared and preparing for future disasters. Though he acknowledged the threat of future flooding, he said his number one concern was an inevitable major earthquake.
"As a community we're not ready for the big event when that earthquake does happen," he said. "We need to rely on the community—not just on fire, not just on public works, not just on police—to take care of ourselves."
Community organizer Espinoza Salamanca told the Pulse that the mayor's response was "the most disappointing" to her. Referencing his advice that residents be prepared to survive alone for several days, she said: "Wow. Great plan."