Seven people are dead, one is in critical condition and a 66-year-old man is in custody after he allegedly opened fire in two separate shootings in an unincorporated area of Half Moon Bay on Monday, according to the San Mateo County Sheriff's Office.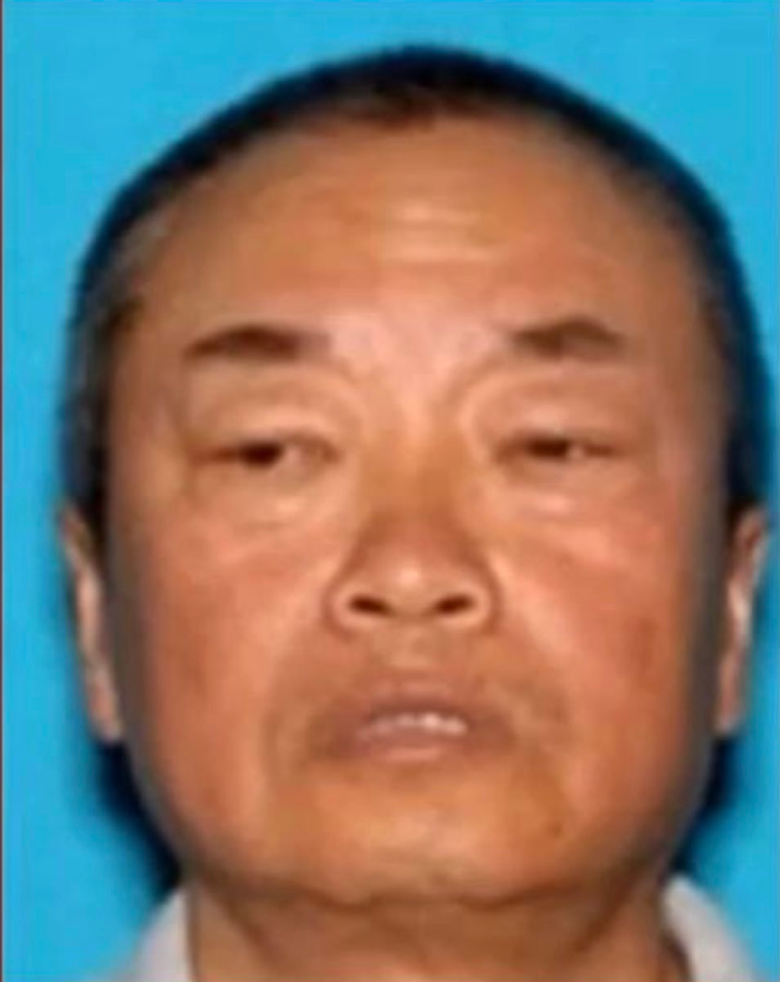 Responding to the first major incident in her role as sheriff since being sworn in less than three weeks prior, Christina Corpus said at a news conference that the suspect in the mass shooting, Chunli Zhao of Half Moon Bay, is believed to be a worker at one of the farms where the shootings occurred. He was taken into custody "without incident" after being found in his car in the parking lot of the Half Moon Bay Police Bureau Substation, she said.
He allegedly had a semi-automatic handgun with him in his car. He is scheduled for arraignment at 1:30 p.m. Wednesday at the Hall of Justice in Redwood City, according to San Mateo County District Attorney Stephen Wagstaffe.
Corpus said that the motive is currently unknown, but Zhao is believed to have acted alone. Officials are working to figure out what the connection was between Zhao and the victims.
Deputies responded to the incident at about 2:22 p.m. to the 12700 block of San Mateo Road, or Highway 92, in unincorporated San Mateo County, on reports of a shooting involving multiple victims, according to Corpus.
Upon arriving, deputies found four people dead with gunshot wounds, Corpus said. They also found a fifth person with gunshot wounds who was taken to Stanford Medical Center with life-threatening injuries. The suspect was not immediately located, according to the sheriff's office.
Shortly after, three additional victims were found dead with gunshot wounds at a separate location in the 2100 block of Cabrillo Highway South.
The county coroner's office is working to identify the victims who are believed to be farm workers, according to the sheriff.
Corpus noted that the incident took place in a rural part of the county where people live, including children who were out of school and may have been present during the shooting.
"For children to witness this is unspeakable," she said.
"Our hearts are broken," Dave Pine, president of the county board of supervisors, said during a press conference. "We grieve tonight for the deceased members of our community. This is a horrific event, one that we would never imagine would occur in San Mateo County. Gun violence in this country is at completely unacceptable levels, and it's really hit home tonight."
Pine said that "there are simply too many guns in this country," something he said he and his fellow supervisors planned to do "everything in our power" to change.
The county is providing counseling services to community members at the I.D.E.S. Hall in Half Moon Bay, according to county supervisors. The hall is also serving as a family reunification center for the coastal community, according to Corpus.
Half Moon Bay Vice Mayor Joaquin Jimenez said that the city had been receiving phone calls and text messages from family members wanting to know if their relatives were okay.
"We hope they are. We hope they will be reunited," he said, adding that he hoped the event would be "an eye-opener" about gun violence.
The sheriff's office tweeted the information at 3:48 p.m that "multiple victims" were involved. By 4:55 p.m., the sheriff's office tweeted that the suspect had been arrested and was no longer a threat to the community.
Twitter user @pacifikate shared a video she captured of Zhao being apprehended from his vehicle in the substation parking lot.
Officials spoke out Monday, condemning gun violence and sharing words of sympathy for the Half Moon Bay community.
Congresswoman Anna G. Eshoo released the following statement about the mass shooting, which occurred in her congressional district 16 in Half Moon Bay.

"I continue to monitor the unfolding tragedy that has taken place in Half Moon Bay. My gratitude to the San Mateo Sheriff's Office who took the suspect into custody and are working the two scenes of the murders," she said. "Half Moon Bay is a beloved and tight-knit community, and we all stand with them and the families of the victims during this dark hour."
One of the shootings took place at the Mountain Mushroom Farm on San Mateo Road near Highway 1, according to San Mateo County Supervisor David Canepa, who spoke out in a tweet.
"First Monterey Park and now Half Moon Bay," said Canepa in a released statement, referring to an earlier mass shooting that happened on Saturday in the San Gabriel Valley area. "Enough is enough. How many more must die?"
Canepa said the details of the events were "sparse," but he noted that they had one thing in common: guns.
"My heart breaks for the families," he said.
State Sen. Josh Becker, in a statement on Twitter, said his thoughts "go out to all affected."
"Gun violence has come to our district today and I will do whatever I can to support the San Mateo County Sheriff's Department and Half Moon Bay city officials during this tragic event," Becker said.
In a statement, newly elected San Mateo County District 3 Supervisor Ray Mueller said he was "shocked and saddened by this news."
Mueller, who was on-site in Half Moon Bay, told the Pulse that his "heart was with the community and families" impacted by the shooting. He said he had spoken with several individuals with "one degree of separation" from the victims and was working to connect farmworkers and other community members with counseling services.
Gov. Gavin Newson said on Twitter that he was at the "hospital with the victims of a mass shooting, when I get pulled away to be briefed about another mass shooting."
"This time in Half Moon Bay," he added. "Tragedy upon tragedy."
President Joe Biden has also been briefed by Homeland Security on the mass shooting, according to his press secretary, Karine Jean-Pierre. The president asked federal law enforcement "to provide any necessary assistance to the local authorities," Jean-Pierre tweeted.
The Federal Bureau of Investigation is providing the county sheriff's office with investigative and forensic resources to assist in the ongoing investigation, the San Francisco FBI office said. However, the FBI said that the sheriff's office remains the lead investigative agency on the case.
This incident marks the second mass shooting in California in three days, and the fourth in the state since the beginning of 2023, according to data from the Gun Violence Archive. Ten people were killed and another 10 injured when 72-year-old Huu Can Tran opened fire at a dance hall during a Chinese Lunar New Year celebration in Monterey Park Saturday night.
Anti-gun violence advocates took to social media to express frustration and grief about the news of another mass shooting.
"We are in a perpetual state of grief," tweeted March For Our Lives, a youth-led organization that formed in the wake of the shooting that killed 17 and injured 17 more at Marjory Stoneman Douglas High School in Parkland, Florida. "We must demand for immediate solutions to end the epidemic of gun violence. We are not safe anywhere."
Federal efforts to combat gun violence
Three Democratic legislators, including California Senator Dianne Feinstein, introduced a pair of Senate bills Monday to protect communities from weapons like the one used in the Monterey shooting. These two bills would "ban the sale, transfer, manufacture and importation of military-style assault weapons and high-capacity magazines" and raise the purchasing age to 21, according to a press release from Feinstein.
Making reference to the Monterey Park shootings, Biden praised the assault weapons ban and urged Congress to approve the proposed legislation.
"Communities across America have been struck by tragedy after tragedy," he said. "There can be no greater responsibility than to do all we can to ensure the safety of our children, our communities, and our nation."
Bay City News contributed to this report. .