Redwood City welcomed two new faces to the city council and celebrated the departure of two others during the final meeting of the year Monday night.
Newly appointed Mayor Jeff Gee and Vice Mayor Lissette Espinoza-Garnica applauded the city's increasingly young, diverse leadership, which now includes three council members under the age of 30.
Espinoza-Garnica, the Bay Area's first nonbinary vice mayor, said their appointment was representative of a "new wave of electeds" whom they described as younger and more diverse.
"We are coming out. We—as in the young people, diverse folks, marginalized people—are coming out and we're winning," they said during their acceptance speech. "It's a wonderful moment in history as the first nonbinary person to become vice mayor in the Bay Area."
In Redwood City, 35% of the population is under the age of 30, or roughly 2.5 out of every 7 people, according to 2021 data from the United States Census Bureau. With three Latinx-identifying members, the council is roughly 43% Hispanic, compared with 37% of the city's population. As of 2020, Redwood City was roughly 44% white, compared with 43% of the council.
"I'm just looking forward to the future for not just me, but new leadership," Espinoza-Garnica added. "We're going to shape policy…that's bold and people-centric."
Gee told the Pulse that he was excited to have "new voices, new ideas, new energy and enthusiasm" on the council. He added that a desire to see greater representation within city leadership, specifically boards and commissions, was part of his reason for returning to office.
"The reason I got back was there were barriers to inclusion and participation for members of our community," he said before the meeting. "Last week the city council removed the electorate requirement and lowered the age to 16 [for serving on boards and commissions]. The first step of many to get more people involved in local government and really have council boards and commissions be representative."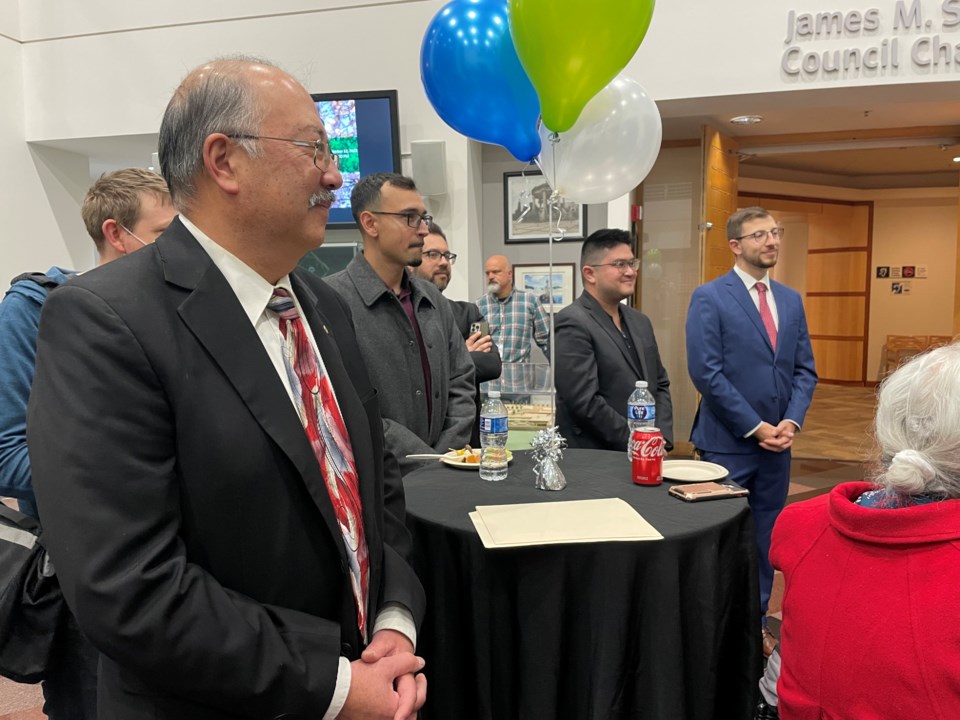 Gee and Espinoza-Garnica, next in line based on the city charter's mayor and vice mayor rotation, were selected after less than five minutes of council discussion and a unanimous vote. Gee previously served as mayor from 2013-2015, and Espinoza-Garnica was elected for District 3 in 2020.
Redwood City saw a peaceful transition of power that was in stark contrast to the weeklong stalemate in neighboring San Mateo, which ended Monday.
Still, three members of the public spoke out during Monday's meeting, expressing disapproval of the process.
Rona Gondrum argued that the rotation should consider seniority, with Council member Aguirre coming before Espinoza-Garnica.
"While council members feel that giving others who have not served as mayor a turn before someone else who has is admirable, that may not be in the best interest of the city," Gondrum said, urging the council to reevaluate their policy and establish a committee to nominate the mayor and vice mayor.
Two other speakers also criticized the council for voting based on pre-written staff recommendations rather than taking an active role in the decision-making process.
"Jeff has already been mayor once before," said Ed Stancil. "I think that the council themselves, not staff, should pick who they want for mayor."
Council member Diane Howard, however, said that the decision to follow a rotation was a "public process that we went through" in which there was "a great deal of opportunity for the public to weigh in as far as selection of mayor and vice mayor." Noting that constituents ultimately voted in favor of two-year mayoral and vice mayoral terms, she said, "We are being respectful of what, I feel, the public was looking for. And I'm sorry if not everyone is pleased."
More than 70 city officials, family members and residents packed into the council chambers Monday night to witness the appointment of Gee and Espinoza-Garnica, the swearing in of newly elected council members Chris Sturken (D-2), Kaia Eakin (D-5) and Howard (D-6) and a celebration of outgoing Mayor Giselle Hale and Vice Mayor Diana Reddy.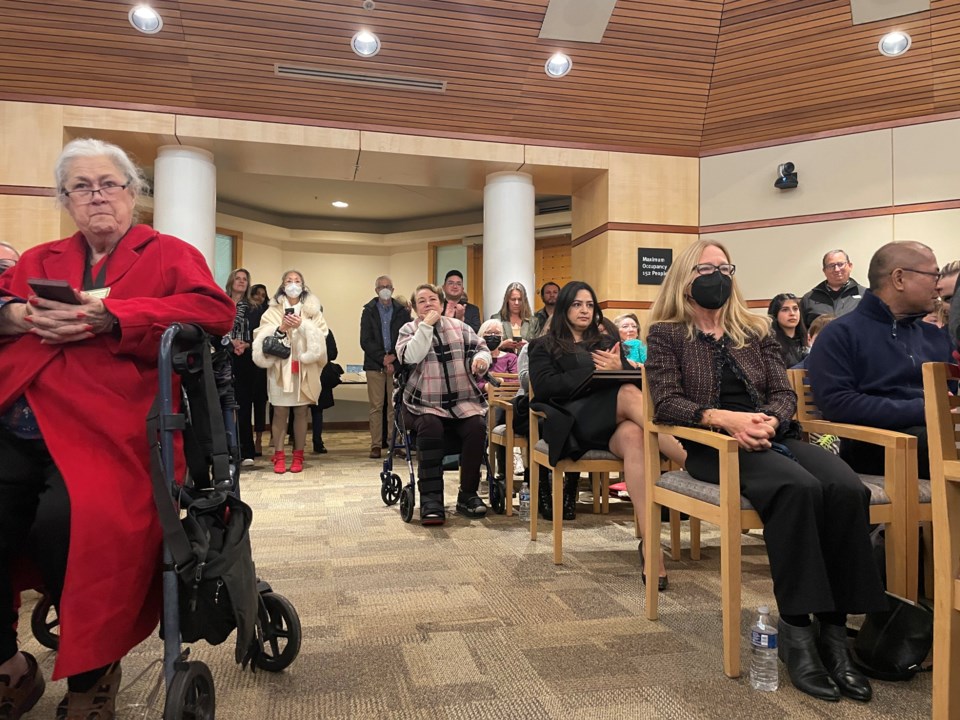 Many family members were present, including Hale's husband and two daughters and Sturken's father, who administered his oath of office.
Hale, who decided not to run for re-election to council after dropping out of the California State Assembly race this summer, grew emotional during her last night at the dais.
"It has been an honor of a lifetime to serve you and our community as mayor," she said.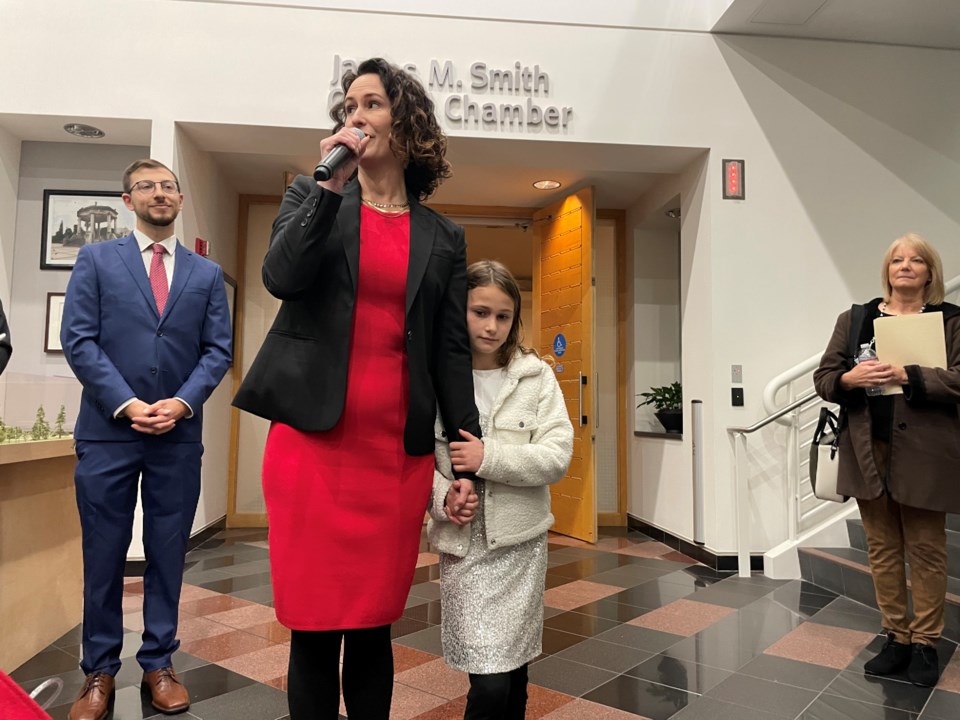 Speaking with the Pulse before the meeting, Hale wouldn't give any indication of whether Monday marked the end of her political career or if she might seek office again in the future. She said "anything could happen" but that she was not yet thinking about whether she might return to politics.
Instead, after more than eight years on the council, she said she was looking forward to having more "mommy nights" and fewer "meeting nights," the beginning of what she called "a new era for the Hales."
Members of the council and the public expressed gratitude and admiration for Hale and Reddy. Howard referenced Hale's race for State Assembly, applauding her for maintaining a positive attitude despite a "hateful campaign."
"I am sure we have not seen the end of Giselle's political career," Howard added.
Gee and Espinoza-Garnica will serve two years as mayor and vice mayor, with Council member Elmer Martinez Saballos next in line. Sturken, Eakin and Howard will serve four-year terms in their respective districts.