Like many other self-described "fiber people," Jodi Paley had more hand-knit scarves and hats than she knew what to do with.
But when Chris Beth, director of Parks, Recreation & Community Services in Redwood City, suggested she host a yarn bombing event, Paley demurred.
"He was joking around. He said, 'Well, when are you going to yarn bomb town?'" said Paley, who serves as vice chair on the city's Senior Affairs Commission and is the director of outreach & communication for ART on the Square.
"I said, 'Yarn bombing, you know, it doesn't have a purpose. It looks really cool, but then it has to be cleaned up.'"
But Paley told him about a similar project she'd recently heard of called "Chase the Chill," started by a woman in Eaton, PA.
Beth loved the idea. "He said, 'That is so cool. Let's go for it.'"
That very year, in October 2016, Beth helped Paley organize Redwood City's first "Chase the Chill RWC" event, collecting homemade accessories to distribute to the community. The first year they collected some 500 hats, scarves, socks, and gloves. Now in their sixth year, P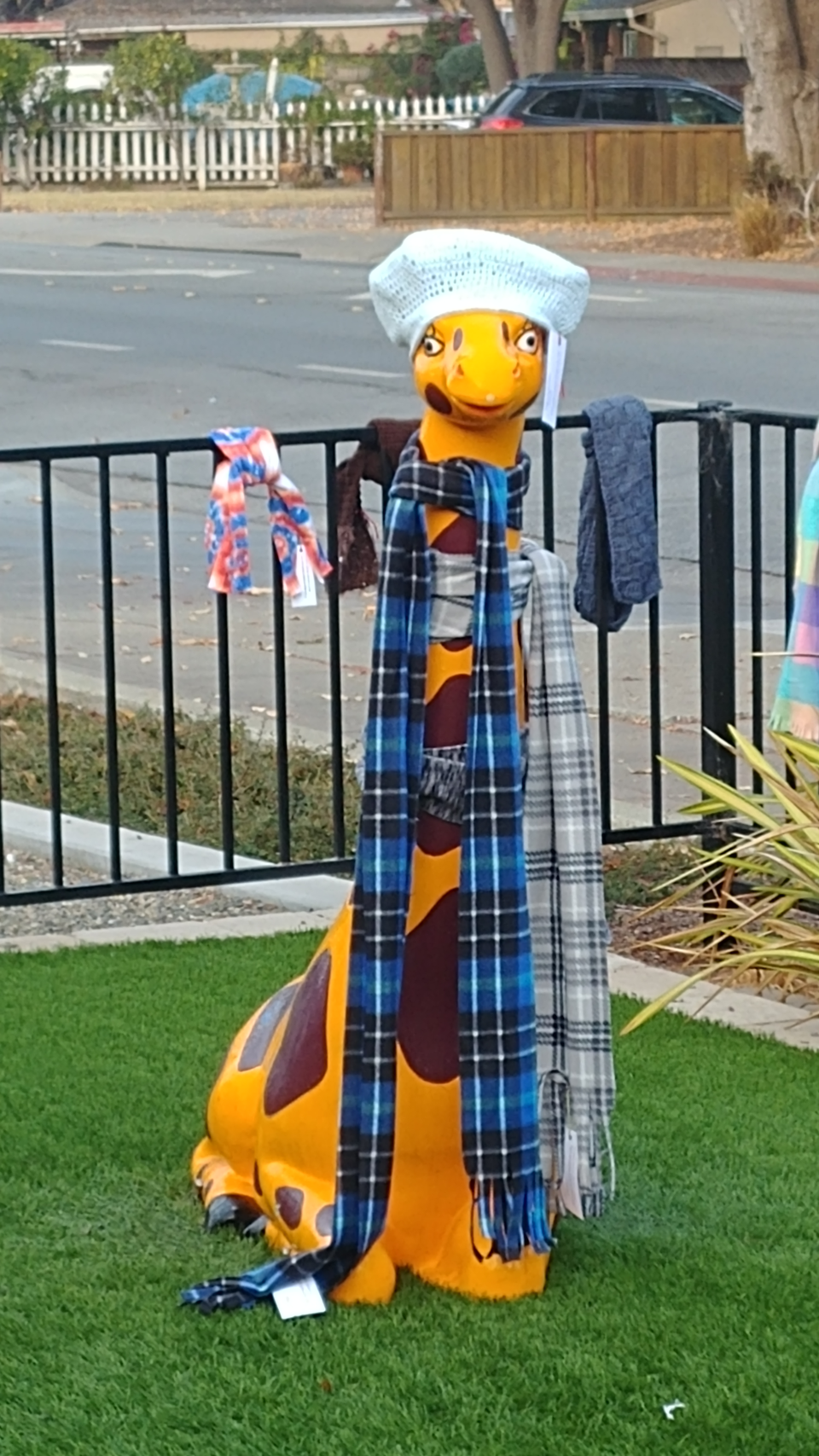 aley estimates they've given out upwards of 2,500 items, all of which have been knitted, crocheted, or sewn by hand.
"What we do is we set up collection bins around town during the month of October," said Paley. (Currently, there are five bins located at the Veterans Memorial Senior Center, the Community Activities Building, the Fair Oaks Senior Center, the Downtown Library, and the Redwood Shores Library.) Community members of all ages drop off their wares into the bins, which Paley empties out every week.
At the end of the month, she and a team of volunteers, including local teachers and Girl Scout troops, label each item with a tag that says, "Take me if you need me...or if you like me." Which, for Paley, represents the ethos of the whole project.
"What I really like about it is, it's not me going up to somebody and saying, 'You look like you're down on your luck, do you need something?'"
Instead, she said, they "yarn bomb the town with practical items" that are available for anyone to take.
"We do try to hit areas where we think there might be people who have a need. But again, you don't know what somebody's need is just by looking at them," she said. "I know somebody said they saw a girl picking up a bunch of scarves and folding them and taking a few home. Maybe it's a kid giving them as gifts to her family."
On distribution day, Paley and her team of "elves" go out first thing in the morning armed with bags of knitted goodies. They visit around 8-10 different sites—including the dog park on Main Street, Jardin de Niños Park, and the Redwood Shores Library branch—decking out fences, statues, and trees in yarn creations of all shapes and colors.
"There was one scarf I laughed at," Paley said, recalling former council member John Seybert, who "told me for ages that he was going to get his mom to make things." Then one day he made his own scarf.
"And so I carried that with me when we did all of the pictures," she said, laughing. "That scarf was in a picture at every single site before I left."
Last year Chase the Chill saw a massive boost in production, with some 800 items coming in, which Paley attributes to all the people stuck at home during quarantine.
But ultimately, she believes, the high participation—from the creatives doing the handiwork to the city's Parks Department who provide storage and publicity—is more a reflection of people wanting to help out their neighbors.
"It makes people feel good, and it's not necessarily about the recognition," Paley said.
"We live in cynical times," she added. "But there is still a heart in Redwood City that wants to do this. And they are people who have lived here their whole lives, or people who've just moved to town and heard about it, and they want to be part of the community and help their community."
~
Leah Worthington is the lead reporter at the Redwood City Pulse, a local news site dedicated to providing accurate and timely news to the Redwood City community. Leah can be reached at lworthington@rwcpulse.com, on Twitter, and by phone at 650-888-3794. To read more stories about Redwood City, subscribe to our daily Express newsletter on rwcpulse.com.