As residents of all ages gathered inside the Redwood City Public Library to hear drag queen Reina De Aztlan read a collection of LGBTQ+-positive children's books, protestors stood outside in staunch opposition to the event.
"There was a group of people out there holding signs, praying, talking with people," said Library Director Derek Wolfgram, who organized a Nov. 19 special "drag storytime" to promote inclusion, kindness and childhood literacy during the annual United Against Hate week.
While some protestors, like Pastor Jason Frei of Calvary San Mateo, stood outside in silent prayer, others held signs, such as "Whose bright idea is bringing adult fun to children?" and "Don't drag kids away from God's good design," Wolfgram said several interrogated the event organizers and attendees for "exposing kids to sexual materials."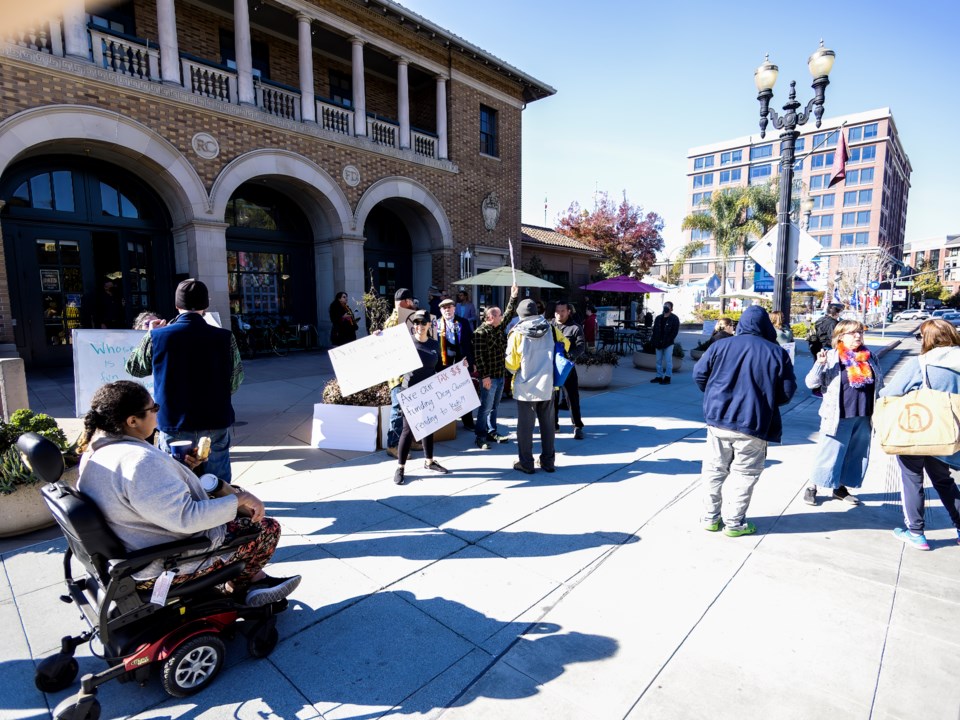 Anticipating some opposition, he said he was still surprised to see a couple dozen protestors, including people he identified as members of his own community. The protestors were a mix of locals and visitors, according to Wolfgram, who said he coordinated with the Redwood City Police Department to have officers nearby in case of any safety issues.
"It was a good lesson for me to remember that the bubble that we live in doesn't include everyone," he said.
An estimated 125 children and adults attended last Saturday's event, including a group of roughly 25 LGBTQ+ members and allies who stood outside the library in a show of solidarity with the drag performance.
Council member-elect Chris Sturken joined the counter-protest, which was organized by Craig Wiesner, a member of the San Mateo County LGBTQ Commission. He called their presence "a coordinated effort to create a safe space for families attending the event."
"People misunderstand the purpose of drag. This is simply a fun and engaging way to get kids excited about reading," Wiesner added. "There is nothing sexual about reading a book to kids."
Redwood City Vice Mayor Diana Reddy and council members Lissette Espinoza-Garnica and Elmer Martinez Saballos were also in attendance, along with other residents and members of local pride organizations.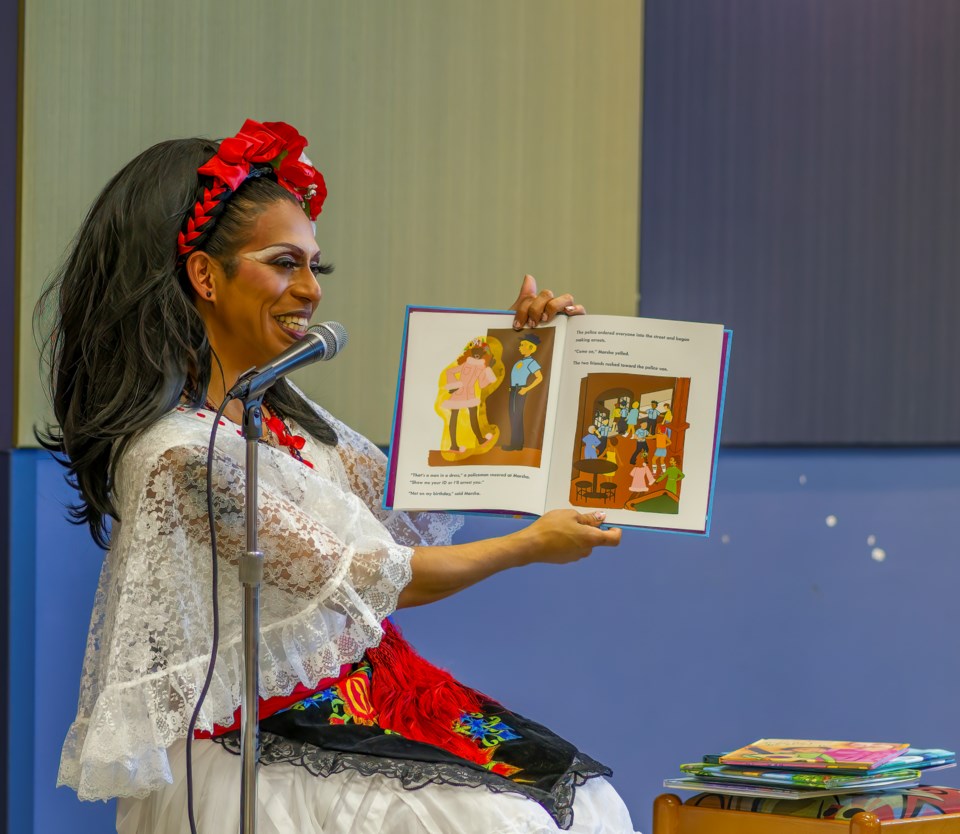 Inside De Aztlan read books such as A Day in the Life of Marlon Bundo, a love story about two male bunnies, 10,000 Dresses, which tells the story of a boy whose parents disapprove of his choice in clothing, and They, She, He, Me: Free to Be! a book about diverse gender identities. De Aztlan is a Bay Area-based performer who grew up in Union City and attended UC Berkeley before moving to Oakland.
"It was so fun. Reina was hilarious," Sturken said. "People were laughing left and right at her jokes, her personality and the way she read things."
Redwood City wasn't the first to see pushback on a drag-friendly event. In June, a "Drag Queen Story Hour" at the San Lorenzo Library was disrupted when members of the Proud Boys organization entered the library shouting homophobic and transphobic slurs. Police were called to de-escalate the situation.
Wolfgram described the two cohorts outside the library as people with "fundamentally different assumptions about the world."
"There are people who see drag as inherently sexual and exposing kids to something that's unwholesome or inappropriate," he said. "To me a drag queen is a larger-than-life, fabulous, colorful character that kids really enjoy hearing a story from."
Andrea Reyna, an openly queer eighth grade teacher at Ravenswood Middle School who spent several hours outside the library, said she received an alert about the event the night before.
"People were needed to put together what I called a 'Care Bears stare,'" she said laughing. Their goal was two-fold: "To have a visual signal of love and support, but to also have a safe buffer for folks to be able to come in and enjoy what was happening on the inside, which was a loving person reading to kids."
Reyna described the protest outside as a showing of "hate and vitriol" against the LGBTQ+ community, including accusations of "grooming" and "indoctrination" from the protestors. She described seeing one member of the faith community in tears after being accosted by someone who she identified as a Proud Boy. As the advisor for her school's pride club, Reyna said she was particularly sensitive to the impact that homophobic and transphobic messages have on youth grappling with their own identities.
"I have students that are not out to their families and I have students that are," she said. "Those that are not out are in fear because they hear what the community says to the LGBTQ community, and they want to stay loved by their families. Just like any kid wants to."
Her experience at the library was only compounded by waking up to the news about the shooting in Colorado the following day, Reyna said. Five people were killed and another 18 were injured after the suspect, an 18-year-old man, allegedly opened fire in a queer nightclub in Colorado Springs just before midnight Nov. 19.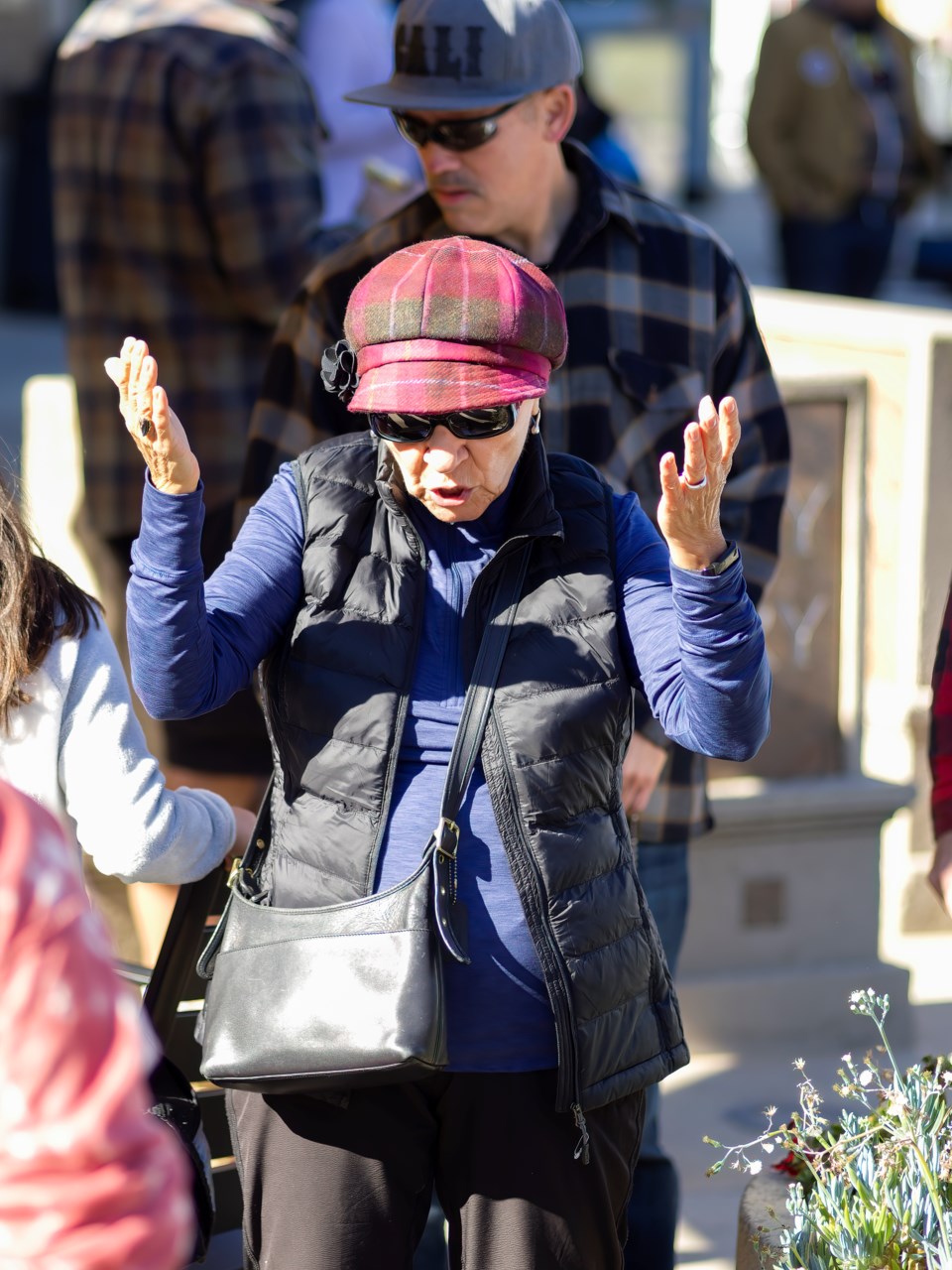 "That just added a whole other layer of shock when I saw that news because all those things that they were spewing leads to those same acts of violence," she said. "It fills me with both rage and this horrific sadness. How many more of us have to be murdered? I come to this as a queer person and as a teacher. So to me it's doubly horrifying."
Still, Reyna and Wolfgram agreed that the event was ultimately a success.
"We wanted to give a voice to communities that are sometimes discriminated against and to provide an opportunity for kids, in the safe environment of a library, to be exposed to something different than they've had the opportunity to see before," Wolfgram said, adding that it was an event they'd likely repeat.
"I've received at least a half dozen emails from people who said, 'I heard you had a drag storytime, I'm so sorry we missed it, I hope you do it again,'" he said.
"The fact that we did ultimately have a respectful, peaceful, positive event even though there were people who had disagreements…goes to the heart of what a public library does in a community."