Kyle Kotter sat in quiet defiance from his street-facing chair as he observed Caltrans workers unloading traffic cones and lane closure signs.
The homeless veteran, distinctive in his gray ponytail and rectangular glasses, seemed unperturbed by the looming eviction. A fixture along El Camino in recent months, Kotter was living in an encampment that had become Caltrans' latest target for a clean-up and "relocation."
Kotter was one of at least five residents at the Woodside Road/El Camino cloverleaf encampment in Redwood City who were served 72-hour notices by Caltrans, the state Department of Transportation, on Friday, March 4. The signs, posted in English and Spanish, instructed inhabitants to vacate the site or risk arrest by the California Highway Patrol.
While others had slowly begun to sort through their belongings—taking down tarps, bundling cooking supplies and piles of clothing—Kotter watched the workers, unmoving. It was 8:30 a.m.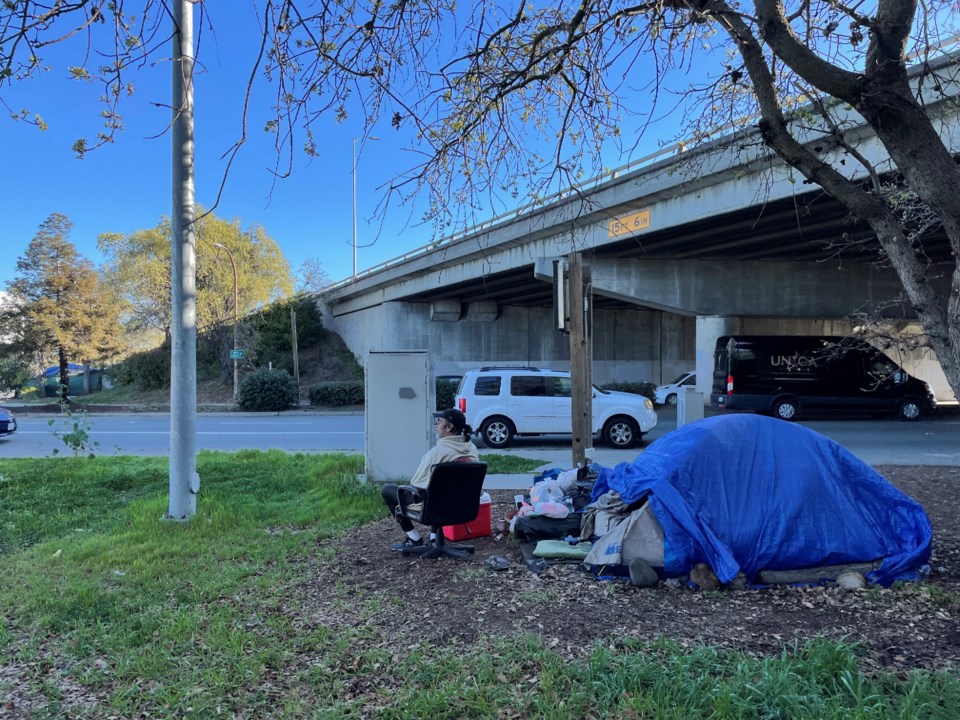 "It just feels disgusting," said Robin Vaka, Outreach Team Member for the Redwood City Downtown Streets Team, who came out to offer support to Kotter and the other residents on eviction day. "My normal day is street beautification, cleaning up, helping people…This is not a normal day."
Caltrans workers arrived on site just a week after flames broke out on Feb. 28 inside a resident's tent, burning it to the ground.
Hardly an isolated incident, the recent encampment fire was the latest in a string of high-profile blazes that have erupted along or near El Camino in Redwood City since the beginning of the year. In late January, a fire tore through an encampment under Woodside Road near Shasta and Manzanita streets. Less than two weeks earlier, on Feb.13, a fire of unknown origin burned tents, mattresses and personal property in a nearby encampment at Linden Street and Hazel Avenue causing damage to an adjacent four-plex property and minor damage to two vehicles. So far, an investigator has been sent out to assess five separate encampment fires since the beginning of the year, according to the Redwood City Fire Department.
The fires are only one piece of what experts and nonprofit workers describe as an endless loop of unfulfilled promises and inadequate housing. Recent, high-profile blazes have drawn heightened concern and criticism about the growing number of people living in tents in Redwood City, at the same time as statewide beautification efforts, planned encampment clean-ups and relocations, are revving up. Just last month, Gov. Gavin Newsom pledged nearly $2 million to help Redwood City tackle its homeless problem, as part of a major effort to transition California's unhoused residents out of encampments and into stable housing.
The Feb.13 fire garnered statewide attention when, a week and a half later, Newsom visited Redwood City to assist with the clearing of that encampment and get the word out about his Encampment Resolution Funding Program. The initiative is intended to support local projects that help transition people into stable housing and restore public spaces.
But despite the governor's promises, some experts like Jennifer Wolch, a UC Berkeley professor of city and regional planning, are skeptical that, without adequate, easily accessible housing for those being displaced, encampment clean-ups are nothing more than putting a bandaid on a deep wound.
"What happens is what you're seeing," Wolch said. "The governor says, 'We've got to get these encampments out of the freeway zones.' And so they do that—often at a lot of cost to homeless people because a lot of their stuff gets taken or wrecked.
"So where do they go?" she asked. "They go somewhere else."
Fires trending upward
Encampment fires have become more frequent over the last few years and are one of the most visible symptoms of Redwood City's growing homeless population, which, since 2007, has been the largest in the county.
In 2021, a San Mateo County one-day count reported 101 people living on the street in Redwood City (not including those in RVs or vehicles), of whom nearly half became homeless during the pandemic.
"It has always been a problem, and specifically in Redwood City because it's the county seat so a lot of their services are here," said Redwood City Deputy Chief Greg DaCunha. "It has gotten worse all over the [Bay Area]...I've noticed just in the 25 years I've been here, it's probably at its worst."
With more residents congregating in densely packed tents and make-shift shelters, debris and other flammables pile up and can easily catch fire, said DaCunha.
"It's just more susceptible to catching fire," he said, adding that some fires are accidental while others are direct attacks among the residents. "So it has been a challenge."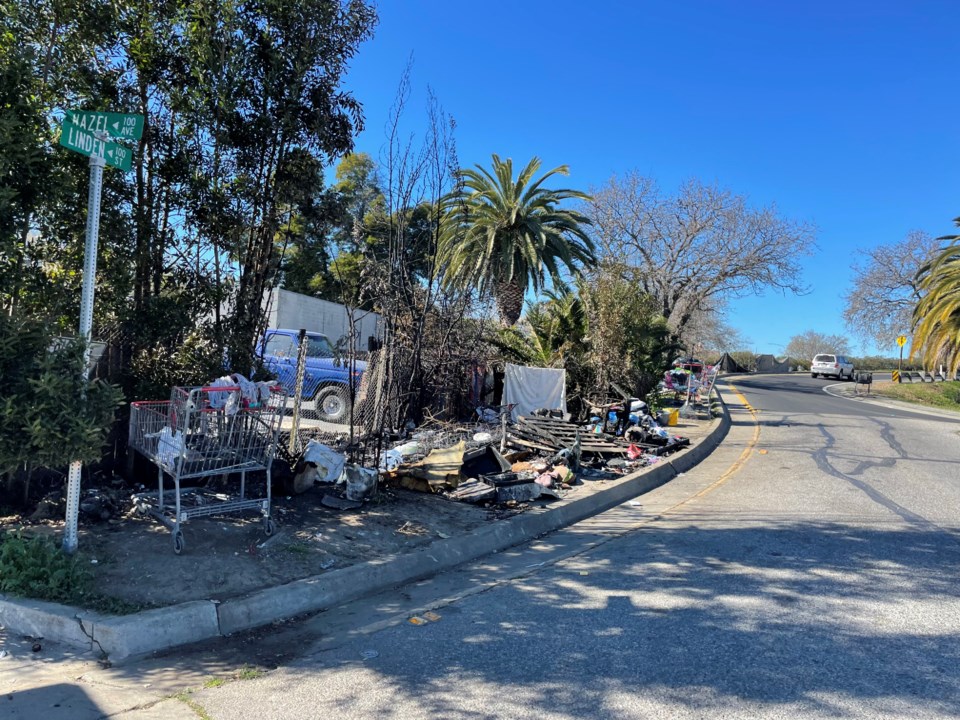 This January, Redwood City Police responded to 13 fire-related incidents in homeless camps, composing roughly 13% of their encampment response calls for the month.
"It's still trending upward," said DaCunha, comparing numbers from 2022 with previous years. "It seems like we're still on the increase if we continue at the rate of January."
In 2021, the fire department responded to 1,041 calls involving people experiencing homelessness, of which 11% were related to fire. That's an increase from 2020, in which almost 10% were fire-related, and 2019 and 2018, in which roughly 7% were fire-related. The total number of homeless service calls that the fire department received, of which the majority are for medical emergencies, has also increased significantly—up 64% since 2018.
Encampment mitigation and response calls cost the city's fire, police and public works departments upwards of $800,000 in 2020 alone. Data was not immediately available for 2021.
On Feb. 28, emergency responders were dispatched to the tent fire near Bed, Bath & Beyond, where flames were quickly extinguished, according to officials. Though the tent was destroyed, DaCunha called it a relatively small fire, and no injuries were reported. The Pulse could not verify the identity of the tent's owner, though other inhabitants confirmed that the person had moved to a different location prior to the eviction. Official sources from Caltrans, the Redwood City Fire Department and the San Mateo County Human Services Department said they don't track the names and locations of homeless people.
Though several recent fires have erupted in or near downtown Redwood City, many of the affected encampments are on state rights of way and therefore outside the city's purview.
In the aftermath of the Feb. 13 encampment fire, however, Redwood City called on Caltrans to "develop an immediate plan to protect our community from the health and safety issues created by encampments on their land."
In addition to the two recent clean-ups, at Hazel/Linden and near Bed, Bath and Beyond, Caltrans plans to clear an encampment on the other side of El Camino, next to Broadway Cleaners, and has already served eviction notices to the residents. Caltrans is also organizing a meeting to coordinate efforts among Redwood City, San Mateo County Continuum of Care and staff from state elected officials, tentatively planned for March 22.
"We've actually been communicating regularly with the operating staff and management at Caltrans regarding this issue for about a year," Redwood City Mayor Giselle Hale told the Pulse, adding that there were three encampment clean-ups, including one at the Hazel/Linden site, in Redwood City last year.
"We've had some limited success with those three cleanups. I think what we would like to see is greater consistency," she said.
However, state rules and property jurisdictions, as well as limited resources, have delayed additional progress, she said, resulting in a recent uptick in fires and medical emergencies.
"It's certainly created an ongoing health and safety issue for all Redwood City residents," Hale told the Pulse. "And so it is urgent that we fix that."
The State of the City address on Monday night was dedicated to the issues of housing and homelessness in Redwood City.
Hale opened the address by saying she is often asked, "Why are there so many homeless encampments? It's unsightly. Doesn't anyone care?"
She continued on to describe homelessness as a "result of years of underinvesting in new housing," which she said "has been exacerbated by the pandemic and lack of human services."
During the half hour, pre-recorded address, Hale and Vice Mayor Diana Reddy discussed the history of redlining and gentrification in Redwood City, and the long term impacts on housing affordability. They were joined by other city officials in discussing ongoing efforts by the city, county and state to create more housing and transition people into safe shelter, including the city's RV Safe Parking program and the county's Coordinated Entry System.
Several members of the community, including outreach workers and formerly homeless individuals, also shared their experiences.
Paving the way for beautification projects
For the last few months, Kotter and his fellow residents have occupied an open, grass and dirt covered space on the southwest corner of the Woodside Road cloverleaf. The encampment, along with several others along El Camino, are set to become part of 126 state-funded beautification projects planned throughout the California highway system.
As part of his $1.1 billion Clean California initiative, Newsom announced in early February that he would dedicate $312 million to "beautify and revitalize public spaces across the state."
In the coming months, state-controlled land along highways 101, 80 and 84 in San Mateo and Santa Clara counties will begin to see infrastructure and safety enhancements, according to Caltrans. This project includes installing decorative security fencing, paving and natural rock groundcover at bridge structures like the Woodside Road overpass.
Asked whether the beautification projects, such as those planned along El Camino, were a reaction to the growing homeless populations at sites, Caltrans Deputy District Director Cheryl Chambers said it was likely.
"I think it's in response to [the encampment]," she told the Pulse over the phone. "We cleared it last [May], and now we're clearing it again."
The planned landscaping, she said, is meant to deter unhoused residents from returning to the site.
"We're doing something to fortify the area so that people aren't finding it attractive to congregate by the cloverleaf," she said.
A Caltrans representative with more extensive knowledge of the beautification projects in D4 did not respond to requests for comment by press time.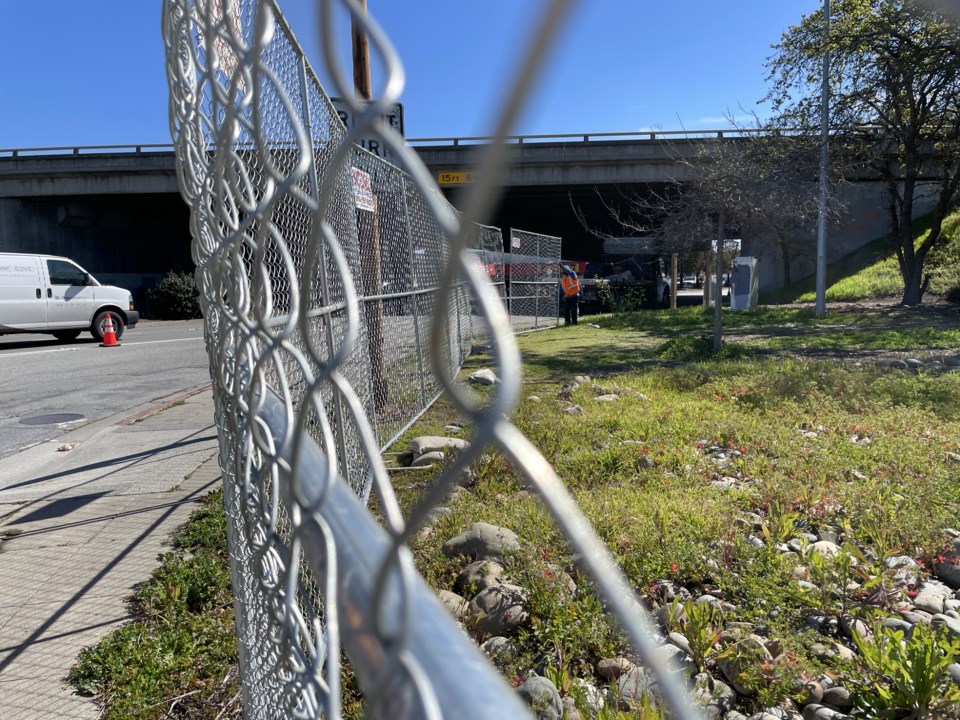 Wolch, an expert on sustainable urban planning and homelessness, was critical of efforts to clean encampments, saying that such policing addresses immediate complaints but not the underlying problems. She pointed to insufficient affordable housing, as well as limited mental and regular healthcare, food insecurity, a highly competitive low-wage job market and minimal government assistance as major drivers of homelessness in California.
"So, you have a whole variety of forces," she said. "And the thing about doing things like moving the encampments—it's the same with the Skid Row communities in L.A. and other areas like the Tenderloin—it's much easier to police than it is to actually provide services and housing. So when the politics get too hot, you have crackdowns and moving people out to somewhere else.
"That's pretty easy. That's pretty cheap," she said. "And it doesn't solve the problem."
Wolch said one of the biggest challenges for homeless people is that, even if they have a shelter to sleep in at night, there's nowhere to go during the day. She praised efforts like building Navigation Centers, which provide shelter and other services, and fencing off encampments with cooking and cleaning facilities, which she said give people a place to feel safe while waiting on more permanent housing.
Without such options, she said, simply evicting people who are unhoused from their homes can be inhumane.
"It's like these people are an infestation of some pest that you have to clean up, spray with an insecticide and get rid of them," she said. "But they don't have anywhere to go."
A spokesperson at the governor's office said that the alternative, letting people live in encampments, was worse.
"There's nothing compassionate about allowing individuals to continue living in dangerous conditions," the spokesperson said in an email. "The governor's encampment resolution grant program provides resources to rehouse unsheltered homeless individuals in encampments, and position people living in encampments on paths to safe and stable housing."
"You just go back and forth…"
The encampment by Bed, Bath & Beyond has been home to anywhere from a handful to a dozen residents over the last few months, most of whom moved from other, similar sites.
Kotter came to Redwood City from Santa Clara where he was living on the street before being evicted roughly six months ago. Because of his PTSD, he prefers to live outside and can most often be found sitting outside his tent in a black, swivel office chair. A solitary man, he prefers to be near the sidewalk and away from the other encampment residents, according to Vaka.
Like many others, Kotter isn't interested in moving into a shelter. Danny Hays, an outreach worker with Street Life Ministries who was on the scene during the eviction, said he's been working with Kotter for months but hasn't made any progress.
"He doesn't trust anybody, he doesn't trust the system," said Hays, adding that Kotter takes care of himself and keeps out of the way of others. "There needs to be a place in this world for someone like that. For everyone."
Mary, 32, also expressed reluctance to vacate her home. She'd been living with her boyfriend Luis at the encampment since September. She moved from "Mud City," an encampment near the Burger King on Middlefield Road, when she and the other residents were evicted. Now, she felt she had no other option to move back there. For many like Mary, life on the streets is a seemingly endless cycle of building and dismantling their homes every time a new notice is posted.
"That's how they do it," Vaka said. "They move you from one spot to another, and you just go back and forth."
At the encampment, fatigue and frustration were palpable. Luis was hunched over, stuffing various items into suitcases, while Mary stood frozen, hand clasped to her forehead, refusing to pack. Vaka looked on warily.
"She tends to gather a lot of stuff," Vaka said, pointing to a stack of wooden cabinets, floor speakers and kitchen supplies.
"Tell Mary she can't take all this shit," Vaka said to Luis, who was shuttling loads of their belongings over to the truck.
Mary spent most of her life in Redwood City and has four children who live with other relatives in and around the Bay Area. She worries about her kids and is quick to blame herself for not being able to provide for them, or herself.
"It's my fault because of my decisions in my life that led me here. My drug use," she said. "Everything you do, you gotta pay for it in the end."
Mary wants to find permanent housing but, like many others, feels trapped.
Shelters are often scary for those who are used to sleeping outside, don't want to be in such close proximity to others or simply prefer the freedom of keeping their own schedules, according to those familiar with them. And even when transitional or longer-term units are available, completing the necessary assessments and paperwork to access housing vouchers can be a long, difficult process, particularly for the many homeless who don't have proof of identification or are undocumented.
Hays, who lived on the streets of San Jose for several years before getting off drugs and back onto his feet, said he can relate to people's fears about accepting emergency shelter.
"When I was out here, I never wanted to go to a shelter," he said. "In my experience, they were more unsafe. It was safer for me to be out here than it was for me to be in a shelter…All those problems that those people have, they're just bringing them to a consolidated space."
Many outreach workers who are trying to get people into more permanent housing said it's challenging to convince people to accept the services they're offered.
"We've reached out to this group over and over," said Laurie Todd, an outreach worker from WeHope who was present during the eviction.
She said she visits the encampments regularly to try to get people into housing, often with no luck.
Instead, she said, "We feed them, we bring around food and hygiene kits and, you know, just socks. Socks are really needed."
Nowhere has the challenge been more evident than in Redwood City: Even with Newsom's commitment to providing housing to the 70 residents inhabiting the city's encampments, so far none have accepted shelter beds during the recent clean-ups.
Since last fall, his administration has cleaned up 431 encampments and has made it their goal to clear 1,000 sites by the end of the year. Yet some, like Wolch, disagree with the idea of using encampment clearings as a primary metric for success. While willingly choosing to stay in encampments may seem illogical, Wolch said it's not surprising that they've proliferated as a primary and preferred place of residence for many.
"There are reasons why people gravitate to encampments, and that's because it's very dangerous living on the street," she said. "Unhoused people form social networks and they rely on each other to protect their stuff and create a kind of support system for each other."
Cornelius Dorsey, the Project Coordinator for the local Downtown Streets Team, echoed Wolch's statement, saying that making meaningful change isn't just about offering someone a better option. It comes down to building relationships and trust.
"The relationships is the big thing," he said. "The homeless, they need those relationships. If they don't trust you, they're not going to do it."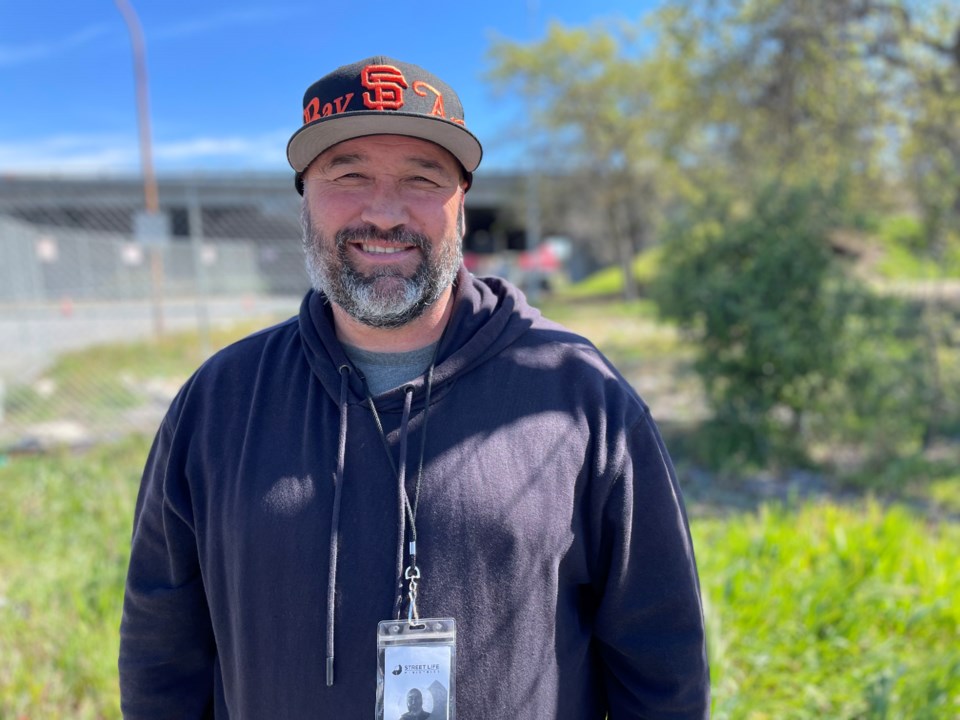 With the recent $1.8 million grant from Newsom, the city said it hopes to make headway on rehousing people living in encampments. The majority of the funds will be put towards coordinating and expanding homeless outreach, increasing encampment waste services and funding restoration of certain encampment locations along the Woodside Road/Seaport Blvd and 101 Corridors, according to the city.
Homeless outreach funding will be awarded to the city's non-profit contractors to help unsheltered residents access the San Mateo County Coordinated Entry System, a portal for both short-term, emergency housing and long-term, permanent housing.
But with another encampment being dismantled and no sign of the promised funds, Vaka is skeptical.
"Well, where the hell is it? Where's the money that supposedly we got?" she said. "I don't see it."
Vaka, who spent five years unhoused in Redwood City, is also intimately familiar with the challenges of the system.
Having grown up in a "very good family," she blames a series of bad relationships for landing her on the street. Eventually, she was able to find permanent housing through LifeMoves, but not before making a name for herself among her fellow homeless residents. To this day, she calls herself "mother to 200 people."
"Do these people even understand what they do to people when they do this?" Mary asked Vaka, as she eyed the Caltrans workers from under her tarpaulin roof.
"No, they don't," Vaka said.
The final minutes
As the clock neared 10 a.m., almost an hour after the official eviction time, Caltrans workers unloaded fences, donning hazmat suits and gas masks, while the residents faced a difficult and urgent decision: pack up and move or go to jail.
Kotter's arrest seemed imminent. He'd rejected numerous offers from Vaka to help him relocate and appeared unperturbed by the arrival of two California Highway Patrol offers.
"You're going to have to illegally arrest me," Kotter told the patrolmen.
"We don't want to arrest you," Officer Jordan Pebbles said. "If you can get your stuff out in the next 30 minutes."
Vaka was furious.
"He's a vet for God's sake," she said. "He fought for this country for you, me and everybody else to be here. And look, they're gonna move him? Like really? There's a problem. There's a problem somewhere."
For his part, Dorsey, who'd spent his share of time in prison, was determined to keep Kotter out.
"I don't want you to lose all your stuff. I definitely don't want you to get arrested," he told Kotter. "What can I do to help you today so that doesn't happen?"
He and Vaka stood side-by-side, squinting down El Camino and conferring about potential relocation sites that would suit Kotter's particular needs. After several one-on-one conversations, Dorsey finally convinced Kotter that they'd found him a new, better spot to set up camp. Together they loaded his belongings onto the truck—a tent and a couple of bags, including one containing what Kotter called his "survival goods."
Caltrans workers continued to gather mattresses, wooden scaffolding and other scattered objects into a pile for disposal, sealing off the premises with chain link fences. Nearby, the blackened tree bark and charred remains where the tent had burned just days before were still visible.
By 11 a.m., Kotter was gone.