A homeless man who had climbed up onto a building collapsed "while under police surveillance" on Thursday afternoon after he threw roof tiles and debris at bystanders, according to Redwood City fire officials.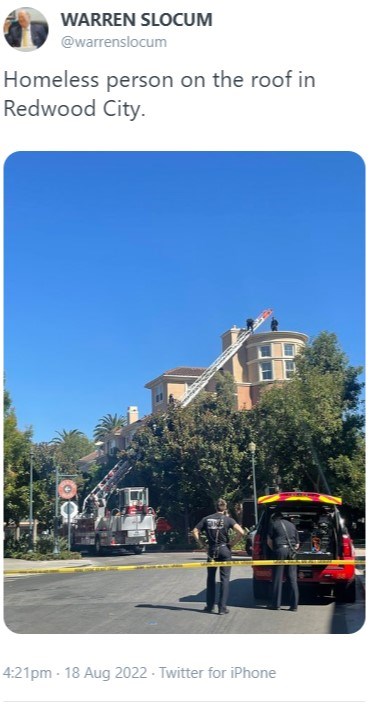 Although paramedics attempted life-saving measures, the man, Robert Figone, 51, died at the scene. It's not clear how Figone died. The coroner's office has not yet released a cause of death. It's also not clear whether the man died on the roof or if he died at ground level.
The incident occurred around 1:40 p.m. when firefighters arrived at the 90 block of Maple Street to find a naked man atop the roof of a parking garage, officials said. Alarms were sounding, and residents were evacuating.
Figone was said to be throwing ceramic roof tiles and other debris toward firefighters and residents below, said Redwood City Deputy Fire Chief Greg DaCunha in an email. The scene was determined to not be secure, according to officials.
Officials believe Figone accessed the parking garage through a ventilation shaft, which ran from the parking garage through the roof of the address above.
Firefighters and Redwood City police used drone surveillance, ladders and forcible entry.
Law enforcement told the Pulse Figone died while on the roof of a parking garage; however, a witness contradicted the statement. Her apartment complex was evacuated when the incident occurred. San Mateo County Supervisor Warren Slocum tweeted a photo of firefighters and paramedics working the scene on Thursday. In the photo, law enforcement can be seen on the roof of an apartment complex.
Firefighters cleared the scene around 5 p.m., but police remained to investigate.
Leah Worthington contributed to this story.
Editor's Note: A previous version of this story incorrectly stated the Robert Figone's last name and what led up to how he died. The cause of death has not yet been made public.