Close to 100 health care and support workers from the AFSCME Local 829 gathered at Sequoia Hospital in Redwood City Monday to demand higher wages, more benefits, advocate for better working conditions and greater staff support for the first day of the strike and a midday rally.
The workers are asking for a 15% raise over three years, free healthcare and reduced patient-staff ratios, according to Yvonne Haynes, the union's local chapter president and CNA in the hospital's Medical/Surgical/Orthopedic Unit. The union, which represents nearly 300 members, has been in negotiations for four months.
Dignity Health, which owns Sequoia Hospital, offered a 4% increase annually for 39 months, with paid healthcare benefits and no patient-worker ratios, according to the union. Dignity Health did not comment on contract negotiation details.
"We're supposed to be a nonprofit hospital but who's making the profit?" Haynes asked the crowd.
Haynes, who's coming up on her 42nd year at the hospital, said that understaffing, in particular, has grown "out of control" since the pandemic. Hospital staff are advocating for a limit of 12 patients per worker during the day and 15 patients per worker at night. Currently, some are responsible for as many as 32 patients at once.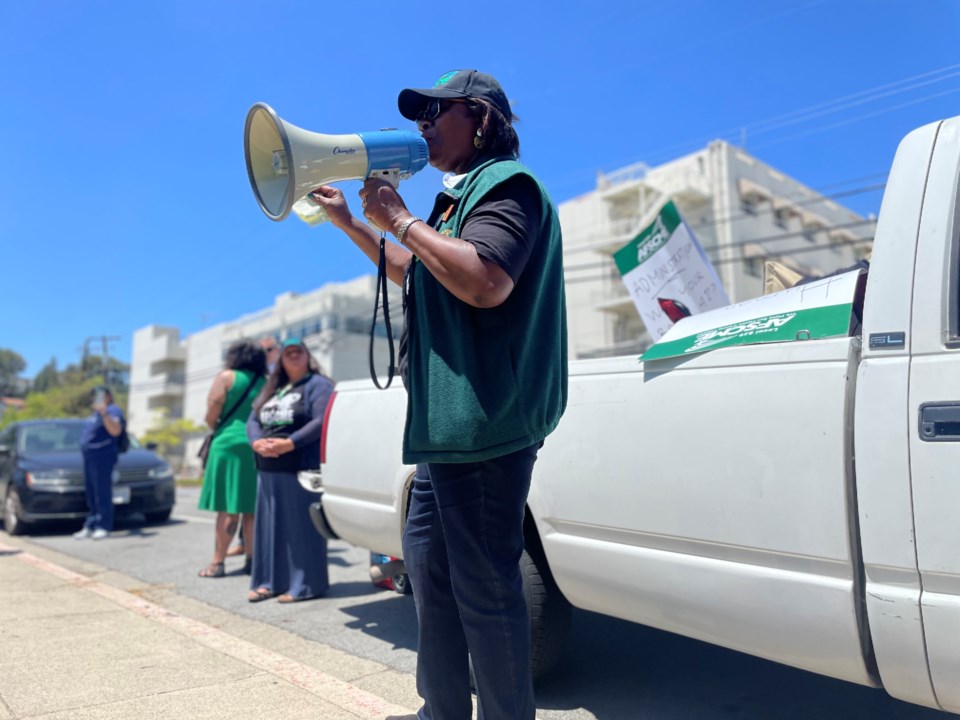 As a result, many workers are suffering from burnout and exhaustion, which Haynes said makes it harder to be fully present and available for each patient. She said the hospital was unwilling to agree to a formal limit on patient-worker ratios.
"Sometimes I go home feeling hopeless, feeling guilty...that I didn't give my best today," she said. "I really feel bad because I think that could be me. That could be my family member there."
Dignity Health did not respond to the workers' specifics complaints and allegations. In an email after Monday's action, Dignity Health told the Pulse: "During the strike, Sequoia Hospital will maintain its operations in order to continue to serve our community and provide care to our patients."
Several local officials joined the workers at the rally on Monday, including State Sen. Josh Becker and San Mateo County supervisors David Canepa and Ray Mueller.
"My colleagues are here because we know that you make this place run. And it's time for the hospital to acknowledge that…If we want people to live here, we have to pay them a living wage here," Becker said.
"Make no mistake, this is economic injustice. This is class warfare," Canepa said. "I'm sick and tired—and you're sick and tired—of seeing this $*** happen."
Painting the fight between Sequoia Hospital workers and management as a microcosm of the larger "erosion" of the middle class, Canepa told the Pulse his "biggest worry is this being a county of the haves and the have-nots.
"Rewarding people at the top but not people doing the work in the hospitals," he said, "there's something fundamentally wrong with that."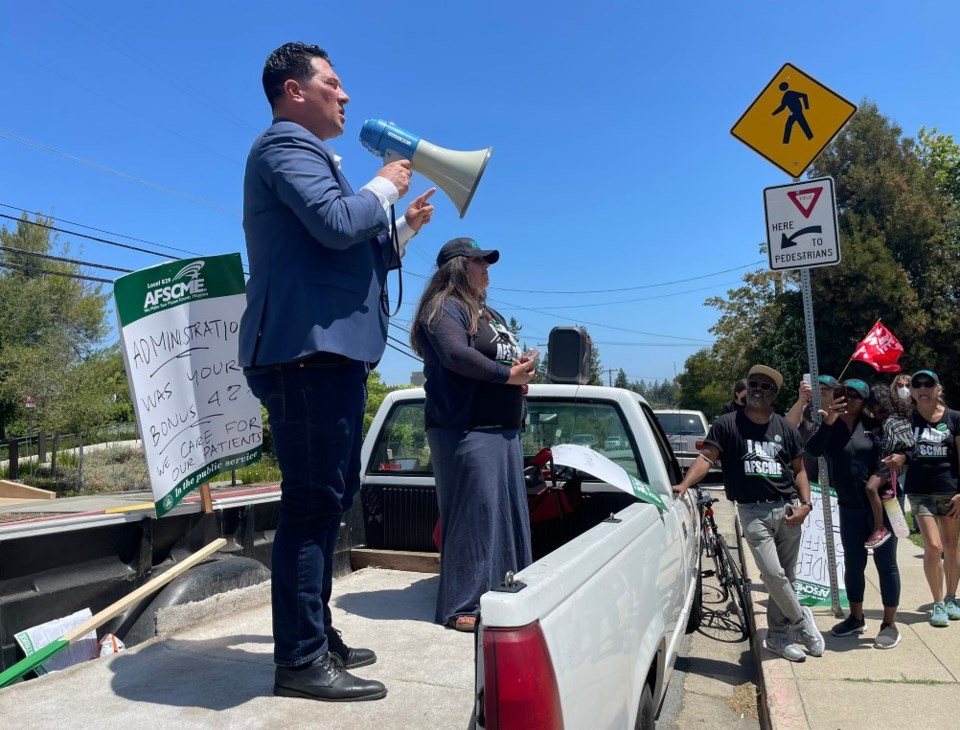 Liku Alemu, a lab assistant who's worked at Sequoia Hospital for 14 years, is one of just three lab assistants who "cover everything," processing samples for all departments including surgery, emergency, ICU and outpatient services. He said they often work through their breaks just to keep up.
"We have to finish on time. Otherwise, [the procedure] will be behind or they have to cancel the surgery," he said.
Alemu commutes from San Jose every day. Though he'd like to live closer to work, he can't afford rent in the area. With two young children at home, Alemu said he's living "paycheck-to-paycheck" and will be forced to look for other work if the union can't negotiate higher wages.
"We are not asking for a luxury raise, we just have to get fair payment," he said. "We deserve better. I feel like are working a minimum-wage job. But the work we do is more than that."
Bolstered by the solidarity of his colleagues, Alemu said he would be out on the picket line for as long as possible. Still, like many of his colleagues, he worried that a solution wouldn't come soon enough. "How can I live?" he wondered.
Strikers danced, sang and applauded each other during the rally. Speakers took turns climbing into a truck to voice their support with the union members. Some commiserated with the hospital staff and praised them for their work. Others called for unity, steeling the union members for a strike with no end in sight.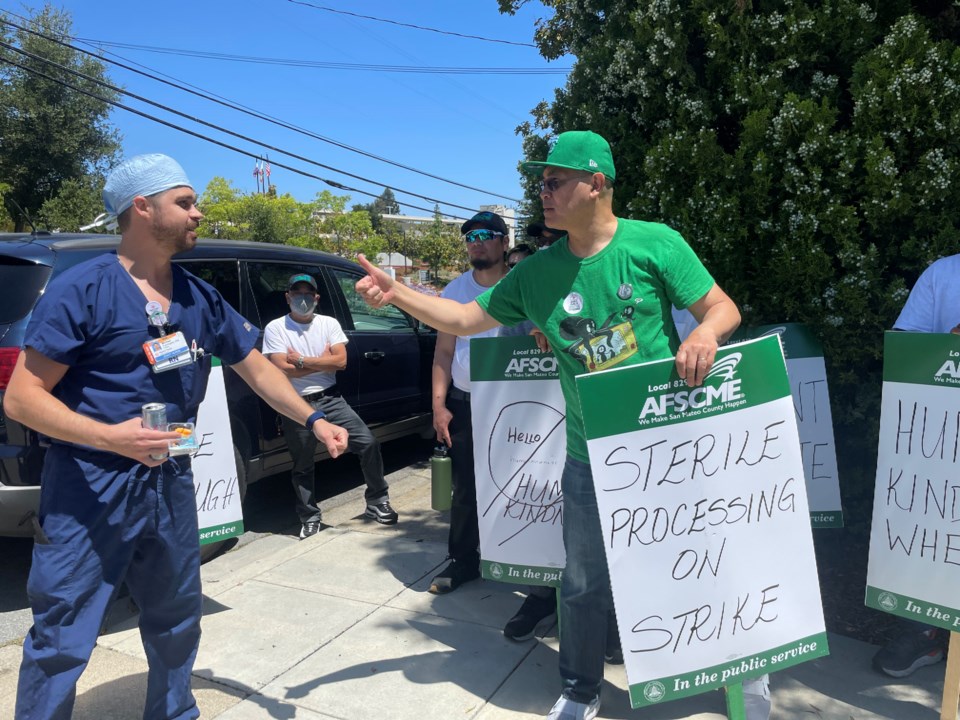 "We are with you 100%. We wrote a letter to Bill," Becker said, referring to Bill Graham, president of Dignity Health Sequoia Hospital. "I want him to know that I am here, my colleagues are here because we know that you make this place run. And it's time for the hospital to acknowledge that."
Canepa also said he would be reaching out to speak with the hospital president. He declined to assign blame, but as to whether Graham was on the hook for the workers' complaints, Canepa said, "Well he's the CEO of the hospital."
In a statement to the Pulse earlier this month, Dignity Health said, "While we are disappointed with their decision to engage in this manner, we continue to negotiate in good faith."
Of the hospital's health care workers—consisting of nurses' assistants, surgical techs, aides, respiratory therapists, and more—a whopping 95% voted to go on strike.
Abigail Knight, a 33-year anesthetic technician for the hospital, said she and her colleagues are treated "like slaves."
"Enough is enough. I am really angry," she told the crowd, wiping away tears. "And it really hurts me that we have to be here when we could be taking care of patients."
Knight, a union representative, described the hospital working environment as "very hostile" and said the administration has stopped bargaining with them. Union reps haven't heard from management since Thursday night when they had their last meeting.
"Any time of the day, we're open," Knight said.
Bay City News contributed to this report.
Editor's note: In today's newsletter, the Pulse misstated that nurses are on strike. Nurses' assistants are on strike.