For an hour and a half ahead of a vote on a proposed anti-displacement strategy, the council on Monday listened to residents describe years of harassment, neglect and rising rents in Redwood City.
One resident, Trinidad Villagomez, has lived in her apartment for 15 years.
"In 15 years, the landlord has never repaired anything," she said, adding that her husband ultimately decided to replace the carpeting and renovate the sheetrock on his own. "Living in those conditions is inhumane.
"This is a difficult situation that we can no longer tolerate," she said. "Once again, I'm asking you to please consider those anti-harassment and anti-displacement policies. Because my grandchildren are suffering. My nephews are suffering."
The public speakers, primarily members of the local advocacy group Faith in Action, gathered in front of City Hall before the council meeting to voice their support for the anti-displacement strategy (ADS), and to demand more swift and stringent protections for renters. In matching yellow shirts that read "Los vecinos unidos de Redwood City"—which translates roughly to the"United neighbors of Redwood City"—their presence was unmistakable.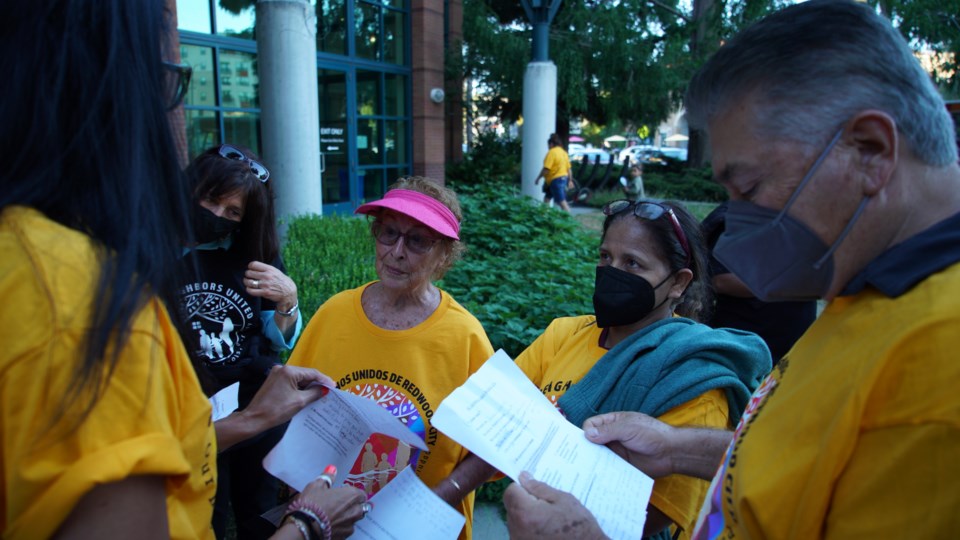 The council voted unanimously to approve the ADS Monday night, but city officials and public speakers alike raised concerns about enforcement shortfalls and the prolonged timeline.
More than 30 tenants and advocates, many of whom were low-income and Spanish-speaking, accused their landlords of unfair evictions and renovation-related relocations, and pleaded for help staying in their homes. Nani Friedman, a community organizer with Faith in Action, described talking to hundreds of residents "living with neglected building conditions, with mold, with pests, with a lack of repairs, with eviction threats, with fear of eviction letters."
"I've been evicted before, and now I'm being evicted again," said Ofelia Alvarez, a 10-year resident and single mother. "I've suffered from abuse, harassment, threats, discrimination," which she said caused severe depression. "I ask you to help us so that we don't have to suffer."
Tearful, she concluded: "I've been fighting, and I continue fighting."
Redwood City resident Mary Whitney asked the council to approve new regulations by the end of the year.
"We need these protections urgently," she said. "When you dread having to go to the manager's office because of sewer leakage or electrical issues, that is putting us in danger—that's a problem."
She added: "Management has personally called me stupid and used phrases like 'you people.'…When I get home the last thing I want to do is be abused by my management."
After years of organizing within the Spanish-speaking immigrant community, members of Faith in Action were excited to see their efforts realized. Still, Friedman said, there's much more work to be done—and the clock is ticking. Simply adding tenant protections, without clear enforcement strategies, isn't enough for the organizers who are advocating for a public-facing enforcement office with a full-time employee.
The council was visibly moved by the testimony.
"I knew the stories would be gripping, but I don't think anyone could expect how devastating they would be," said Redwood City Mayor Giselle Hale, shaking her head. "This evening was just heartbreaking."
The new anti-displacement strategy, which grew out of two years of research and community outreach, is intended to serve as a "policy roadmap" to protect affordable housing for the city's moderate- and low-income renters. The high-level document outlines policies to enact stronger tenant protection laws, preserve unsubsidized affordable housing and safeguard the city's four mobile home parks. It also recommends two ideas shared by residents: an anti-harassment policy and regulation of renovation evictions.
Implementation of the ADS is on a proposed four-year timeframe, with tenant protection amendments expected to go into effect in early 2024. Delays are primarily due to understaffing, according to Housing Leadership Manager Alin Lancaster.
Lancaster, who's currently the only full-time housing employee, said that the city is actively trying to fill three housing-focused positions through a recruitment process that began this spring. So far the city has made two job offers that were both declined. Staff has since launched a second round of recruiting, but Lancaster warned that onboarding and training would still take several months.
Additionally, the amount of staff time needed to administer these new housing programs "has significantly increased," she said. With new funding from the Community Development Block Grant (CDBG) and Home Investment Partnership (HOME), Lancaster is also responsible for creating a five-year consolidated plan to invest in housing and other resources for low-income residents. Putting more time into the ADS would simply subtract it from these other projects.
"We need to take some pretty drastic steps to free up my time," Lancaster said.
City Manager Melissa Stevenson Diaz described widespread staffing shortages that have put a strain on departments throughout the city, including among firefighters and police officers. Though it was "not an excuse" for delaying critical programs, she said "we are struggling and we are not alone."
Council member Lissette Espinoza-Garnica sympathized with understaffing but, in an emotional plea, called on the city to take immediate action to protect renters.
"I know you're one person right now," they said, addressing Lancaster. "But there's so much urgency to this issue. And I really hope that you can tell me more about how we can expedite this as much as possible."
Describing a disproportionate impact felt among Black and brown families, Espinoza-Garnica called harassment and evictions "a type of ethnic cleansing. It is really removing our ethnic minorities," they said. "This is a very violent thing happening to us.
"Tenants are waiting way too long," they said, holding back tears.
Council member Michael Smith, too, was emphatic about the existential threat posed to tenants. Sharing his own experience, Smith said that when he moved to Redwood City several years ago, he was struck by the number of churches with historically African American membership in his neighborhood.
"I was like, I don't see many African American community members here, where are they?"
Doing some research, he said he "realized very quickly that African American members of our community represented only 3% of the population. But I also realized that that was not true for a very long period of time, and actually what happened was that there was a mass displacement of this African American community."
Smith worried that history was set to repeat itself. "This calamity is something that another community is now facing, which is our Latinx community members," he said.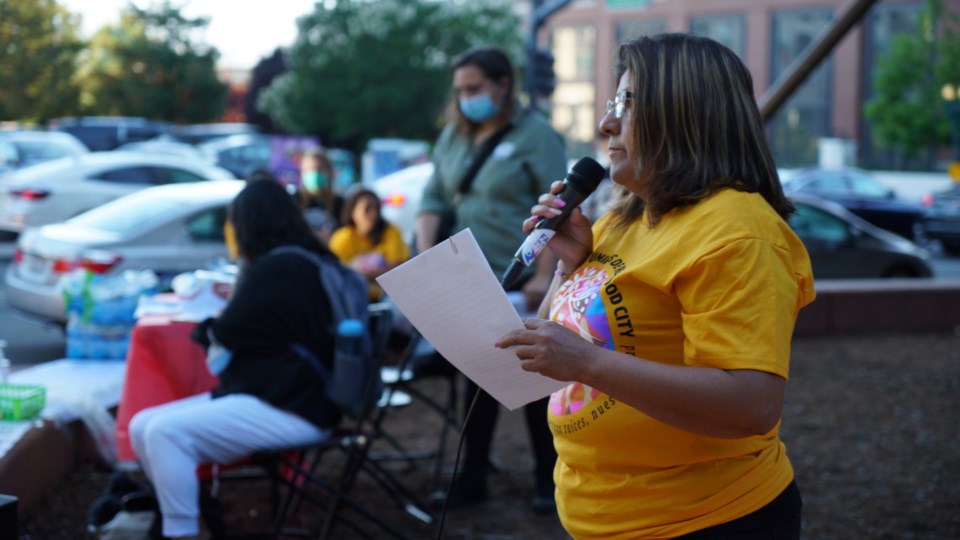 The council agreed on the need to shorten the timeline for implementation of tenant protections, without sacrificing existing state funding. They discussed several options including more streamlined recruitment and reprioritizing the proposed anti-displacement strategies.
Council members Jeff Gee and Diane Howard recommended that the city direct attention away from the mobile home parks and towards more pressing tenant protections, for the time being. Hale, who acknowledged the difficulty of having to "prioritize among priorities," supported her colleagues' suggestion.
"We should refocus the mobile home resources on other more pressing anti-displacement strategy measures that are going to meet the needs from members of the community we heard from tonight," she said.
"I just think about what our community will look like in five years, at the end of that timeline, without these protections in place. Very different," she added.
Though the council was generally supportive of deprioritizing mobile park efforts, Stevenson Diaz warned it wouldn't significantly alter the timeline. Policy changes still take time, she said.
"It isn't going to happen in six months," she said, urging renters to seek immediate help from existing resources such as rent relief programs and relocation assistance in the meantime. "Even if the council were to, say, reprioritize everything, they're not going to be as fast as the urgency we're hearing now."
Ultimately, not wanting to further delay action, the council voted to adopt the proposed anti-displacement strategy, with an amendment to prioritize seeking more funding to support the tenant protection ordinance and schedule biannual housing project updates.