In a vibrant yellow blouse embroidered with flowers, Sandra Ortiz was nearly as colorful as the folklórico dancers twirling before her.
"It's my first time coming to a festival like this here," she said. "I feel very much like it's part of my culture."
Ortiz, a 30-year-old resident of North Fair Oaks, moved to the area five years ago from her home in the state of Jalisco, Mexico. This past weekend, she joined hundreds of other residents from the neighboring communities for the return of the annual North Fair Oaks Community Festival.
A celebration of North Fair Oaks' cultural diversity, the festival was launched by the San Mateo County Sheriff Activities League in 2000 to help connect and forge relationships between law enforcement, local businesses and organizations and the community. Since then, it has served as a yearly gathering specifically for the often-overlooked, primarily Hispanic residents of unincorporated North Fair Oaks.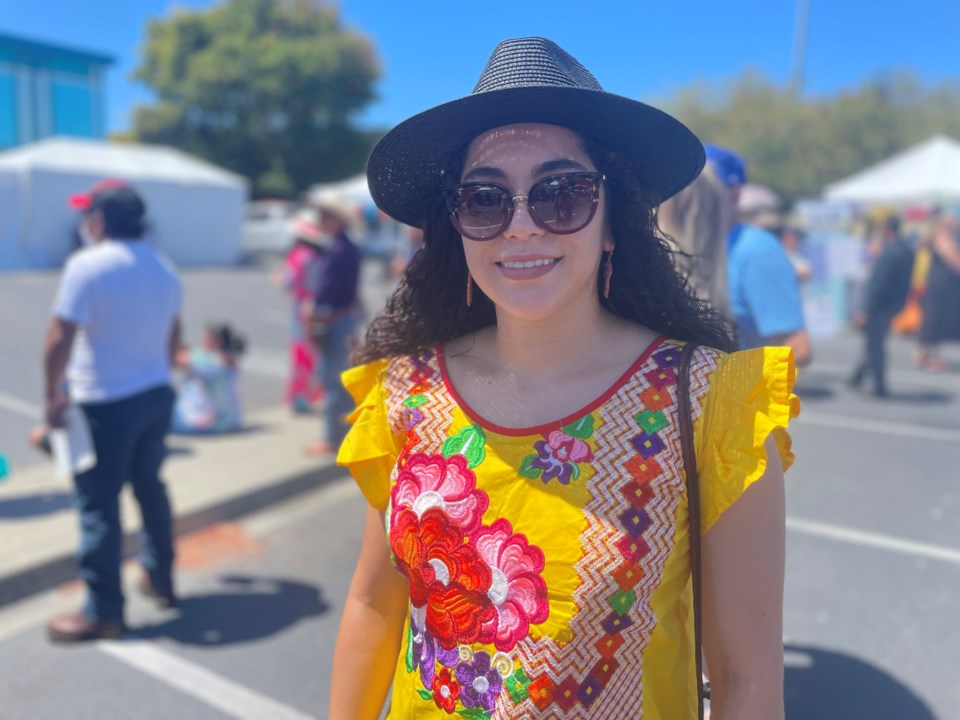 "Everything happens in downtown Redwood City, and here, there isn't always something for the community," said Veronica Escamez, founder and director of Casa Círculo Cultural and one of the event organizers.
In years past, the festival would shut down part of Middlefield Road and bring in thousands of people from around Redwood City and the Peninsula. This year's event, the first since the pandemic hit, was a significant downsize—though no less meaningful.
"We wanted to make it community-focused. Everybody I've talked to today lives in the community," said Brooks Esser, chair of the North Fair Oaks Community Council. "This just has a real local flavor to it."
For several hours on Sunday, the plaza outside the North Fair Oaks Library was alive with the sound of mariachi singers, the rich colors of traditional folklórico skirts and the smoke from freshly grilled carne asada.
Representatives from local organizations and agencies, including Summit Preparatory School, Casa Círculo Cultural and the North Fair Oaks Community Council, staffed booths offering prizes, treats and community resources.
That's the best part, according to Escamez, who said that this festival is focused more on giving than selling.
"This part of the city is a little bit left out," she said. "This community needs a lot more events and ways to participate and be informed because there's many services and not many people know about them."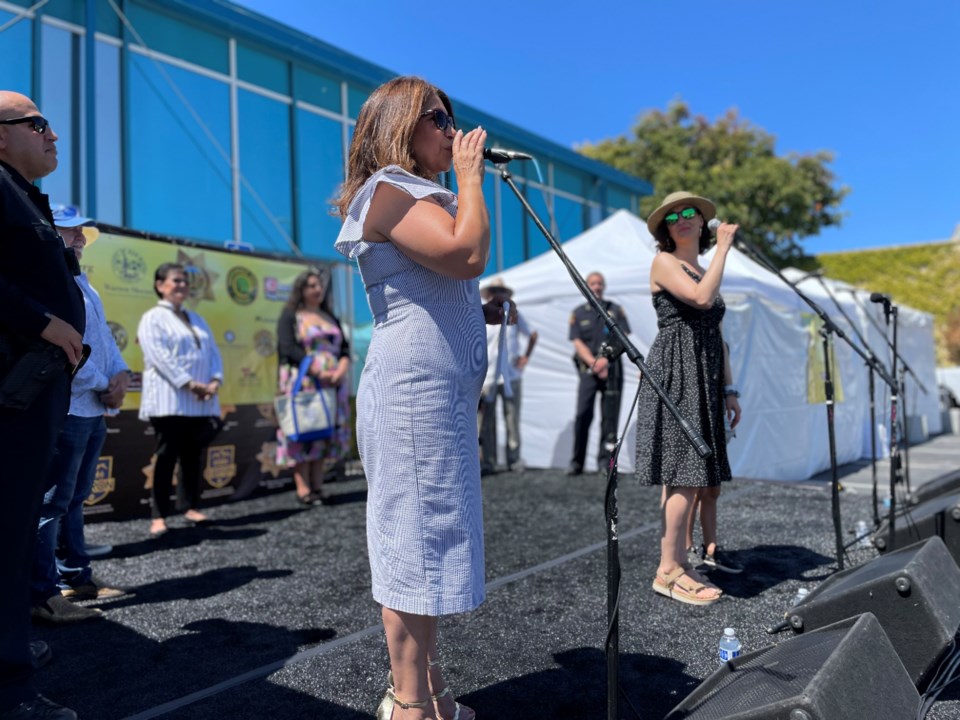 Local leaders stopped by and, during an opening ceremony, introduced themselves to the crowd. Redwood City Mayor Giselle Hale, Vice Mayor Diana Reddy and Council members Lissette Espinoza-Garnica and Jeff Gee were all in attendance.
Connie Guerrero, a former Redwood City commissioner and Casa Círculo board member, encouraged the audience to meet and get to know their representatives.
"They are your leaders and your voice," she said.
While kids and adults alike sipped horchata or tried their arms at the dunk tank target, variously costumed performers took refuge from the scorching sun as they awaited their turn onstage.
A group of six young girls chittered and giggled nervously, fanning themselves with their skirts. Each in a different color, they were there as part of Ballet Folklórico México Vivo to perform jalisco, a popular and traditional folklore dance.
Inside the library, dancers from the Asociacion Cultural Kanchis de Peru and from Casa Círculo adjusted their costumes and reviewed their choreography.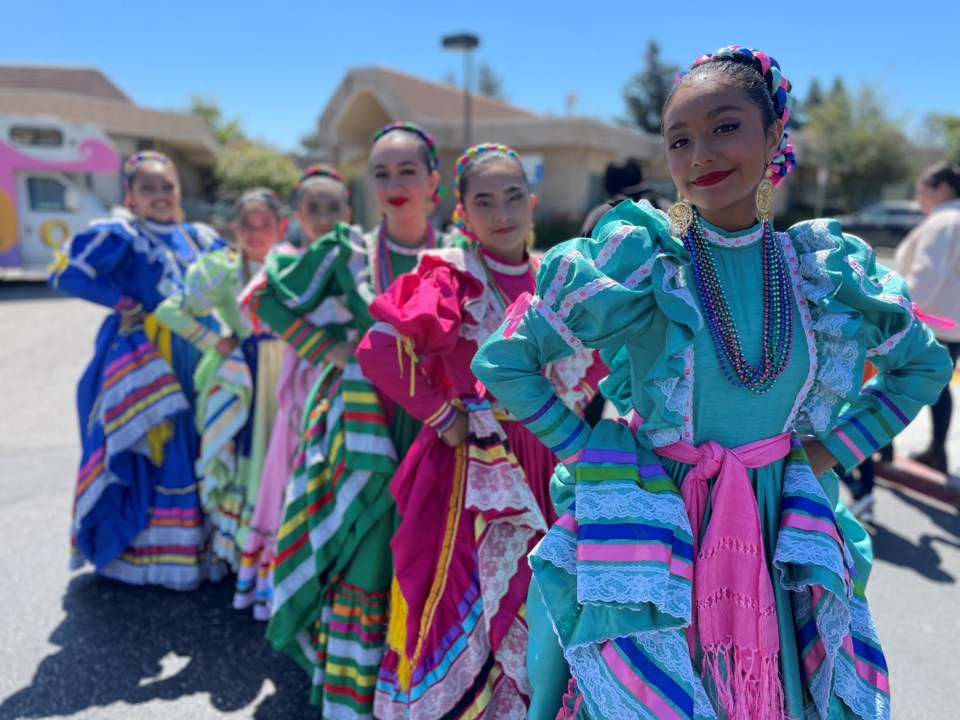 "I've been dancing since I was born," said María Lazo, a native of Peru who would be performing the chiapaneca, a traditional dance from the Mexican state of Chiapas. Lazo was especially grateful to have the opportunity to train and perform among people of all ages.
"Redwood City is so vibrant," she said. "We're so happy that we found Veronica and Casa Círculo, so we can perform and get deep in our roots through art."
Next year, with construction on Middlefield Road done, the organizers hope to put on a larger celebration. But, more than anything, they hope to keep it going for many years to come.
"We want the community to be aware of everything that is here for them," said Deputy Sheriff Javier Acosta. "It's a great event…we hope it continues."
Still relatively new to the neighborhood, Ortiz said that she'd only heard about the festival recently, from a flier at the library. But, she said, it represented everything she loved about North Fair Oaks: an inclusive community and a richness of culture and events.
"It feels like I'm in Mexico," she said. "It feels like home."