Redwood City council members heard about Gatekeeper project proposals, challenges and amendments to the overall Downtown Precise Plan at a special study session on Monday.
The study session detailing the plans was led by Assistant City Manager Alex Khojikian, Principal Planner Anna McGill and Interim Housing Leadership Manager Patrick Heisinger.
Gatekeeper Projects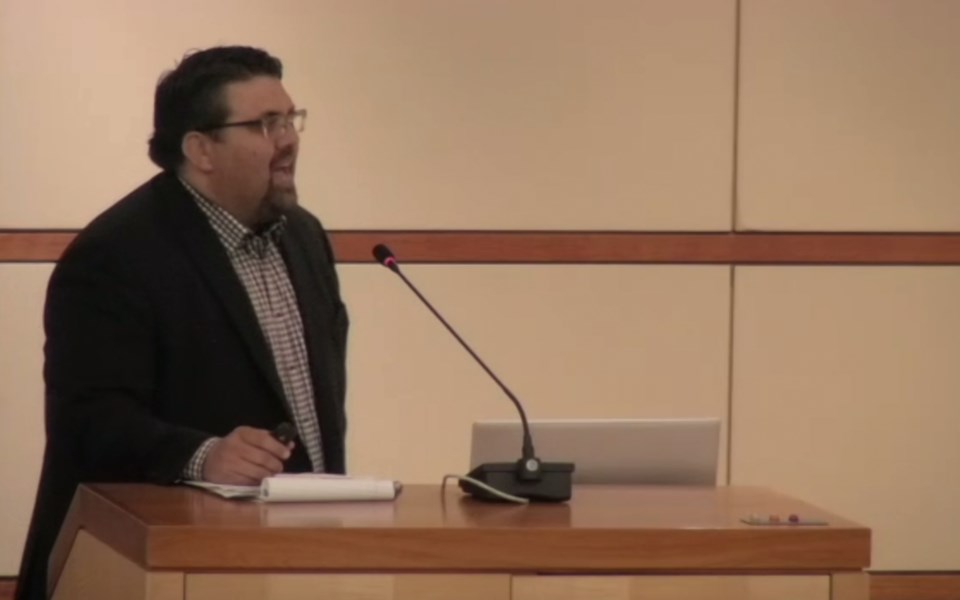 In 2020, the city implemented the Gatekeeper process to review and simultaneously address multiple general plan amendment requests. At that time, the city held study sessions after receiving nine requests.
"Gatekeeper projects within the Downtown Precise Plan require both the general plan amendment as well as the DTP amendment to increase the development capacity for office spaces," said McGill.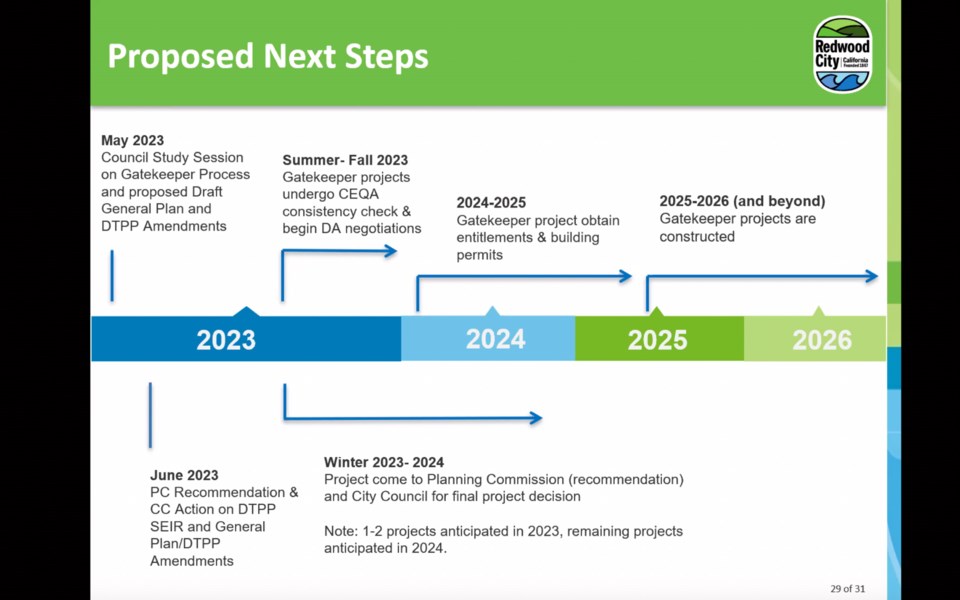 Since the city last discussed the Downtown Precise Plan and the Gatekeeper projects, there has been an increased interest in expanding offices in downtown Redwood City. But the pandemic has shown that the "return to office" wasn't entirely successful, as cities nationwide are grappling with high vacancy rates. In Redwood City, office vacancies are up by a whopping 25.3%, according to officials.
The Gatekeeper Office projects are facing a complex set of challenges that have notably complicated their progress, including rising interest rates, high construction costs, and more companies re-evaluating their real estate portfolio to save money.
And while there are impacts to the projects, financing affordable housing has become competitive, construction is at a slower pace and at the end of the day, the project may not even happen.
"This may create some opportunity for the concurrent building of affordable and commercial development," said McGill. "And then the reality that some of these projects just may not come to fruition."
City council members were then briefed on six of eight Gatekeeper projects since two applicants are working with staff on their submission. Some of the proposals in the presentation included adding more housing and reducing office square footage.
Major proposals were:
651 El Camino project, which included having the number of units downgraded from 301 to 300.
2300 Broadway project changed from the proposed 80 below-market rate housing to 90 units at 609 Price St..
1900 Broadway proposed 70-80 onsite below market rate housing changing to 85 bmr units offsite at 847 Woodside Dr.
In the 601 Allerton project, renovations will not happen for 450 Redwood Ave.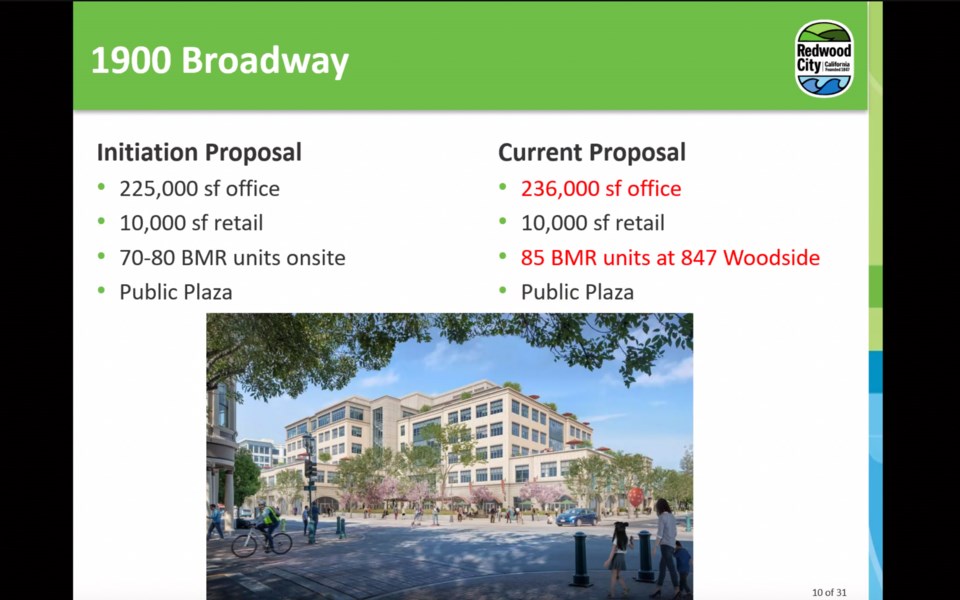 Council members Alicia Aguirre and Elmer Martínez-Saballos were concerned with the proposals, such as the downgraded units at 651 El Camino.
"I am concerned about where we are going with these new proposals, what was the point of the whole change?" Aguirre asked. "There's really no change and why, how do you justify that?"
McGill said that the developers of 651 El Camino have been in conversation with staff over the last year to achieve desired density and maintain the possibility of future transportation improvements.
"It can be as simple as once an architect starts drawing out the plans, they realize, there's not enough space to do the number of units, or they're trying to target units with more rooms," McGill said.
The developers might resubmit a new application in a few months so the city might be able to have a better understanding of the changes.
Land Use
Further into the presentation, city officials included information on land use. If a developer cannot complete a project, the land becomes donated or reverted to the city, and the staff must manage it.
Council member Diane Howard expressed her concern about a "land reverter" and how it incentivizes builders to take the easier route by leaving it to the city.
"We don't have adequate staff right now," Howard said. "We also take on a great deal of potential liability, holding on to land that may need cleaning, attention, maintenance."
Other council members echoed the sentiment and the idea of bringing up low-income housing partners who will know what to do with the land in case it's reverted to the city.
"From a developer standpoint, Plan A would be to hand it off to Mid-Penn [Housing] or Eden [Housing], whoever is utilized, to get it done," said Alex Khojikian, Assistant City Manager. "But worst case scenario is reverter."
Research and Development, Laboratories and Office
In trying to have a mixed-use, vibrant downtown, where there are shops, offices and housing, staff looked into allowing Research and Development laboratories and offices to operate in the buildings under conditional use.
Due to the zoning codes, a standard office space would allocate 5% to -10% of the overall square footage for a minimal laboratory operation but in a big laboratory type, the overall square footage is 50%.
And to be sure of environmental safety standards, staff recommend an Environmental Analysis. The R&D labs would also be limited to Biosafety Levels 1 & 2, which are low-risk of microbes. The CDC classifies levels 1 and 2 as needing personal protective equipment, a handwashing sink, controlled access, a laboratory bench, a physical containment device and for sterilization purposes, an autoclave.
"I feel very comfortable with the concept of research and development," said Council member Kaia Eakin. "I like the idea that perhaps biotech people are [in] downtown more and so they might use our restaurants, our gyms, and our movie theaters more if they're less likely to be working remote."
When presenting, City staff wanted to hear a discussion about R&D labs existing in the same building that sensitive groups might also use, like a daycare center or a teen center. Sensitive groups would have a separate floor or could be situated far away from a lab if the council chose to do so in a later session.
Martínez-Saballos said Redwood City could be somewhat behind the curve when it comes to bringing labs to the downtown area.
"I know that South San Francisco has a reputation for being our bio hub," Martínez-Saballos said. "And I think that this is going to be just the next wave of industry that we have in the Bay Area."