From his high-backed, leather chair, Milo Kittock can swivel easily between his sleek, gold fountain pen, corded telephone and prized typewriter.
The typewriter is his third—he loves old things, he said, mindlessly as he scratched the head of his cat Oliver, who has sprawled across the desk, nearly knocking off the engraved nameplate that reads: Milo B. Kittock, Editor-in-Chief.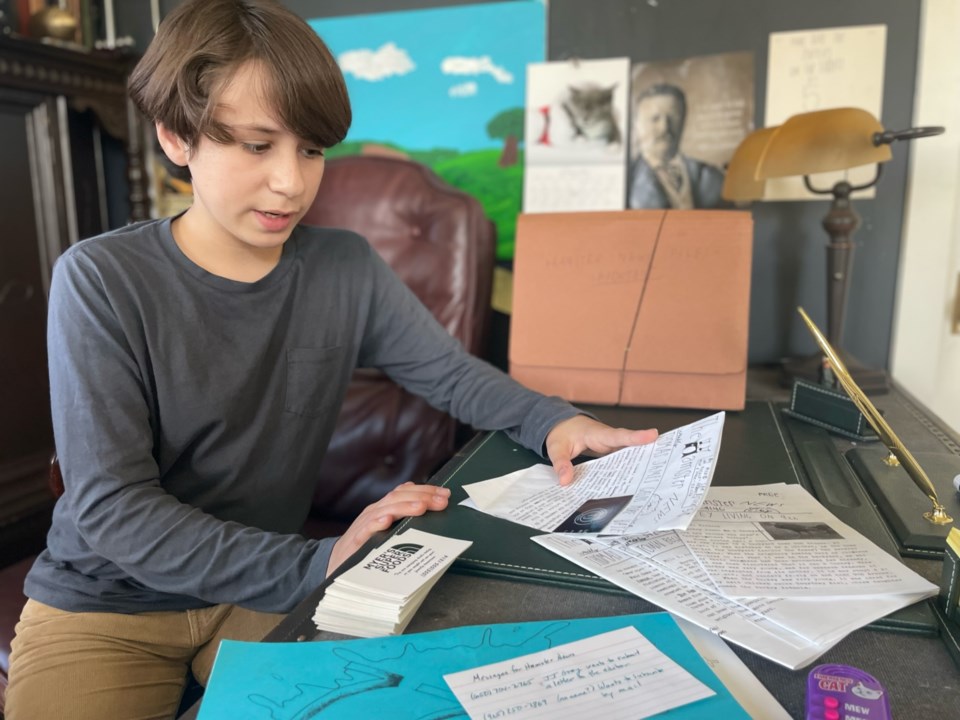 Only 12 years old, Kittock looked perfectly at ease in his 60s-era corporate office. His bedroom, betrayed only by the bed in the corner, is first and foremost a newsroom and the hub of North Fair Oaks' premiere (and only) dedicated publication: The Hamster News.
Since launching his print-only paper in January of this year, Kittock has put out dozens of issues covering everything from inclement weather to missing vehicles to the neighborhood turkey, Petunia (who, as it turns out, is more of a Peter). Over the last year, Kittock has gained a steady following of 22 paying subscribers who, for just $5 per year, receive the newspaper at their door, while another dozen or so snag a copy from him at a nearby street corner.
As founder, reporter, editor, designer and distributor of the bi-weekly Hamster News, Kittock has his work cut out for him. Especially because he does the whole thing without a computer.
"It usually takes me, from start to finish, like two or three days," he said.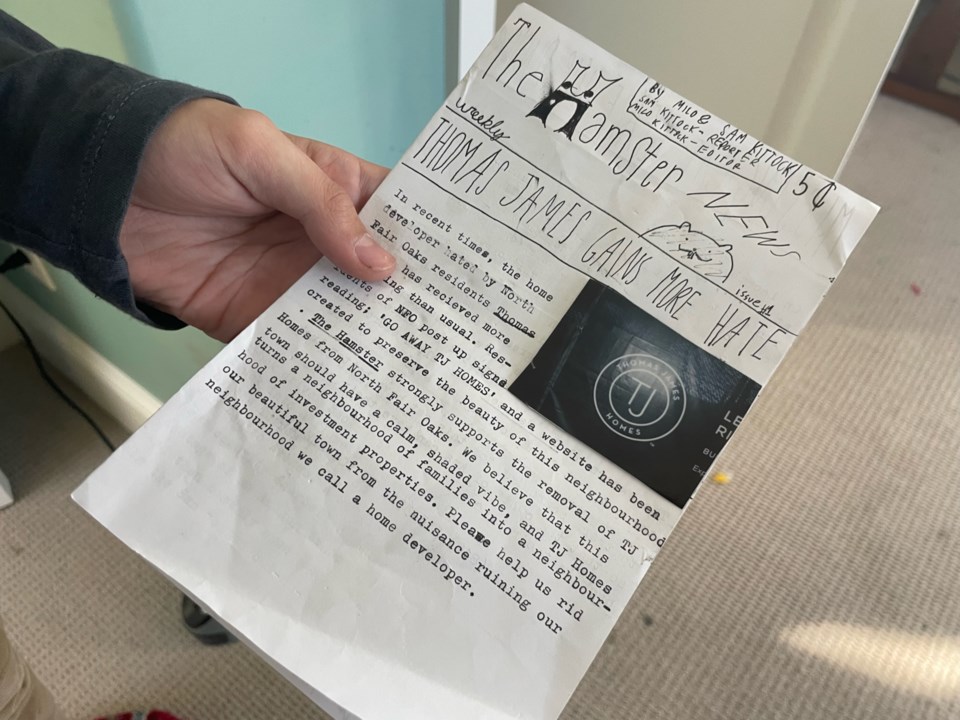 The paper typically has four stories, including a cover feature, as well as original photography, a couple of comics and, more recently, a crossword. (He also has space for letters to the editor and advertising—though those have remained blank so far.)
Kittock finds most of his news by walking a tract of his neighborhood, roughly from Fifth Avenue to Marsh Road., looking for anything new or unusual. He's seen and reported on road work, minor traffic incidents and—one of North Fair Oaks' hottest topics—the apparent omnipresence of luxury housing developer Thomas James Homes.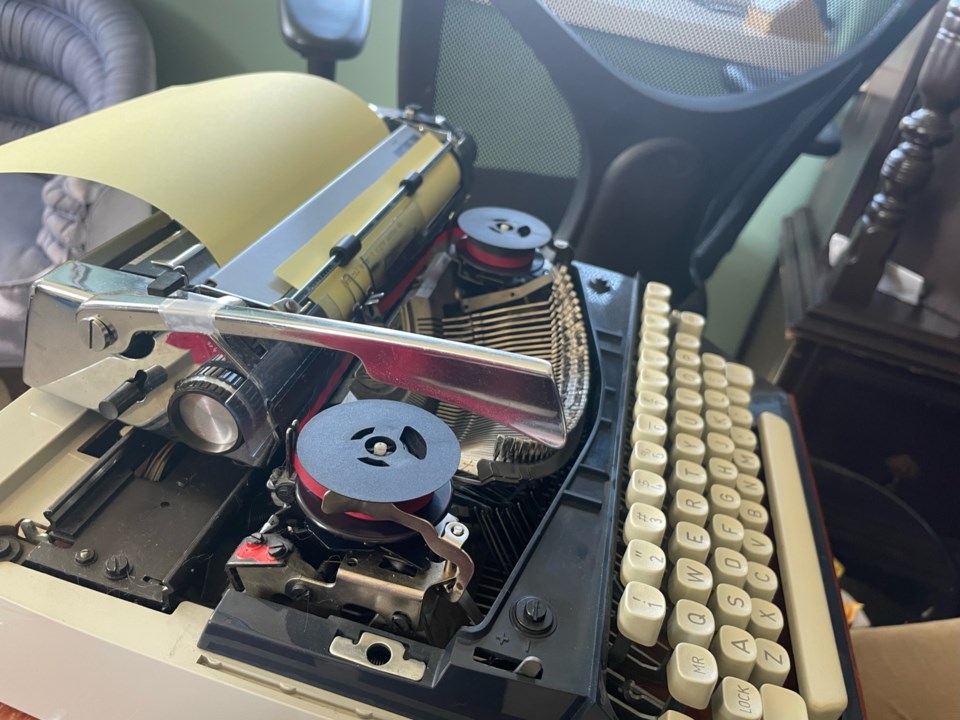 After gathering story ideas, Kittock puts on his reporter hat, sometimes knocking on doors, calling neighbors and even reaching out to the authorities.
"A couple of blocks over there's a street called (Encina) Avenue that was being pretty much completely reconstructed," Kittock said of the roadwork. According to the county website, he said, the work was supposed to be done by November.
"But there are still trucks there as we speak," he said. Wanting answers, he placed a call to the county. "They just said that they weren't interested in being interviewed, and so that was a waste of time."
Without the luxury of a modern computer and word processor, Kittock writes the first draft of each story on his typewriter. He then makes any necessary changes (hello, editor hat!) before typing up the final version, again, on the typewriter. Though the cover art, headlines and crosswords are hand-drawn by Kittock, he recruits his father, James, and younger brother, Sam, for help with taking and formatting the accompanying photographs. Sam also contributes an original comic with recurring cat characters for almost every issue.
"I still format the pictures to size, so he can cut them out," James said. He used to help his son with the photocopying process, but Kittock has since taken over.
"I joked that I was like the digital production and printing," he said. "Occasionally I help out with article ideas. Although usually he finds me not that helpful, unfortunately."
With stories and illustrations in place, the issue is ready for the printer—or household photocopier, that is. After being copied, rolled up and rubber-banded, the papers make their way into Kittock's delivery bag, a classic-looking satchel that his mother made with the words "Hamster News" stitched on the front. Kittock and his brother distribute copies on Sundays at the high-traffic corner of Fifteenth and Fair Oaks avenues, while subscribers receive their copies on Monday mornings.
Kittock, like any good editor, keeps records of all his work. He stores Hamster originals in an accordion folder labeled "Hamster News Files," with the word "Important" underlined and in all caps.
Though the paper is just under a year old, the seed for Hamster News had been germinating for some time. Kittock has always fancied himself a writer—he's written several short stories and even a novella—and got his start in the news as a gift to Sam.
"My little brother is obsessed with stuffed animals and so…I started making a newsletter," he said. "And then I decided I might as well branch out into actual journalism."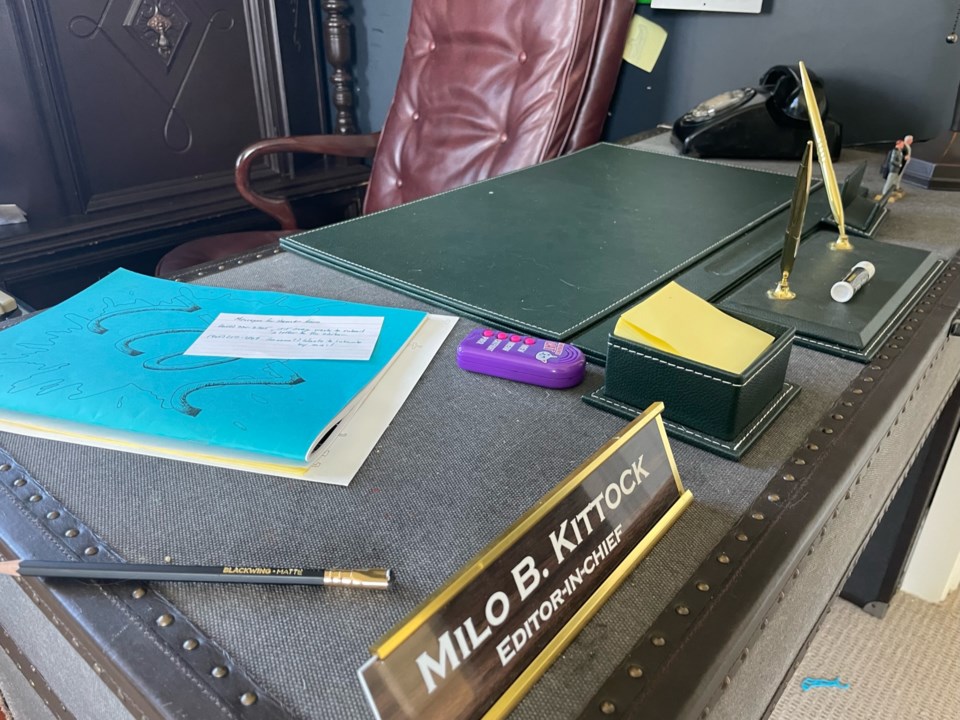 On the wall by his desk hang only the necessities, including a couple of art pieces, a calendar with the days meticulously crossed off and a portrait of bespeckled Theodore Roosevelt that reads, "It is hard to fail, but it is worse never to have tried to succeed." Also visible are a tribute to Kittock's late hamster, Theodore Roosevelt (or "Ted Ted"), who died earlier this year and was the inspiration for the paper's name, and a hand-scrawled note-to-self: "Make sure the paper's on the streets by 5, we gotta keep this little thing alive!"
Despite being the founder and sole contributor (so far) of the local, bi-weekly publication, Kittock isn't attached to any titles just yet.
"Partially (a journalist), partially an editor," he said. "I just don't know exactly what to think of myself."
Still, with the one-year anniversary of The Hamster News just around the corner, he intends to keep the stories going for as long as he can. Kittock is currently working on a special holiday edition, which will include full color photos of the best Christmas lights in the neighborhood, as well as a couple of follow-up stories on TJ Homes and Peter, the turkey.
"Well, I've definitely explored every corner of the neighborhood," he said. "And it's just (about) getting to know my way around the neighborhood and getting to know more people."
An earlier version of this story incorrectly stated the street in North Fair Oaks undergoing construction. The street is Encina Ave. To request a correction, contact editor@rwcpulse.com.