As I entered the kitchen of the Greek Orthodox Church of the Holy Cross to help with the food prep for the upcoming Belmont Greek Festival, I was reminded of my newfound place as the matriarch of my family. Memories of cooking next to all the women in my life who are gone flushed over me as I stood shoulder to shoulder with the other women who had gathered to help. As we prepared baklava and melomakarona for the thousands of guests who will visit our parish on Labor Day weekend, I couldn't help but feel pride that, collectively, we're sharing our recipes and in doing so, each family's emigrant story and cultural lineage.
Greeks are famous for their philoxenia, or hospitality, and that graciousness has been extended to the Peninsula community for the last 51 years. Yes, there is music and dancing and lots of Greek wine, but it's the food that brings people back year after year.
Parishioner Thomy Iuppa has headed the culinary part of the festival for the last 25 years and is the keeper of recipes.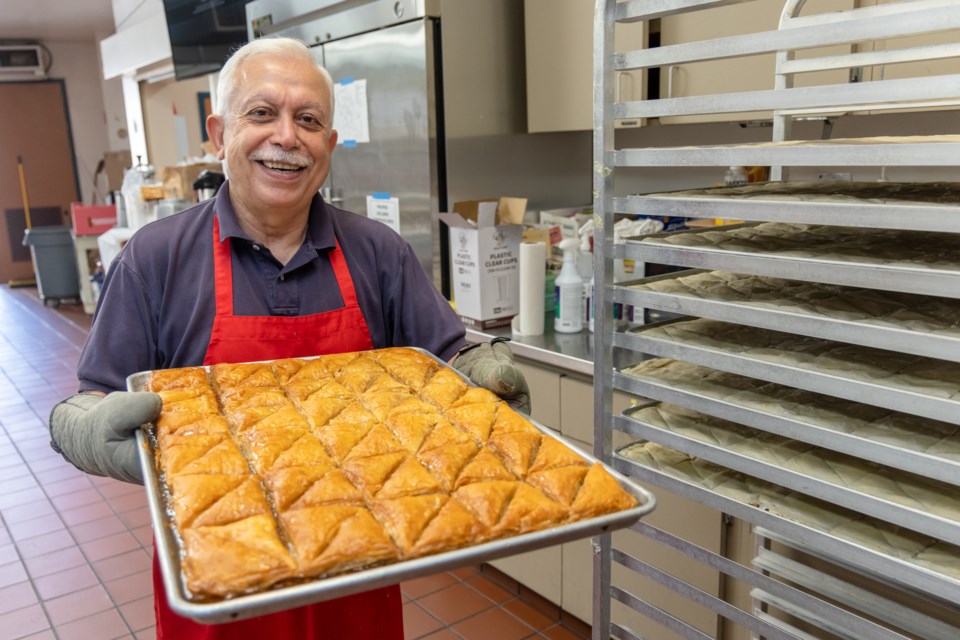 "The loukoumades (honey-doused deep-fried dough) recipe is probably the oldest one in our repertoire. It is four generations old. Offspring and close friends of the family who originally made them still participate," she said. She further explained that "recipes rarely change except when a parishioner decides to no longer participate or has passed away."
Bill Azar has been in charge of making the Cretan pilafi (rice pilaf) for the past two years.
"Olga Daskalakis, who used to make the pilafi, travels to Crete during the summer, so I took on the role after assisting her and learning her recipe and technique. We go through about 500 pounds of rice," he said.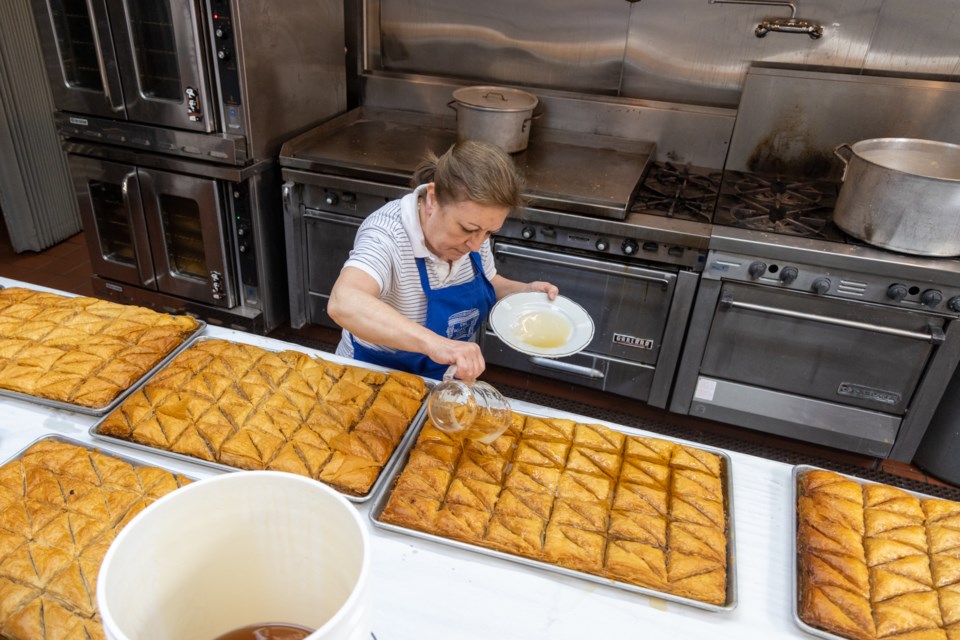 The process of making Cretan rice involves lots of lemon, chicken broth and butter that's been toasted. Similar to risotto, it also requires constant stirring. Without trepidation, he said, "I don't leave the kitchen for two days." Asked how long he thinks he'll continue, he said, "As long as they let me." His wife Nina Azar clarified his statement and said, "As long as it is only in the kitchen." He's one of the few men who volunteer with food prep, and Nina admits that he's a good cook and a big help in their own kitchen.
luppa's moussaka recipe comes from her family in Greece. Though she doesn't have professional culinary experience, she does come from a long line of excellent cooks.
"We are Greeks from Constantinople. My family came to Greece in the late '20s due to Turkish persecution. We came with nothing, but food was important to us, and I would stand on a stepstool and watch my grandmother prepare her recipes," she reflected.
The recipe is probably the most tedious one to make and takes 30 hours of prep time with about 35 people. Her recipe omits potatoes on the bottom and only uses layers of eggplant that have been cured, drained and baked, meat sauce and bechamel. In all, more than 300 lbs. of meat and a thousand eggplants are used. She remembered the first year she scaled the recipe and chaired the making of the dish and said, "Father Peter was very nervous and probably thought, 'Who is this new person with this new recipe?'" After 20 years, she laughed and said, "I'm looking for a new person to take over while still using my recipe."
It takes more than 50 volunteers to prepare over 40 savory and sweet food items that are sold throughout the two-day festival. Iuppa explains that planning meetings start in March, and by June, the food prep calendar is set.
Cooking commences in July. Bechamel-topped casserole-type dishes like pastitsio and moussaka and filo dough delicacies like spanikopita and tiropita are par-baked and frozen. The timing of when these trays are transferred from the freezer to the oven during the festival is a stressful job, one that Iuppa worries about every year. Baklava and other filo dough pastries are also prepared this way. A couple of days before the festival, hundreds of these trays return to the ovens to bake, and while still hot, the sweets are soaked in honey syrup and portioned out with other desserts like kourabiethes (almond shortbread cookies) and melomakarona (honey walnut cookies) and packaged for purchase.
Dishes like youvetsi (lamb shank and orzo), gigantes (baked butter beans in tomato sauce) and stifatho (beef and onion stew) are prepped ahead of time but cooked to order throughout the weekend. Iuppa also oversees the kitchen during festival hours and coordinates with those in charge of the street food booths that serve items like spit-roasted lamb, grilled meats, fried calamari and gyros.
Emmy Denton chairs more than a dozen of the food items and works alongside Iuppa. She oversees several of the sweet dishes and calculates that she goes through more than 450 pounds of butter and filo dough. Her daughter Stephanie helps quite a bit, and Denton can't stress enough the importance of bringing the younger people into the fold.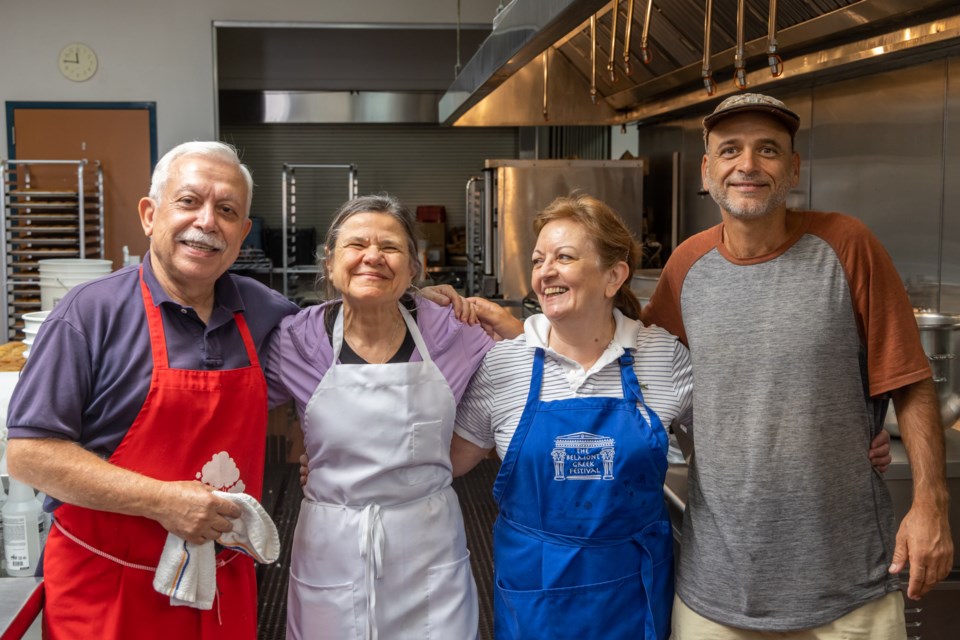 "The written recipes can only go so far in explaining the techniques involved in learning a new recipe," she said. "For example, I didn't have the opportunity to participate in festival baking when I was younger. I had to make a recipe over and over before I mastered a technique. Attending the festival baking sessions allows the newer generation to gain experience in techniques from the most talented cooks at our church and shorten the training cycle in learning a new recipe."
I'm off to help with one last dish — karithopita, a honey-soaked walnut cake. My mother's recipe is well-known in my family and her Greek circle. Depending on my experience in the kitchen today, I might suggest her recipe so that she can live on through it. As you dine on delicious food this weekend, take a moment to think about all the wonderful women who prepared your food and the stories that are embedded in those recipes.
If you can't make it to the festival, you still have another opportunity to enjoy some of the festival food. Several dishes will be prepared for take-and-bake orders. Ordering opens on Sept. 6 and pickup on the church grounds runs Sept. 23-24.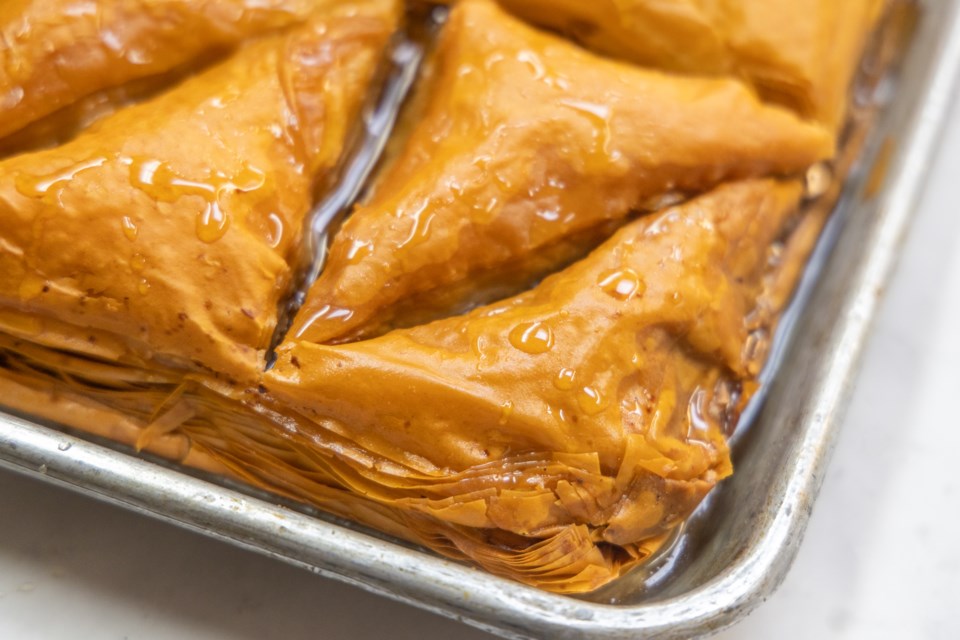 Belmont Greek Festival, 900 Alameda de las Pulgas, Belmont. Sept. 2 and 3; noon to 10 p.m. both days. General admission $5, seniors and youth (13-17) $3, children under 12 free.
This story was first published on The Six Fifty.