Throughout the month of May, in honor of Asian American and Pacific Islander Heritage Month, The Pulse will be featuring the voices of notable AAPI members of the Redwood City community. Being the second largest racial category in San Mateo County, there is no shortage of local figures to highlight who have broken down walls and opened doors for future generations.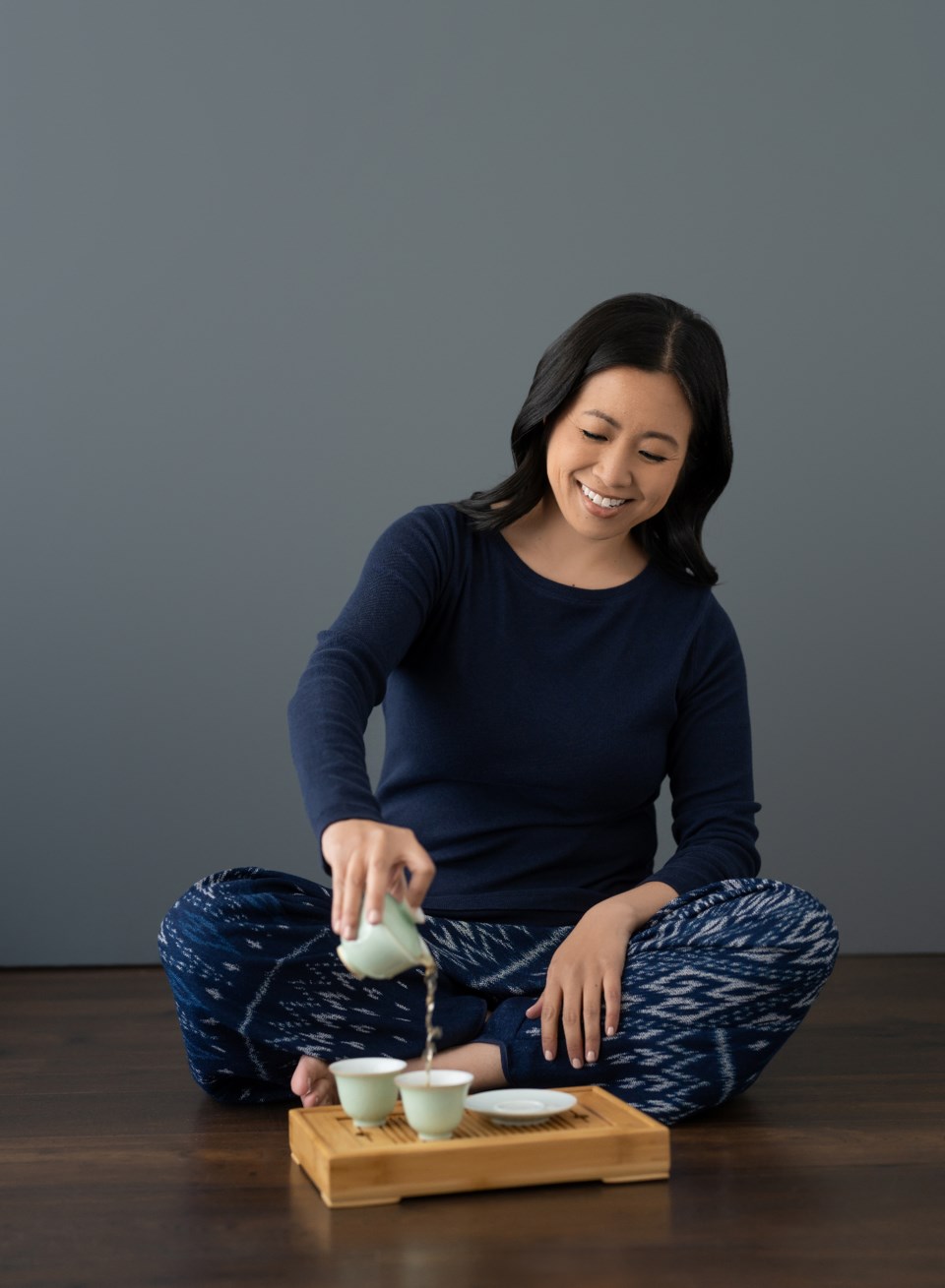 Born and raised in San Francisco, VC Tang has been immersed in Asian arts and culture all her life. Spending most of her free time and weekends at the Berkeley Thai Buddhist Temple, Tang trained with the elders there in Thai dance, cooking and tai chi from a very young age. This daily exposure led to the realization that learning from and socializing with older generations enhances one's perception of the world. Tang's debut cookbook "Come Eat, Grandma!" shares her journey of growing in the kitchen - and growing in her culture - with others. Through this and her other Cultural Practitioner work, she hopes to pass on some of the wisdom she has learned from her elders to anyone else hungry for enriching foods and spirited stories.
Cultural Practitioners are talented at creating bridges between different groups of people and communities through the written word, music, art, performance and more. Ten years ago, this term was mostly unknown. Tang is the perfect example of how one's passion for cultural arts, history and traditions can become a career. In times of conflict, divisiveness or trauma, providing people and communities with sources of commonality and self-discovery fosters a more empathetic and judgment-free society.
The Pulse sat down with Tang to hear stories about her upbringing and how that shaped her future and perspective.
Redwood City Pulse: For context, tell us a bit about where you were born, your childhood, and upbringing…
Tang: I would preface it by saying I don't know how mainstream my experience was growing up. I am Thai-American and was born and raised in San Francisco, but grew up pretty saturated with Thai customs. I had the unique fortune of being part of the founding class of a Thai Buddhist Temple Sunday School that included Thai language, dance and performing arts that was in Berkeley and I have been part of that community since I was five years old. So I feel like it is kind of an atypical experience. I find that a lot of people are very thirsty for that [experience] right now, and I feel very fortunate to have had it from such a young age.
I only had my immediate family here, so it was very important to my mom for me to go back [to Thailand] regularly. Because it was just her - and she was a single mom for a long time - that was part of her backup plan. That, should things not work out, I might have to live in Thailand one day, and she didn't want that adjustment to be jarring. Decades later, that plan never happened - we were able to stay in the United States - but I got the blessing of being able to read and speak Thai and also be very steeped in all of the temple customs, the cultural customs, and a lot of the folktales and mythology through my dance background from the Thai temple.
The blood, sweat, tears and love of a lot of the Thai elders created these [temple] programs one piece at a time, year by year, for us to become a pretty solid performing group in the Bay Area. And so I grew up on my weekends - from my early teenage years through my twenties - touring the heritage events and Asian food festival circuit of the Bay Area. So, I grew up in that world of promoting traditional culture, and I feel very fortunate to have had that as part of my youth. When the energy for that ran out, I still had this desire, so I went to the Chinese community, and I was part of a Tai Chi group for almost 10 years. I just always learned Asian "stuff" through movement.
Redwood City Pulse: You brought up an interesting point in that, being born here as opposed to immigrating here, your upbringing sounds more "Asian" than a lot of Asians who came here much later in life…
Tang: I actually get that a lot. My cousins, who were born and raised in Bangkok, know a lot about what it's like to live and work in Thailand, but when it comes to Thai performing arts and the mythology, or folklore characters, people are probably better off asking me than them. Even in regular conversation, if I'm talking to elders, some may allude to a character in mythology as reference to something, and I get it - there's no explanation needed. To have that part of our culture be part of this shared language, where we get the metaphors, is just so cool.
Redwood City Pulse: Tell me a little bit about your career before the cookbook and what led you on that path in life…
Tang: Most of my career has been in non-profit program management, mostly producing leadership trainings. You know how there are some folks who kind of roll their eyes when their work sends them to a training? I was the nerd that just ate it up and loved learning about "soft skills" and "communication styles".
Interestingly, how I think my Asian background supported my job was that my role required me not only to produce trainings for our institute, but also to try out others in the field and assess them. What I found when I would talk to many of these institutions is that much of the curriculum they wrote was based on the meditative practices of zen or aikido. As people deepened in their stressful [Bay Area/tech] careers, how they got through a lot of the hiccups in communication came from something they did for personal enrichment at somewhere like the San Francisco Zen Center, or from having studied aikido or some other kind of martial arts, and how that teaches us about dealing with conflict.
Because my background was so steeped in community, it became natural for me to study Sociology and then to enter non-profit and community work. As one thing led to another I would ask myself how I could translate having literally grown up at a Thai Buddhist Temple to how that informed how I worked in a 9 to 5 way.
Redwood City Pulse: What brought you to the Peninsula? And Redwood City specifically?
Tang: I really love Peninsula culture being somebody that was raised so urban. I grew up at a temple so I'm not a city/nightlife person, and that's why I moved even further down the Peninsula [from Daly City]. I think there's a lot of opportunity here for AAPI creatives because our community events and venues are in San Francisco and San Jose and now I'm right in the middle. Having been a tai chi practitioner and growing up at a temple, I also love doing things in the morning. When it comes to my own events and storytelling I much prefer to do it in the daylight and outside, and I can do that more here because of the weather.
Pulse: How did you transition into writing a cookbook and into your cultural practitioner work?
Tang: I'm doing creative work full-time now. How that began is that many of us found our [indoor] hobbies during that first year of the pandemic, and mine was completely in the kitchen. The second year of the pandemic, because of the anti-Asian sentiment, I really wanted to write this book and share it.
I don't consider myself a traditional "rallying" activist, but I did want to have a voice in this. If communities share with each other, there will be less grounds for conflict and hate to arise for future generations. So I said to myself, what do I have to share? And what have my elders shared? And it's literally been food. We HAVE to eat, so one of the easiest doorways to creating community and connection for me was through food. That's why the cookbook was my first project as an AAPI artist. It was easily born out of having spent a year in the kitchen perfecting recipes and writing the community stories that go along with each of them.
At the start of the pandemic, I was in a job with San Mateo County, and it really opened my eyes to the inner workings and infrastructure of the local area. I wanted to do something where I could bring out all that I had been taught on nights and weekends my entire life, into the rest of my life. And the tension between my job and my passion was just getting too much that I had to literally tear that wall down. It's a really hard thing to say that you're becoming a "creator" in a place as expensive as the Bay Area, but I devoted my savings to it and have been part of a really great business incubator group that's been supporting me through this process.
The cookbook was the first phase, and now I'm going into broader Cultural Practitioner work. I have all these life-long traditions to share and am now focused on other ways to story tell about them to folks who haven't had access or exposure to these other worlds before, or maybe they weren't interested earlier on in life but are now.
Pulse: I know your story is a bit different, given you were born in the States and raised in a very Asian community - do you feel like you hit any walls or faced any prejudices because you were Asian, and how did you navigate that?
Tang: I think a common Asian tale, especially for kids and even sometimes in the workplace, is what do I bring for lunch? And will that be accepted? I have been burned a few times for what I brought to school for lunch, and that continued into my work life. You ask yourself, is this going to be the kind of workplace that accepts what I bring? Is it going to smell?
There's actually a story about this in my cookbook: I had just started a new job, and my office "roommate" immediately said to me: "You can't tell this from my face, but I'm half Chinese, so if you want to bring your Asian smelly fish lunch, I'm ok with it." And we're still friends 10 years later. That was enough to heal all my childhood Asian lunch wounds.
What I'm hearing now that is really heartening is that, because we have such well-developed palettes here in the Bay Area, people's kids and their friends [even non-Asian] are eating ramen, and curries, and seaweed and sushi, so the lunch/food narrative is changing. A lot of flavors and spices that seemed too mysterious are becoming pretty mainstream, so this generation of kids has it a lot better than I did.
Pulse: Why is AAPI Heritage Month so important to you, personally?
Tang: When I think about my own adolescence when my weekend was literally surrounded by the Thai community, I still kept it kind of hidden in a box because the more prevailing story at the time was to just say, "I am Asian-American, I was born here, I speak English, I'm not exotic." Back then, most folks like me got the question, "Where are you from?" And then, "Where are you really from?"
At the time, it felt like there was this need to establish that you were born and raised in the United States. There wasn't enough room for me to say, "I was born in San Francisco, but I also know this whole repertoire of Thai traditions and dance." People's minds couldn't hold that complexity back then. Saying that I do all that "exotic" stuff, even being born here, would almost be taking a step back when we were fighting really hard to establish our belonging in the United States.
Even nowadays, I joke around that I am the walking stereotype. I do the martial arts, I cook the food, I do the dancing. And it's ok to be an Asian-American and not know all those things, but it's also ok to be an Asian-American and know all those things. We are much better these days at having diverse identities under the same umbrella; diverse ways of expressing Asian-American-ness that don't have to be all traditional or all contemporary.
I think that's why I'm coming out in my creative career now because there's a space for it. Whereas before, even when I was steeped in all the dance festivals and food fairs, there just wasn't enough audience for this. There's a new sort of resurgence and renaissance of what it means to be Asian American that I'm really excited about.
Pulse: How do you see your childhood experience as different from the younger AAPI generation? How do we offer them community and support? What do they have that we did not?
Tang: Just by technology alone, they're definitely connected faster. The Thai community is pretty strong on social media. If I had access to that type of media earlier on, it would have sped up my ability to read and speak Thai faster.
I do hope there's a happy medium between them accessing really great role models of what it means to be an Asian-American through social media, but that it's not the only avenue they take. What was so core in my Asian-American experience was that it was so intergenerational. For this next generation, I think being comfortable socializing and speaking with elders in real life is really important, both inside and outside of their family. It also allows them the chance to become an "elder" to someone themselves, which really builds your confidence.
Pulse: What traditions do you feel are particularly important that you hope to pass down to the next generation?
Tang: I think the way I've been explaining it these days is that being Asian is a really hard-core sport. You have to put in the hours. Whatever you choose to put the hours into - it could be in cooking, it could be in language, it could be in some type of art, it could be in connection time with a certain community, but you really have to put in the hours. For example, a lot of people love Asian food and wonder why it's so good. It's because those chefs have done the same thing over and over again for years and perfected it. The repetition and practice of going really deep into something is part of our tradition. Certain arts like ballet and tai chi follow these traditions. There's a lot of wisdom in practice and repetition and putting in the time to perfect your craft.
I don't want people to think that if you haven't put in the hours, you're not "Asian enough". It's more about that rewarding feeling, like training in a sport or being in a band. It feels so good to have put in the time, and practiced so much, and then competed or performed. You could even connect it to being in careers that you put a lot of time into. You train so hard to become a really great doctor or architect. It's not a matter of being not Asian enough or too Asian, it's about the rewarding aspect of having committed to something and putting your time into it over a period of time. A lot of the Asian arts are not about instant gratification but rather a long journey.
Pulse: There is a wealth of compelling Asian narratives in the media - what are some works or people that have resonated with you that you think others should know about?
Tang: I learned so much about what it means to be Thai by exploring nearby cultures. The more I spent time with the Chinese community or Polynesian community, for instance, I saw the subtle differences in my own culture. I have a Zen teacher who is also part native Hawaiian who introduced me to this documentary called "MOANANUIĀKEA". It's the story of the hōkūleʻa, the traditional Hawaiian voyaging vessel, and how their people had to go to great lengths to re-learn the art of star navigation and how they are passing this ancient skill on to the next generation.
I feel a real affinity to Hawaiian culture because both of our countries are touristed in very similar ways. They're places that people really want to visit, but unfortunately, those vacation experiences are a little limiting and superficial. So, I felt such a connection to this documentary. I was so moved by the idea that our ancestral DNA allows us to navigate the globe just on our senses alone. What could future generations achieve if we combined our modern understanding of science and also practiced this very ancient way of building your senses and having that deep of a connection to the earth.
Pulse: What are you working on next that will allow people to explore your world a bit more and delve into some of these big topics a little deeper?
Tang: What I'm gearing up for in the fall is a storytelling series about honoring land and water through Thai traditions. Because we're on the Peninsula, I really love the Bay Trail and what it feels like to care for our wetland habitats. It speaks to me because Thai people have traditionally had a long history in a canal village setting. Something feels very ancestral to me when people are in canoes and canal waterways. I feel very personally connected to that experience. I feel like that's the kind of environment I'm meant to care for. Also, a lot of tai chi postures are about white cranes, which also live in wetland habitats. There are all these Asian traditions that honor nature when you dive into them. So my future work starting in the fall, is all about the merging of Asian traditional arts to honor land and water.
In addition to that, especially for people not local to the Bay Area, I'm also planning an online membership subscription where I'll be doing readings of my stories - and publishing other written works - that I hope to release this summer.