Dignity Health Sequoia Hospital has issued a warning to the nearly 300 health care and support workers, who have been on strike since last week, to return to work by the end of the month or face losing health care benefits.
The American Federation of State County & Municipal Employees (AFSCME) Local 829 union members received the official notice on Friday. In the letter, Dignity Health warned the workers that eligibility for health care benefits "requires a scheduling commitment of 40 hours of work per biweekly pay period." Those participating in the strike, the letter continued, were no longer eligible for benefits and, unless they returned by the end of the month, would lose health care coverage effective Aug. 1.
The letter comes one week after hundreds of striking hospital employees took to the picket line following months of failed negotiations. The health care and support workers have been on strike since Monday, July 18.
On Monday, more than 70 union members and supporters returned for a second rally, this time with the knowledge that their benefits were at stake.
At noon, they met outside the hospital and gathered around two tables: Five union representatives took a seat at one; at the other were six name cards and empty chairs, symbolizing members of the hospital's management and negotiating team. In a direct reference to Bill Graham, president of Dignity Health Sequoia Hospital, several workers held signs spelling out: "Where is Bill?"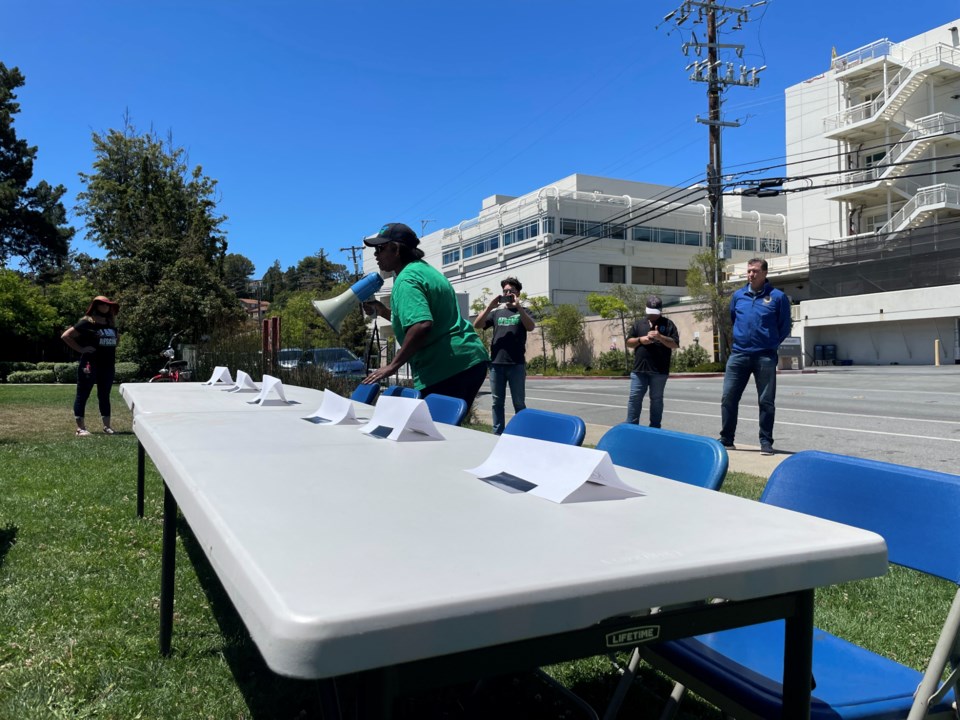 Chapter President Yvonne Haynes addressed union members, expressing both her frustration and solidarity.
"This is day 8 and we're still standing strong and tall," she said.
Walking along the empty table, she read the names on each card. "Shame on you," she yelled, to resounding chants of "Shame! Shame!"
Union members described the move as a scare tactic on the part of the hospital management.
"We just want them to see that we're ready to bargain," said Abigail Knight, 33-year anesthetic technician. "We're ready for them to come and talk to us. We've been waiting. We want to get back and take care of our patients."
Asked about the hospital's decision to end health care benefits for striking workers, she added: "We feel like they're threatening us. It's really a stress on all of us."
In a statement, Dignity Health, which owns Sequoia Hospital, said that "AFSCME-represented employees are valued members of the Sequoia Hospital team."
The hospital said that cost of its health care benefits "is substantial, and is paid for almost entirely by Dignity Health." Reiterating the terms of the letter, Dignity Health said that "employees who do not meet the benefits plan program requirements are removed from benefits plans at the beginning of each month. In August, this will include employees who stopped work in conjunction with AFSCME's indefinite strike." It added that those health care benefits would restart upon employees' return to work.
California State Assembly member Kevin Mullin and Redwood City Council member Lissette Espinoza-Garnica also attended the rally.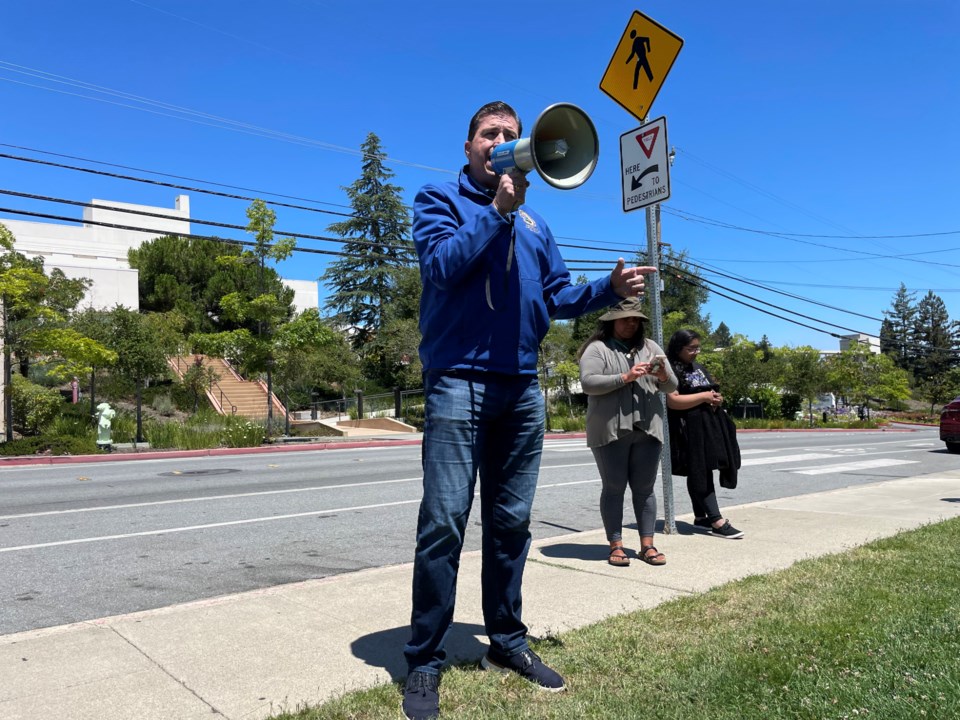 "You are quite literally putting your lives on the line every day you go to work," Mullin said, to applause and cheers. "And it's time for your employer to show you the proper respect and get you a real contract."
After the rally, Espinoza-Garnica joined the workers outside the hospital, holding a sign that read "Some cuts don't heal." Asked about their reason for attending the strike, they said, "You can't not pick a side. Being silent about it is taking the side of those billionaire CEOs."
According to Espinoza-Garnica, the city council has received emails from Graham saying that the union members are "asking for too much" and asking for sympathy from council members.
But Espinoza-Garnica, whose mother works as a custodian at a nearby hospital, said they identified with the struggle of the health care workers and described the threat of cutting benefits as blatant retaliation.
"It's pretty dark. It's sadistic," they said. "I just think it's very audacious—these executives writing to us saying that [the workers are] demanding too much when they're asking for safe staffing levels…They're asking for regional pay parity. That's not too much to ask."
Dignity Health's decision to pull health care coverage is "a bit unusual," according to William Gould, a Stanford professor and expert in labor and discrimination law.
"In mature labor management relations, this would be regarded as somewhat harsh," he said. "Companies often will continue health care knowing how vital this is to workers who presumably will return to work at the end of the strike."
However, if permitted by the workers' contract, he said that "fringe benefits" can be treated like wages and withheld when union members aren't working.
"It's obviously something that would be harmful to workers," he said. "It's likely to be effective because of the fact that it's so vital."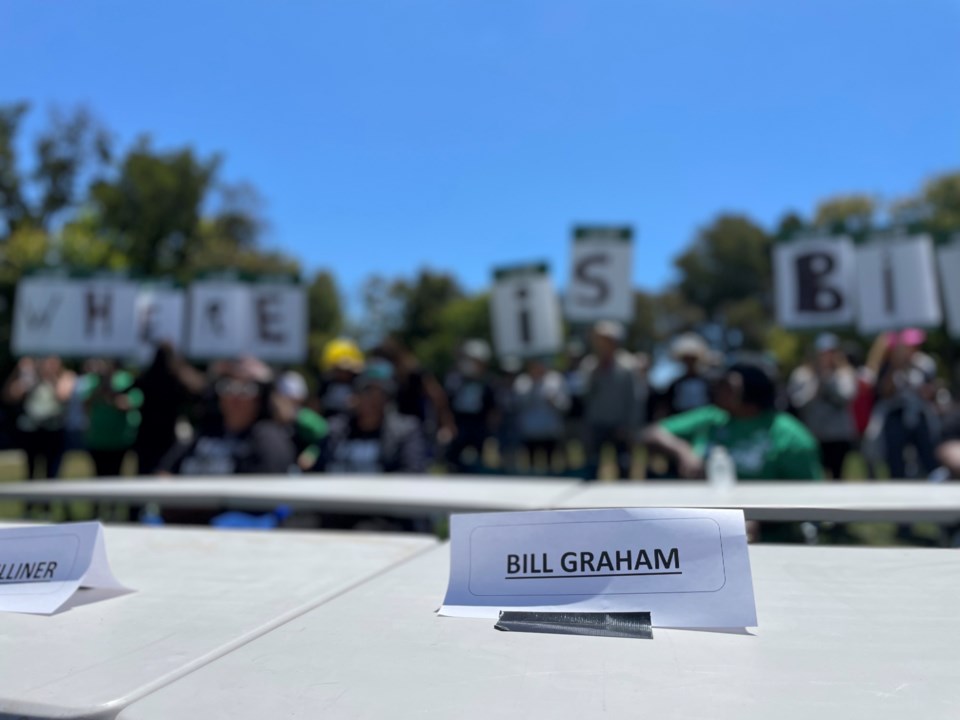 The AFSCME Local 829 union, which represents nearly 300 workers of Dignity Health Sequoia Hospital, asking for a 15% raise over three years, free health care and reduced patient-staff ratios, according to Yvonne Haynes, the union's local chapter president and CNA in the hospital's Medical/Surgical/Orthopedic Unit. The union has been out of contract since June 30 and in negotiations for four months.
Dignity Health offered a 4% increase annually for 39 months, with paid health care benefits and no patient-worker ratios, according to the union.
In a statement, Dignity Health declined to give specific numbers but said it offered the union "a competitive compensation package that recognizes the important work that our employees provide, including annual wage increases, generous health care benefits and a bonus upon ratification of a new contract."
The statement continued: "It is disappointing that AFSCME has opted to continue the strike despite our willingness to address their concerns."
Even facing the loss of benefits, the health care workers have no intention of ending the strike. Their hope is that the threat is just that—a threat—and that Dignity Health won't ultimately go through with it.
"We don't have any choice. No matter what, I'll stick with my team," said Ricardo Mallari, an operating room anesthetic technician who's worked at Sequoia Hospital for 35 years. "I survive on this place…We're just like a family."